Paul O'Donovan revealed an off-day spell on the Rotterdam water fixed his techique and stopped him "rowing like a gobshite" ahead of his stunning victory at the World Championships.
The Skibbereen star dominated the field to win gold in the lightweight single sculls and add to the memorable silver won alongside brother Gary in Rio.
The duo competed in the doubles sculls, and O'Donovan admitted the shift back to the one-man boat proved a little more difficult that he expected.
"I hadn't realised until I made the switch back," the 22-year-old told RTÉ Radio's Saturday Sport.
"I was rowing like a bit of a gobshite in the earlier rounds but I managed to sort it out yesterday evening - I went for a bit of a paddle and fixed the technique a little."
That work with coach Dominic Casey provided immediate dividends as O'Donovan's form was clear in the pre-final warm-ups.
"I was feeling pretty good in the warm-up so I was confident I could do pretty well in the race," he said. 
"The B final had been on a bit earlier and I'd seen the times for that so when I could see the speed I was doing in the warm-up I was a bit shocked how quick I was going."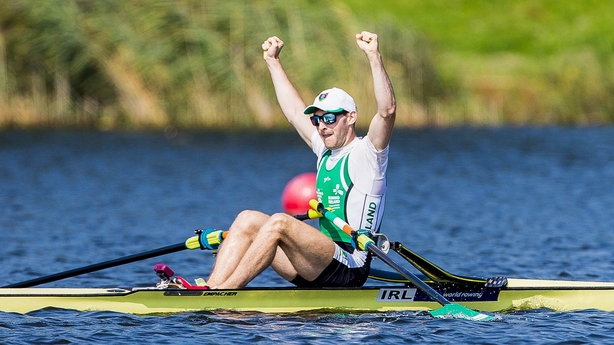 A small mistake on his opening stroke aside, O'Donovan was the undoubted class of the field once he made his move in the second quarter.
"Coming off the starting blocks the first stroke was bad but I recovered quickly and it's didn't cost me too much.
"I was with the leading pack at the 500m mark but then the Slovenian, Rajko Hrvat, he took the race on after that.
"We had both been in the same semi-final and he took an awful lead on me altogether and I'd a job to catch him at the finish so I said I'd stick with him this time and do a bit more in the middle of the race.
"I was feeling fantastic at 900m and I stepped it up a bit and I opened up a bit of a lead. I was able to watch all behind me and I was still moving away and feeling pretty good.
"Coming into the last quarter of the race I was pretty confident I was going to win it."
"I was rowing like a bit of a gobshite in the earlier rounds but I managed to sort it out yesterday evening"
Just like in Rio, there was plenty of Irish support in Holland, including brother Gary, and O'Donovan had the time to look over and take in the cheers.
"There was a huge contingent over from Skibbereen and I could hear them roaring in the crowd so I was looking around a bit trying to take all that in," O'Donovan said.
"I looked over the other shoulder as well to make sure I wasn't missing anybody in front of me and took a bit of a wobble but that didn't cost me anything really."
The brothers will be welcomed home by a huge party in Skibbereen on Monday, and O'Donovan is sure to have plenty to say to an old friend who sparked his drive to crush his rivals.
"I guess I wanted to prove a point as well because I had been in the pub briefly after racing down in Rio and Diarmuid O'Driscoll, who I rowed with when I was younger, he told me I better try and win it by clear water.
"After the semi-final he called up my coach and said 'What's going on, he should be winning it by open water,' so I said I'd try to prove a point to him as well that I could do that. It was a handy victory."