Paul O'Donovan kept a promise made to friends in Rio by scorching to a stunning gold medal at the World Rowing Championships in Rotterdam.  
O'Donovan made his trademark tentative start and was last of the six boats after 500m but when Slovenian Rajko Hrvat burst into the lead the Skibbereen man was quick to follow and he was already second at the halfway point.
O'Donovan hit the front 250m later as the front set a thunderous pace that eventually caught up to Hrvat, but no one could live with the Irish star, who was a length clear heading for the last 500m.
As Hrvat faded, Peter Galambos of Hungary and Slovakia's Lukas Babac came through for the minor medals, but there was no catching O'Donovan, who finished four seconds clear of the field in a time of 7:32.84.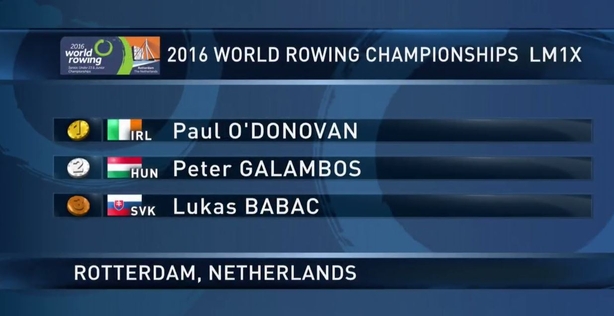 After winning silver medal in Rio with his brother Gary in the lightweight double sculls event, this was the icing on the cake for the Corkman, who is emerging as one of the most promising talents in the sport.
"The first stroke was bad, but then the second one was good so I went from there," a delighted O'Donovan said.
"At the 500m left I remembered I told my friends when I was in Rio that I would win here by open water, so I thought I should probably keep my promise. Then at 200m to go I guess I started smiling a little."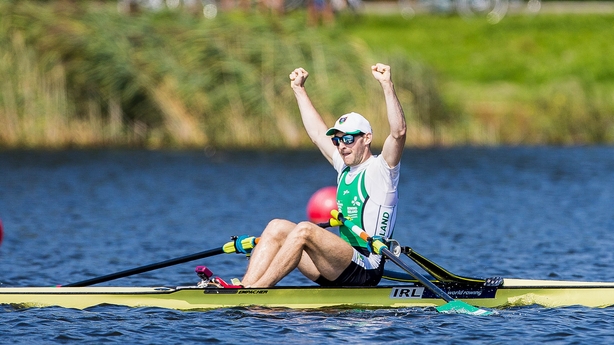 Chairman of Sport Ireland Kieran Mulvey paid tribute to O'Donovan, saying: "On behalf of the entire Irish sporting community I would like to congratulate Paul on what is a remarkable achievement.
"Having captured the imagination of the country in Rio, today's win so soon after claiming an Olympic medal shows Paul's talent and dedication to his sport.
"It will be a wonderful occasion in Skibbereen when Paul and his brother Gary return, and that celebration is richly deserved. To Paul, his team and all in Rowing Ireland a very well done."
Lightweight pair Mark O'Donovan and Shane O'Driscoll couldn't follow up their compatriot's heroics with a podium finish of their own and they took fourth in their final.
World Champion Paul pic.twitter.com/0gXCcPeSM7

— Rowing Ireland (@RowingIreland) August 27, 2016