Nicole Turner laughs that her life is "beginning" to settle down after the Tokyo Paralympics. Her new normal has been "non-stop craziness", but she wouldn't have it any other way.
Her Games began well – a PB swim in the final of the S6 50m freestyle – but finished with a real flourish in her favoured event, the S6 50m butterfly.
Fifth in Rio in that event was the motivating force behind her five years of training, and after qualifying for the final with the second fastest time, medal ambitions were justified.
"When I qualified second fastest, I had a hope. It was becoming more real that there was a big chance of me getting on the podium later that day."
Her body of work too suggested a top-three finish was on the cards. Gold at the Europeans in 2018 and bronze a year later at the World Championships was further evidence of her standing.
Ahead of the final, world record holder Yuyan Jiang was always the woman to beat, but when the pressure came on, the Irish teen duly delivered in a time of 36.30, second place ahead of the formidable American Elizabeth Marks who had dropped down from the S7 category.
"I honestly gave it everything. It was my very last length of the pool, so I was like, 'I've nothing to lose'," she told RTÉ Sport at the final call for nominations for the EBS 2021 Federation of Irish Sport Volunteers in Sport Awards.
"I would have liked breaking the 36 [seconds] and getting down into the 35 but I suppose winning a silver medal is not too bad."
An overjoyed Nicole Turner was shaking with excitement as she spoke to @Darrenfrehill about her brilliant silver medal swim https://t.co/WnFPRxuuVq #rtesport #paralympics #paraswimming pic.twitter.com/t1l0aTCVo5

— RTÉ Sport (@RTEsport) August 30, 2021
The post-race interview, even by the standards of overwhelmed medal winners, was of a gold standard, but, 45 days on from the race of her life, the enormity still hasn't fully sunk in.
Covid restrictions meant the celebrations on the day were rather subdued, but the chance to share the moment with her parents on national television was a cherished moment. The phone was buzzing with well wishes, but that was for another day.
"I kind of wanted to take it all in before responding to all the messages."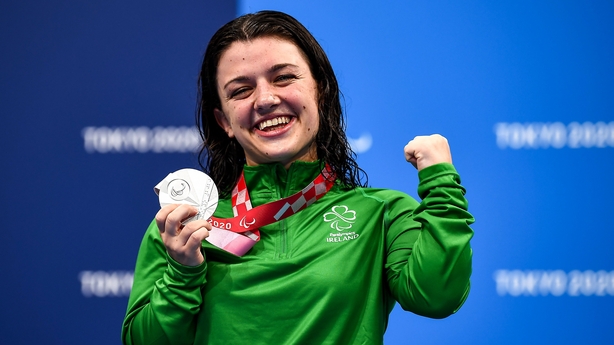 With swimming running the length of the Games, Turner didn't return home for five days after her silver exploits. The following morning, the enormity of her achievement hit home with an open-top bus around Portarlington, the wet conditions doing little little to dampen the spirits of the crowd.
"The smiles on their faces put a smile on mine. It was lovely."
As I was walking away, he turned to his mam and said, 'I want to be like Nicole one day.
The messages have come from near and far for the 19-year-old, but one moment stands out among the rest. At the local rugby club, people came up to congratulate the swimmer, but one fan left a deep impression.
"There was little boy there called Eddie. And Eddie was in a wheelchair, he couldn't use his legs and couldn't walk.
"My mam brought me over to him and I showed him my medal. And as I was walking away, he turned to his mam and said, 'I want to be like Nicole one day'."
The dedication to put herself in the window to compete, let along claim a medal, at the Paralympics has been significant.
She opted not to sit her Leaving Cert to focus on the pool – her training pool in Dublin is an hour and 10 minutes from the family home in Garryhinch, near Portarlington – but has recently embarked on a PLC course in sports and leisure management.
I'm only 19, I'd be crazy to pack it in. I am training for Paris, but I don't think of Paris at the minute
While there is uncertainty over where her career lies, things are crystal clear with regards to matters in the pool.
Last week was her first time dipping the toes in the water, and while the next couple of weeks will be a gentle return, the World Championships next June will be looming on the horizon.
"I'm only 19, I'd be crazy to pack it in. I am training for Paris, but I don't think of Paris at the minute, I'm just thinking of Worlds.
"The Paralympics gets so much attention and focus going in, and then all of a sudden it just stops. It does take time to adjust back to normal before all the preparation should start again."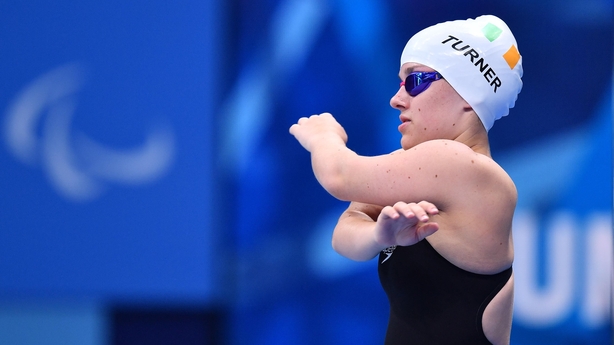 With a family home that straddles the Laois-Offaly border, Turner's success is having unintended consequences.
Many medal-winning athletes receive civic receptions – Turner received one after her fifth-place finish in Rio – but as of now, both counties are claiming her.
"There is a bit of a battle going on there," she says with a smile. "They both want to claim me."
When Jason and Bernie Turner purchased their home 20 years ago, they were under the impression they were on Laois soil. Portarlington may be only a little over five minutes away, but they are very much on Faithful territory.
"I don't know if Laois and Offaly are going to come together to do it but they both want to recognise me at some point."
No one would begrudge the swimming sensation a double celebration.