Before the 1998 World Cup, Football Italia magazine published a team-by-team guide previewing the tournament.
In the 'Key Players' section on Japan's profile, a 31-year-old striker called Kazuyoshi Miura was highlighted – an obvious choice given he had scored a whopping 14 of their goals in qualifying.
The only problem was that between publication and the deadline for squad selection, Miura had been surprisingly left out of the 22-player selection for the finals.
So for a veteran stalwart, the chance to go to a maiden World Cup had sadly passed him by. But if he was a 'veteran' then, what term would befit him now when remarkably, Miura will still be playing professionally for Suzuka Point Getters in Japan's fourth tier at the age of 55.
We need your consent to load this Instagram contentWe use Instagram to manage extra content that can set cookies on your device and collect data about your activity. Please review their details and accept them to load the content.Manage Preferences
He's not the only one who is continuing to maintain a sporting career at an age when most are long retired. Pauline McCarthy of Limerick club St Ailbe is significantly older than Miura but hasn't ruled out playing camogie and football beyond her 63rd birthday.
And amid advancements in sports science, there are a plethora of athletes from Johnny Sexton (36) and Cora Staunton (40) to the likes Tom Brady (44), Zlatan Ibrahimovic (40) and Roger Federer (40) who have been making light of their numerical ages in their respective sports.
Down GAA legend Mickey Linden can identify with them. Even though his inter-county career stopped in 2003 aged 40, he still feels that physically he could have extended that by an extra 2-3 years if called upon.
Indeed, it was only as the Covid-19 pandemic began that the soon-to-be-59-year-old decided to call time on playing for his club Mayobridge in Down's Reserve Championship.
But what does Linden put his remarkable longevity down to?
"Just the DNA, just lucky," the long-time corner forward tells RTÉ Sport of his virtually injury-free journey over the last five decades, crediting circuit training as an integral part of his routine for decades which has helped his conditioning.
Proof that age is just a number!
5⃣5⃣ year old Mickey Linden scores a superb point for Mayobridge 2⃣7⃣ years to the day that he helped Down to All-Ireland glory. 👏👏👏👏 pic.twitter.com/TtCIhAiR1o

— BBC SPORT NI (@BBCSPORTNI) September 17, 2018
"As you know, whether you're a sprinter or a long-distance runner, you're made up differently. I was just maybe lucky to have the genes to be quick and recover quick and go again."
Due to difficulties with 5k and 10k runs, he instead focused on breaking the distance down into a sprint-rest-sprint-rest more "suited" to what he needed on the pitch.
That willingness to respect what best suited his body was also boosted by a consistency of effort in the off-season with no let-up in doing basic training - regular circuit training in the winter for instance - when others may choose to rest completely in what ends up being a boom-bust cycle.
Former Republic of Ireland international Michael Doyle can relate to much of Linden's points from genetic qualities – his father played at amateur level well into his 40s – to largely avoiding the more serious types of injuries.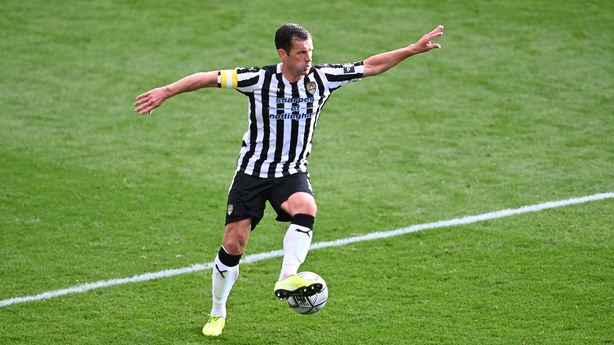 Currently a player-coach at Notts County, the 40-year-old Tallaght native racked up north of 40 matches per season from 2003 to the 2020-21 season for clubs such as Coventry City, Sheffield United, Portsmouth and his current club before winding down his playing days ahead of this season.
Like Linden, Doyle never downed tools during the off-season and maintained a consistent level of output.
"I'd always have a week off (after the season) and I'd just get back out and have a run every day, a long run and it was funny because it was basically all the stuff they tell you not to do - 'stay off the roads, this and that,'" he says, also pointing to a personal esteem for hydration – he's been drinking up to five litres of water a day for decades.
"When I'd go back pre-season I was probably always the best runner at the club I was at.
"It was my strongest attribute and I always put it down to what I was doing from a young age, going on long-distance runs and then as I got older, they're telling me not to do it but I kept doing it and I was thinking, 'I'm not really picking up any (muscle) injuries'. I was never a fast or sharp player in a sense but I never picked up a muscle tear until my last season last year when I tweaked my calf muscle and I was just hitting 40. Sports science people wouldn't recommend it but it's what I did and it worked for me."
Chartered physiotherapist Lee van Haeften, who has worked with sportspeople of all ages in set-ups including St Patrick's Athletic, Leinster Rugby underage teams and club GAA, explains that it's "inconsistency" and wild spikes in activity that can often lead to soft muscle and joint injuries in athletes.
"That's actually interesting to hear the lads say that because there is actually good research around it," he says of Linden and Doyle's anecdotes.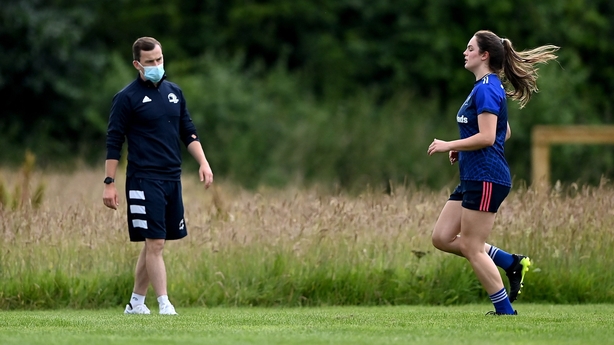 "The old-school methodologies and philosophies are still really good and I think the athletes that last longer or play for longer have a really good balance of using the latest science around their sport but also implementing the old philosophy around training which was used in the 70s, 80s and 90s that worked really well. It's a mixture of both that you're going to get better results.
"I don't think over-relying on one is important. I could see, especially in the League of Ireland, that athletes sometimes spend so much time focusing on the 1 or 2 percenters in the off-season which is heavily influenced by ice baths, compression and altitude training on a bike indoors and they nearly neglect that sort of 95-98% of the basics in terms of strength, fitness and overall conditioning."
Along with using sports massage therapist Gary Thomas over 20 years, Doyle also adjusted his game as his career progressed, going from being a dynamic midfielder to a more deep-lying role based on reading the game while still covering a similar level of ground thanks to his aerobic capacity.
I don't see why somebody who's 35 to 40 can't cover 10-12K a game at that lower end level
Van Haeften explains that for those elite athletes in the late 30s to early 40s bracket who are able to compete against competitors almost half their age, it's that building up of the aerobic bedrock which mitigates any decrease in agility or speed and helps extend one's career.
"There's an old-school saying which is still used, that 'speed kills,'" he says.
"You see this both at an elite level and sub-elite level in clubs where lots of athletes pre-season in GAA and soccer go back to training and start doing lots of shuttle runs and sprint runs and they pick up soft tissue injuries pretty quickly. But it's the athletes that have the basics, the aerobic stuff that's really important.
"It's doing them longer runs and intervals, that's what prepares the body for seasons.
"I don't see why somebody who's 35 to 40 can't cover 10-12K a game at that lower end level. Yes, they might not have the pace but the other stuff there's no excuse for them not to be really, really good at (it).
"You can see that with Eoin Doyle coming back into the League of Ireland at 33 and got a three-year contract. You see (Cristiano) Ronaldo. These lads have one top trait. They're aerobically really, really strong. Their fitness is absolutely excellent because that is something they can modify and change into your 40s and 50s.
"I remember Conor Masterson telling me a story about James Milner doing the yo-yo test and the long-distance running test at Liverpool for the last couple of years and he's 36 now and every year he's out and he wins it.
"Speed wise he might not be the same as the other lads but aerobic wise he's absolutely brilliant."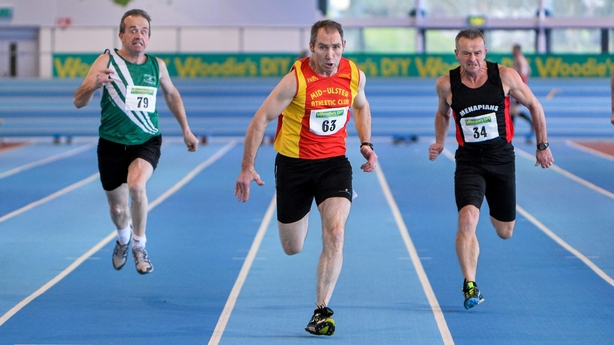 Michael Stones, a professor emeritus at Lakehead University in Canada who specialises in gerontology- the study of ageing including concepts like "functional age" and "successful ageing" - echoes the experience of Doyle: "If you think about football, the people with the longest careers are the goalkeepers. Then you find the defenders who are using anticipation have very long careers. The people who have the short careers are the ones who are relying on speed and very fast reactions.
"You very often find that people like (Michael Doyle), as they get older, they begin to rely more on anticipation and reading of the game and less on speed, and often can be as or even more effective in late careers."
A portion of Stones' research has also shed light on the performances of masters athletes with findings including a recommendation to increase commitment as one moves up age classes and seeking out higher competition being beneficial.
It's a class of athletics that goes up in five-year intervals from 35 to 105-years-old. Geraldine Finegan is an Irish example of a multi-event masters athletics champion, and Mickey Linden also competed occasionally when he took running with Dunleer Athletics Club in 2009 until very recently, winning medals in his 40s and 50s.
"They keep on training," Professor Stones says of the factors that help masters athletes maintain performance at such late ages, which tallies with the emphasis on consistency.
"It's also the avoidance of injury, just like in professional sport. You have to balance the higher level of training with the effects and the possibility of injury and with the effect and the possibility of the person getting tired, and also the motivational side too."
While Linden may no longer be playing club GAA or participating in masters athletics, there is no end point in terms of maintaining the consistency of his fitness regime.
He says his focus has switched to golf, continued fitness training and a bit of yoga to mitigate wear and tear and also provide a counterpoint to life as a driving instructor.
"So I needed to do it for job and just general fitness as well," he adds.
The mentality is similar for Doyle, almost 20 years his junior. With his playing career behind him and no plans to emulate Miura's even longer stay in pro soccer, he hopes to balance his future coaching commitments with trying out something new like triathlons or ironmans.
"Funny enough I'll probably go down that route eventually. I don't think I'll be going into it competitively but it would be just more of a focus. I'm probably doing 5-10K a day and then I jump on the bike and do 10-15k so maybe down the road that is something that I'll do. I've always wanted to do a marathon so I might try and get involved in that in the next year or two."