Round one of the new AFLW season is now over and the Irish girls were just everywhere. Read any of the reports from the games and you'll see their names constantly feature.
Irish players are in nearly every team bar maybe one or two and that's a real sign of what they're bringing to the league. They're so prominent and it's a credit to the backgrounds that we have come from.
Add a bit more professionalism to their lives and you are now seeing how far these players can go.
It was great to see Áine Tighe play her first game for Fremantle after coming back from those ACL injuries. I watched the game and she did brilliantly and really showed how good she is.
Bríd Stack coming back from injury for the Giants was great too. She looked so comfortable on the field, she was so solid.
I was delighted to see those two return from their struggles and get a game under their belts.
Rachel Kearns made her debut with the Cats and that was something else that was really pleasing and Orla O'Dwyer had a really good game against ourselves too.
That was for Brisbane as my Adelaide side started the season in the best possible fashion with a win.
Round one for us was meant to be in Fremantle but it got changed to a home game with Brisbane because Western Australia have always been tight with their borders due to Covid. The only way we could have got in was with an exemption but with the case numbers rising in Adeliade that was a major no-no.
It just became too difficult and we had a different fixture. It came full circle because last season ended with the Grand Final loss to Brisbane and this season we started against them. It was great to have another crack at them and fortunately we came out with the win this time.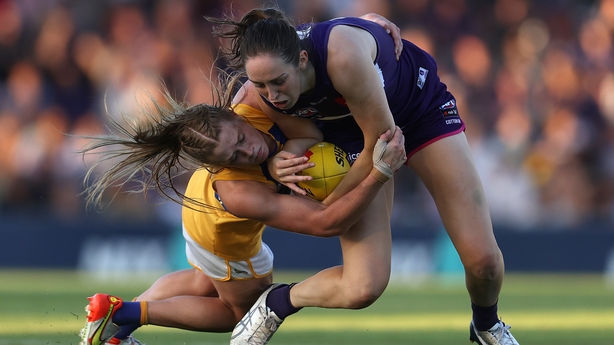 We're still under the Covid wing here. We get antigen tested three times a week and PCR tested once a week. Even when we train collectively in the gym on a Monday and Wednesday night we have to wear our masks indoors, which is tough going in the heat we've had over the last few weeks. Otherwise our training hasn't been too affected but we have to be cautious.
A couple of coaches have had it and they've had their days away from the squad and we know it's going to eventually get into the squad. There's no question, it's just a matter of when. Hopefully we avoid a big chunk of it happening in the one go. One game has already changed in the league for this weekend so things are a bit up in the air.
I wasn't in the squad for the Brisbane game and that was disappointing and frustrating.
A lot of the girls who weren't selected, we know we are there or thereabouts. The coaches went with what they thought was the best call for Brisbane and they were right because they came out with the result.
We've been training as hard as we can and have been trying to get the girls ready for the challenge.
It's a tough experience when you're not in the squad and especially with Covid because that makes the whole experience different.
"This is our deck, this is our home"

Take a look inside our Round One game day with a debutant, a win and some very special guests 👨‍👩‍👧#crowsaflw #weflyasone pic.twitter.com/qS6nVoPcfy

— Adelaide Crows AFLW (@CrowsAFLW) January 10, 2022
We have to be kept quite isolated from crowds and people but we're also kept separate from the players, which is quite difficult.
You're sort of in a no man's land. You can't enjoy the game as a spectator with friends and family but you can't really enjoy it with the team either because changing room numbers are limited and we weren't allowed in. It meant we missed out on the song after the game and couldn't really see the players pre or post game. All you want to do is be there for them.
All you can do is keep supporting them as best you can and keep training as hard as we can.
We have a very strong squad and I knew it was going to be a challenge to get into the squad week in, week out. I'll keep working on it though.
Round one also saw the one millionth spectator attend a game since the league started in 2017.
The growth here is crazy, it blows you away. You're constantly getting big numbers at games, you're constantly seeing big numbers watching games on TV. It's all over social media.
The timing is great too because it's separate to the men's season mostly. It's only the sixth season so it needs that window there of just the Women's AFL and to have that access. That has helped generate so much support for the game.
When the men's competition starts it will be the business end of our season so people will still be looking to see who is making it to the finals. I don't think we'll lose too many fans.
It seems the men's game is losing Mark Keane who may be ending his time with Collingwood to stay in Cork.
I think it may become an issue for the Irish girls too. You drop everything, leave everyone and come over here to play.
Irish people will always find it tough to leave the nest. Australia is the dream for most as you are getting paid to play sport.
It's a game with a lot of highs and lows and the lows aren't as visible though. Sometimes when things aren't going great you need that family support, you need that friendship support and you can't get that in the same way as you would at home.
A lot of people only see the highs of what we go through but not getting selected, the injuries that come with sport, the ups and downs of general life, those are not easy. We are in an extremely fortunate position but there are tough times too.
I can understand anyone's decision to go home. I'm happy here in Adelaide though and I'd like to stay here and play as long as possible.
And by the looks of it, the AFLW will have plenty of Irish presence for a good while yet.