A is for April Fool's Day
Some light was starting to emerge from the Covid gloom by the time April dawned. Dates were given for the resumption of collective GAA training. Some teams, however, jumped the gun. Cork, Down, Monaghan and then All-Ireland champions Dublin were all found to have been in breach of the rules pertaining to when collective inter-county football training could take place.
The Rebels undertook a training session on a Youghal beach last January. A video, as well as photographic evidence, appeared to show the Monaghan squad engaged in a training session. It was a case of no joking when the Irish Independent reported on 1 April that members of the Dublin senior squad gathered the previous day for an early morning training session at Innisfails GAA club.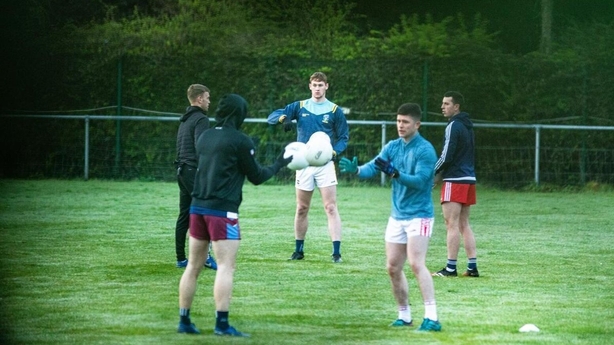 As well as a suspension for Dessie Farrell (Seamus McEnaney, Ronan McCarthy and Paddy Tally were also suspended), there was much "anger" and "regret" from those inside the Dublin camp afterwards. Outside observers had much to add, with Pat Spillane saying on the RTÉ GAA Podcast: "It's a bit like the brightest boy in the class suddenly being caught cheating, or you suddenly realise that the local parish priest has a wife and family in the next county.
"You look up to the Dubs as these are your role models."
Pat also felt that other counties were probably in breach, when adding: "In Ireland, when it comes to cute hoorism, and whataboutery, we're world champions. Our get-out-of-jail card is, 'well, everyone else is doing it so why can't we do it'.
"It was wrong. It was bad, it broke the laws of the country and GAA regulations."
Of course much talk since has evolved around the unsettling effect the training breach had on the Dubs, with the side's long unbeaten championship run coming to an end after the defeat to Mayo in the All-Ireland semi-final. There was also the question over Stephen Cluxton's involvement and the absence of Paul Mannion.
A spring and a summer of some discontent for the Dubs in 2021.
B is for Bravado
At the start of the year, tennis player Cameron Norrie predicted that he would be one to watch. "I think I'm going to have a breakout season," he said on an ATP video, predicting the year ahead.
"Obviously it'a a big statement, I'll back myself and see how it goes," he added.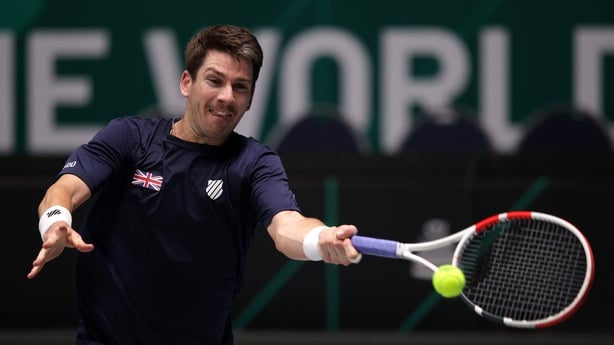 Well he's been doing okay in the intervening months, as evidenced by his victory in the Masters 1000 at Indian Wells and rise to No 12 in the world's rankings. Britain's top-ranked player has his sights set on being No 1, though a chastening defeat at the ATP Finals in Turin by the man who currently occupies that spot - Novak Djokovic - shows that he has bit to go yet.
C is for Cute Hoorism
The scene is Croke Park and The Saturday Game Live panel are in situ in advance of the Kerry-Tyrone All-Ireland semi-final, some 13 days on from when the game was originally due to have taken place.
The Ulster champions' request for an extra two weeks to prepare for the semi, in light of Covid cases in the camp, was granted by Croke Park. But Pat Spillane (and others it's fair to say) felt that Tyrone weren't exactly upfront with all the facts surrounding their Covid situation and that there was "a vacuum of information".
Pat Spillane is not happy with the "vacuum of information" that he feels is coming out of the Tyrone camp in relation to the Covid-19 outbreak within the Ulster champions' squad #rtegaa #kerryvtyrone pic.twitter.com/cuNioPCJWI

— The Sunday Game (@TheSundayGame) August 28, 2021
Pat, who was a bit more animated than usual throughout championship 2021, also applauded Tyrone for now being better in the 'cute hoor' department than Kerry. Of course his words were directed at Seán Cavanagh, who was well able to stand his ground. It led to a lively exchange between the pair.
.@CavanaghSean14 is adamant that Tyrone did not "flaunt the rules" in relation to the delay of their All-Ireland football semi-final with Kerry #rtegaa #kerryvtyrone pic.twitter.com/FNiwMkO7nW

— The Sunday Game (@TheSundayGame) August 28, 2021
D is for Disguise
The football world teetered on the brink over three days in April when 12 clubs came forward with their European Super League proposal, with the promise of 'the best clubs, the best players, every week.' Opposition from fans, supporters, managers, politicians and just about everybody else was fierce.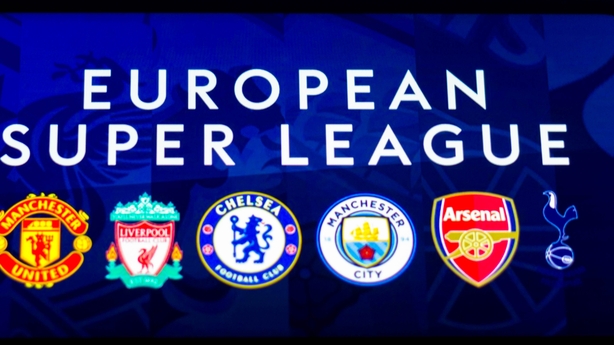 The six Premier League clubs - Arsenal, Chelsea, Tottenham, Liverpool, Manchester City and Manchester United - would soon make a hasty retreat and so 72 hours after its inception the Super League proposal was dead in the water. In the same week, UEFA confirmed the number of teams participating in the group stage of the Champions League would increase from 32 to 36 from 2024, with teams playing ten group games, instead of the current six.
'I think this is a Super League in disguise' - @RichieSadlier and @stephanieroche9 assess the expanded 36-team Champions League being mooted for 2024 onwards #rtesoccer pic.twitter.com/BavFW5JNpz

— RTÉ Soccer (@RTEsoccer) March 9, 2021
More games, more revenue, more chances for 'established clubs' to dine at the top table. But not all are enthused about UEFA's expansion, with Manchester City boss Pep Guardiola (who opposed the Super League by the way) critical of the governing body's quest for quantity over quality.
Richie Sadlier and Stephanie Roche, speaking on RTÉ Sport, were not exactly enthused with what the new Champions League had to offer, with Sadlier stating that it's there to "satisfy the greed of the super clubs" and that it's "a Super League in disguise".
E is for Electricity
With close to 31 million in Britain tuning in to watch the Euro 2020 final, electricity providers were on hand to ensure that the spike in demand would be catered for.
The demand for power in England skyrocketed by 1800MW for the half-time cups of tea, 1200MW at the end of 90 minutes, and another 500MW for the end of the game cuppa, making the clash with Italy one of the biggest TV moments in terms of electricity pick-up in modern times.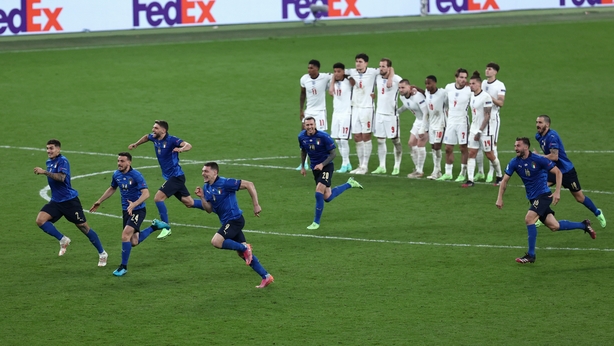 That said, it fell short of the record surge of 2800W for England's penalty-shootout defeat to Germay at the 1990 World Cup.
F is for Fab Four
Ireland's first medal of the Tokyo Summer Olympics came after the quartet of Aifric Keogh, Eimear Lambe, Fiona Murtagh and Emily Hegarty produced a stirring finish to take the bronze medal in the women's four final.
Australia, who dominated the race from the very start, held on in the face of a late surge from the Netherlands to take gold with the Dutch claiming silver.
Ireland didn't perhaps get off to the start and were down in fourth place at the 500m mark and at the half-way stage, had dropped to fifth with only the unfancied Poland behind them.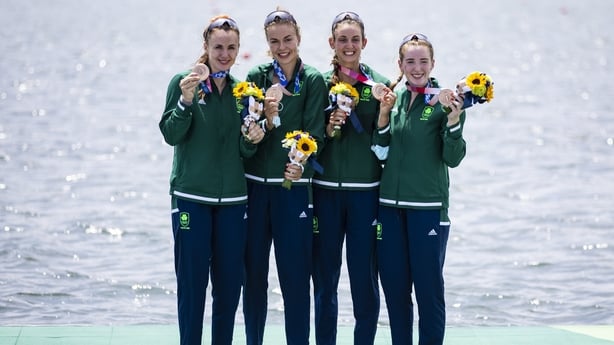 However, Keogh, Lambe, Murtagh and Hegarty found their rhythm in the second half of the race, overtaking China and closing the gap on Great Britain at the 1,500m mark.
With 500m left, Ireland very much had Great Britain in their sights, hunting down the boat that had sat in the bronze medal position for nearly all of the race.
With China also mounting a late challenge for bronze, Ireland held them off and ate into the GB lead, passing them out with 200m to go and then stretched away at the end, beating the GB by half a length.
G is for George's Golden Moment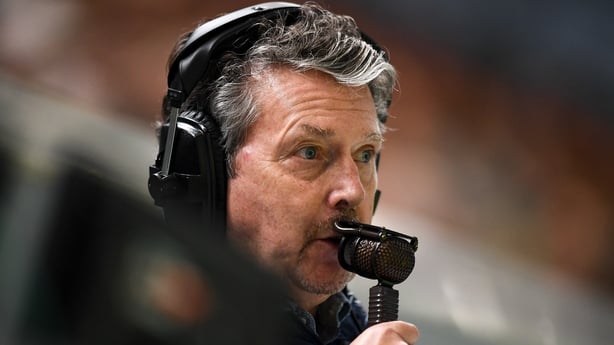 In a broadcasting career that encompassed numerous Republic of Ireland internationals, World Cups, European Championships, Champions League finals and Olympic Games, George Hamilton has been the voice to enrich those moments of great sporting importance.
"The nation holds it breath" (also the tiltle of his recently published memoir), he uttered just before David O'Leary struck home that penalty at Italia '90. Like all great commentary lines the words just came, like "...danger, here" in advance of the Soviets getting their equaliser against Ireland at Euro '88.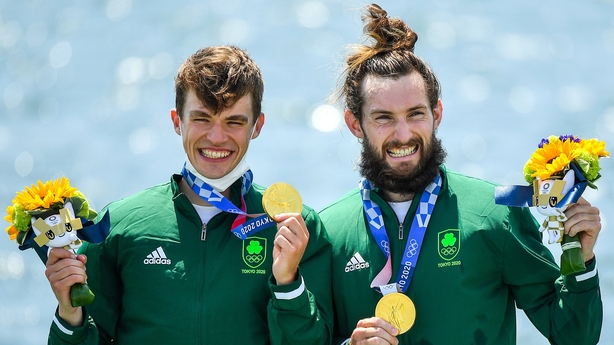 Up until this summer what was missing from the Hamilton repertoire was him commentating on an Irish gold medal win at the Olympics. Tokyo was the 11th Summer Games for the Belfast Native and his chance finally arrived when he called home Paul O'Donovan and Fintan McCarthy winning gold in the men's lightweight double sculls.
H is for Heaven
Belinda Carlisle sang about heaven being "a place on earth", well for Joey Ndo, heaven is a place on earth where he can marvel at great League of Ireland goals. The former Cameroon international, who played with Shelbourne, St Pat's Athletic, Bohemians and Sligo Rovers, spent a good part of the 2021 season in the commentary gantry at the Sligo Showgrounds. A perfect perch for Joey to welcome us to his footballing heaven.
We need your consent to load this Facebook contentWe use Facebook to manage extra content that can set cookies on your device and collect data about your activity. Please review their details and accept them to load the content.Manage Preferences
I is for Independent Review
Oh dear, something serious here! Well after not qualifying for next year's World Cup and losing to Spain in the process, the IRFU announced that it has ordered an "entirely independent" review into why the national women's side were well off the mark in qualifying for the tournament in New Zealand.
Amanda Bennett, former Welsh Rugby International and Founder of FairPlay, will act as an independent consultant to conduct the review into the preparation, participation and performance of the team that was then coached by Adam Griggs.
The union has also announced that the review will feed into a "broader structural review" of the implementation of the 2018-2023 Women in Rugby Action Plan.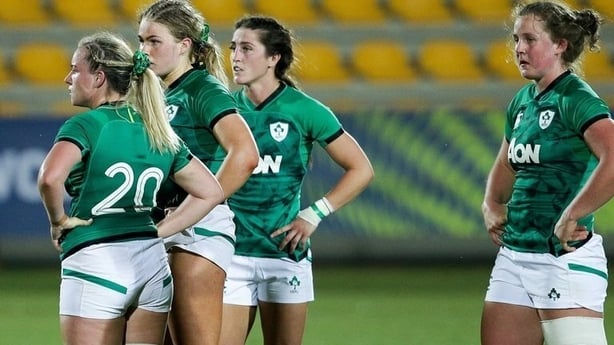 A top-six placing in the World Cup, qualification for the 2020 Olympics and a Six Nations title were among the stated targets in the original document.
Comments from women's rugby director Anthony Eddy, denying that the women's 15s game in Ireland has become neglected in favour of the sevens program, has very much thrown fuel on the fire. Eddy stated that the 15s team "was well prepared" for their World Cup qualifying bid.
I could have sworn slurry spreading season was spring… I stand corrected 👀 https://t.co/fgG8ef3CbR

— Cliodhna Moloney (@cmoloney3) November 9, 2021
Ireland and Wasps hooker Cliodhna Moloney, Leinster's Jenny Murphy, and recently retired flanker Claire Molloy, all hit back at Eddy's comments.
Much unhappiness in the air. And then came the letter written to the Irish government, with many signatories saying they have "lost all trust and confidence in the IRFU and its leadership after historic failings".
And then last week, the union announced that along with publishing the findings from the World Cup, it will also publish a review related to the structure of the women's game in the country. The fact that the latter was going to remain out of the public eye was the catalyst for over 60 current and former players to write the letter outlined above.
Former assistant coach Greg McWilliams is the new man at the helm of the national side.
J is for Jury
From the nadir of Luxembourg at home on the night the clocks went forward to an autumnal upturn, Stephen Kenny has enjoyed a year of no little tumult as boss of the national senior squad.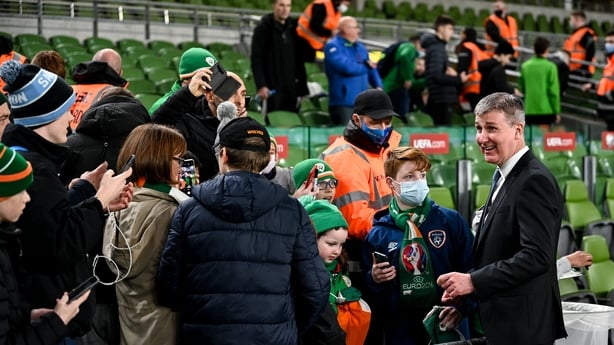 His tenure so far has sparked a 'culture war' of sorts in Irish football. As results improved, the pro-Kennyites had more of a pep in their step on the back of creditable performances home and away against Portugal, and putting Azerbaijan and Luxembourg to the sword on their travels.
Again @RichieSadlier and Liam Brady differ as to the merits of Stephen Kenny getting another contract, with Liam saying the manager should get a "one-year" extension https://t.co/bZMmmPDnlUhttps://t.co/S3peXTz49Thttps://t.co/tVlUbVGenb #RTEsoccer #LUXIRL pic.twitter.com/YMk0QU2Ra3

— RTÉ Soccer (@RTEsoccer) November 14, 2021
There are those, however, who would like to see a bit more evidence that Kenny is the man for a longer stretch. One such person is Liam Brady, who feels the upcoming Nations League is the competition to really judge the Tallaght native on.
Former Ireland Under-21 manager and current Shelbourne Women's boss Noel King feels Kenny would be a "lucky man" to be rewarded with an extension.
Roy Keane, at a function in Kerry at the end of November, said: "I think they're doing okay and if okay is fine for everybody else in Ireland, then good luck to them. Along the line at the top level of football, I thought winning was part of the package. Maybe I'm wrong.
"Football is about opinions. He has the Irish press on his side, especially the Dublin lot, but at the top level it is about getting over the line and winning games."
Stephen Kenny's view on Nations League draw
It's fair to say that a lot less are now sitting on the jury. Kenny has a bit more credit in the bank by way of the type of football his side are now playing and the success of blooding young, carefree players. Not many may have heard of Chiedozie Ogbene before he came on as a substitute against Hungary last June.
A final decision from the FAI on continuing the manager's contract is now not expected until after Christmas, with Kenny confident he will lead the national side in the Euro 2024 qualifying campaign. He also rubbished the idea of a two-month extension (July-September 2022) that would take him through to the end of the Nations League and reports that FAI is looking to insert a clause into his new contract should the manager leave the job ahead of the completion.
K is for Kudos.
The support that a competitor gives another, either through a wave, a thumbs up, a pat on the back, or through a message on social media, shows us that sporting endeavour isn't always cut throat. And through the click of a mouse, the love, the kudos, can extend across borders.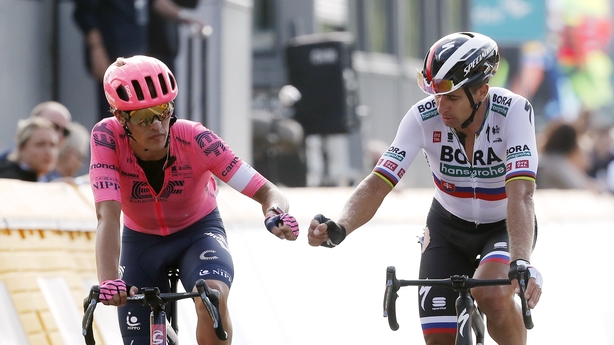 Strava is a mobile app that tracks the activities of cyclists and runners using social media features. Information can be shared amongst its users, with comments and 'kudos' allowed on the posts. Well Strava has just published its annual review (October 2020-October 2021). If you're interested you can read a synopsis of it here.
One of the topics investigated was 'Kudos, worldwide' and it showed that Americans give lots of kudos to Canadians and Brazilians. But Americans largely don't appear to care about the French. The UK has a lot of love for the USA, but not as much for France or Germany. The latter, no great surprise!
L is for Longevity
In a playing career spanning 45 years, Pauline McCarthy is still producing the goods. Recently the 62-year-old scored the only goal of the game as her club St Ailbes beat Dromcollogher-Broadford to win the Limerick junior B ladies football title. She also played her part as Ailbes made it to county Junior B decider in camogie, where they lost out to Doon.
Across four decades, McCarthy played camogie for Limerick and was on the team beaten by Cork in the All-Ireland senior decider in 1980, after a replay - the county's only appearance in a senior final. Three years previously there was All-Ireland success, with the Treaty claiming the junior crown.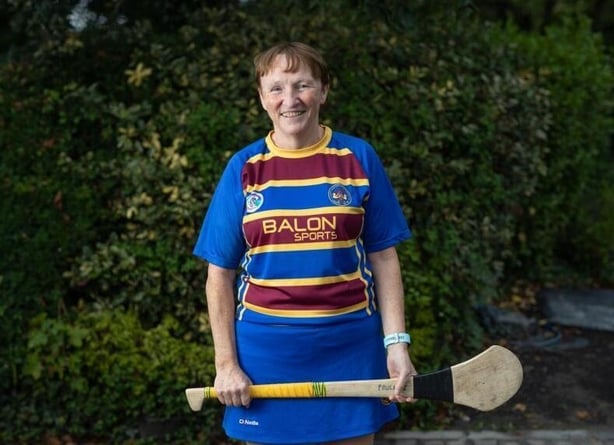 Club glory also came McCarthy's way back then by way of an All-Ireland double in 1978 as she lined out for Ballyagran in camogie and Cork side Newtownshandrum in football.
After Ailbes' football success in 2021, McCarthy told the Limerick Leader that she's not ready to give up yet.
"Age is only a number - keep playing as long as you can play," she said.
"Lots of people put pressure on you but why should you give up something if you like doing it. People would say, 'are you still playing?' Why wouldn't I? I'm enjoying it just as much as ever."
M is for Maximum drama
The last lap of the last race of the final Grand Prix of the season. Drama in Abu Dhabi as Max Verstappen claimed his first-ever Formula One world championship with a sensational last-lap overtake of Lewis Hamilton, this after Verstappen got a clear run of his rival following the decision to allow lapped cars to pass the safety car after an earlier crash. Yet there was more to this thrilling denouement, as Hamilton's Mercedes team, with barristers summoned, questioned safety procedures and highlighted two apparent breaches of the rulebook. Appeals went in and were rejected.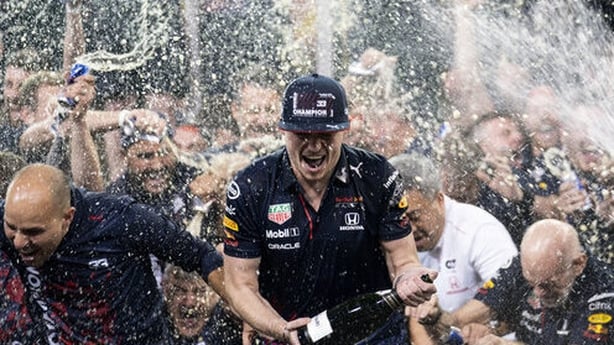 An unsatisfactory way for things to finish, with some questioning the fairness of it all, in that Formula 1 went as far as to manufacture the drama. Netflix will be happy ahead of the next series of 'Drive to Survive'. The sport, no doubt has its fans and gained a few more in advance of the 2021 finale.
Those of a certain vintage will remember the days when Dubliner Eddie Jordan had cars bearing his name going vroom, vroom all over the world. For a decade RTÉ television got in on the act with live coverage of all the races. Peter Collins was the man calling the action; a different voice and tempo to the established tones of the late Murray Walker. A different time. No need for the heightened drama.
N is for National
Rachael Blackmore made headlines when becoming the first female rider to win the Aintree Grand National. ITV commentator Richard Hoiles said of her Aintree trumph on Minella Times: "She is one of the best jockeys to win the Grand National". Yes, she is one of the top National Hunt jockeys out there at present. A stellar 2021 also saw her become the first female to partner the winner of the Champion Hurdle at Cheltenham.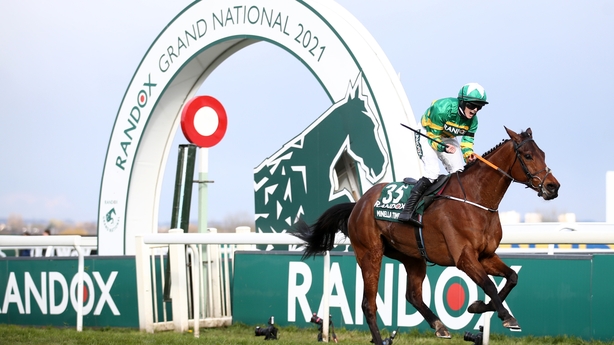 Her victory on Honeysuckle was one of six successes at Prestbury Park - all leading to another first as she was leading rider at the Festival. Blackmore, while not a natural in front of the cameras, still offers a refreshing modesty about her achievements, redirecting praise at Henry de Bromhead and JP McManus, while playing down the gender angle after her successes. The Tipperary competitor was a deserved winner of the RTÉ Sportsperson of the Year award.
Rachael Blackmore has been crowned the RTÉ Sportsperson of the Year after a remarkable 12 months in the saddle. pic.twitter.com/nf5WdCCzPx

— RTÉ Sport (@RTEsport) December 18, 2021
O is for Overjoyed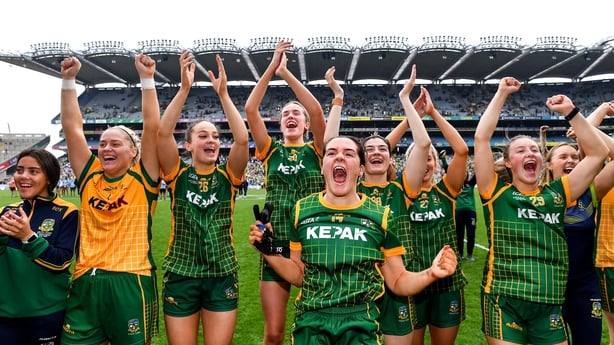 The faces on the Meath players says it all after one of the year's unlikeliest triumphs when Dublin were accounted for in TG4 All-Ireland senior decider. A maiden title for the Royal County after coming up from intermediate in 2020, and a deserved one at that.
A high intensity display, driven on by the superb Vikki Wall, was key for Meath as they always held the upperhand against Mick Bohan's five-in-a-row chasing Dubs.
That they beat Cork in the All-Ireland semi, the only other county to win a senior final since 2004, removed any doubt about who the best team in Ireland was this year.
P is for Portland Row
A Dublin 1 location not short of characters with dry wit. And now they have an Olympic champion in the shape of the likeable Kellie Harrington. As dawn broke on the morning of Sunday, 8 August, residents in Portland Row gathered around their TV sets to watch a steely faced Harrington enter the ring in Tokyo. In the other corner was Beatriz Ferreira of Brazil in the lightweight final.
The Brazilian started well, with her opponent finding it hard to deal with the flurry of punches. A change in tactics, therefater, by Harrington where she switched to southpaw, saw her gain a measure of control she would not relinquish.
The decision was unanimous in the end.
Afterwards Harrington spoke about her relief in getting the job done and wanting to go back to her people.
"This is the stuff of dreams"

An emotional and joyous @Kelly64kg has been reacting to her #Tokyo2020 gold medal win #Olympics #RTESport

📺 Watch live - https://t.co/yeoFtHU1S3

📱 Updates – https://t.co/0gOUdPX1p1 pic.twitter.com/BZigBW2MpS

— RTÉ Sport (@RTEsport) August 8, 2021
And then the champion was back on home soil. Hundreds of well-wishers turned out to show their pride in her and to celebrate the boxer's success.
The moment Olympic gold medallist Kellie Harrington returned to Portland Row in Dublin, chants of 'Kellie! Kellie! Kellie!' ringing out | Read more: https://t.co/SOtBakLRVe pic.twitter.com/wCouwawFHC

— RTÉ News (@rtenews) August 10, 2021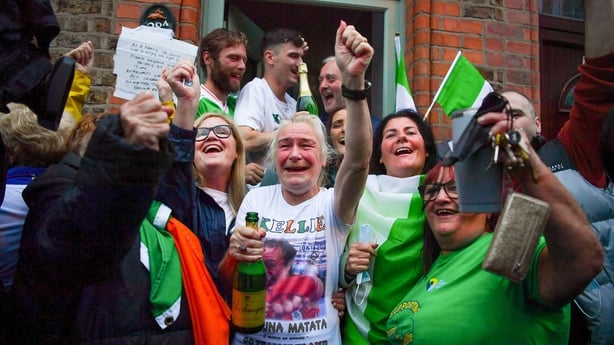 Q is for Quotes
Pádraig Harrington ahead of the singles matches at the Ryder Cup. Europe were trailing 11-5 before a ball was struck.
"It's [a comeback] never been done before. But it doesn't mean it can't be done. One guy can't win nine points, but 12 can each win one.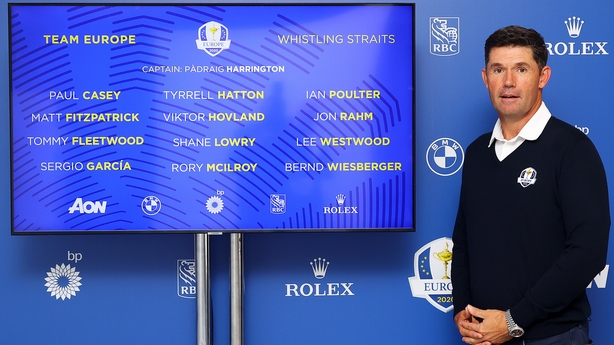 "Shane Lowry also was giving up on things when he said: 'If you've got a 1% chance, you have to have 100% faith.' And I just think that we really need to live by that tonight and tomorrow and go out and give it our best".
USA domination right from the start at Whistling Straits eventually saw them romping home 19-9.
Louis van Gaal on why he was the right man to take over the Dutch national side for a third time.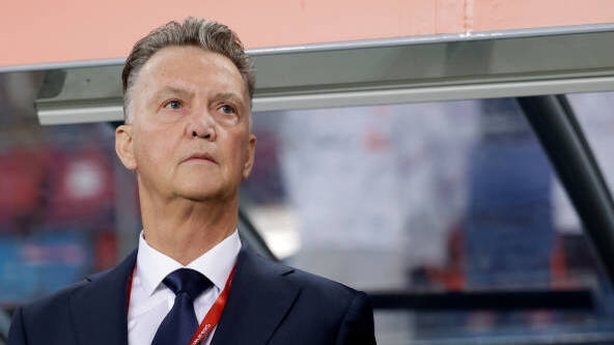 "I think if I was the Dutch Football Association, I'd also have approached me. It might sound a little melodramatic, but I think experience is now very important because we do not have any time."
Mayo's Pádraig O'Hora in the aftermath of the win over Dublin in the All-Ireland semi-final.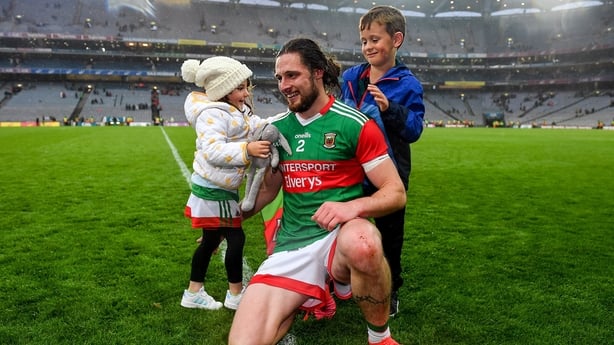 "It's impossible to put it into words. Look at this place. What it means to all of us. I can't even describe it, unbelievable. It's the best day of my life."
Ellen Keane on one thing she took a break from in advance of winning gold at the Paralympics.
We need your consent to load this Facebook contentWe use Facebook to manage extra content that can set cookies on your device and collect data about your activity. Please review their details and accept them to load the content.Manage Preferences
"I took a break from social media because I felt it was distracting me a bit. In going online I felt the nerves creeping in. For these game I wanted to be as present as possible. These are the first game I've been at where I have not been; I've been so calm. Last night I was worried as to how calm I was."
R is for Rookie of the Year
It's been a good year for Cavan's Leona Maguire, a year highlighted by her starring turn at the Solheim Cup. Maguire's singles victory over Jennifer Kupcho at the Inverness Club in Ohio gave her four-and-a-half points from five matches – a record for a rookie on either side – and provided the ideal springboard for a hard-fought 15-13 success.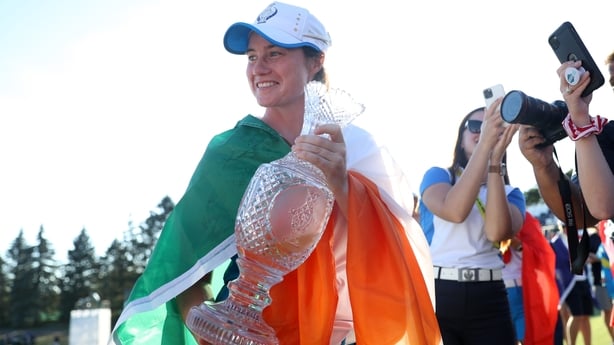 Starting off the year at 177 in the world rankings, Maguire has now risen to 43.
Four top-10 finishes, a further six top-20 finishes, while a career-best finish of joint-sixth in a major (Evian Championship) was further proof of Maguire's progression in only her second season on Tour.
S is for Scoring Rate
After the conclusion of the Allianz League, former Kilkenny star Eoin Larkin, voiced concerns about the state of hurling in that it was getting boring and that games were becoming a "free-taking competition" and were "so loose".
Fast forward to the All-Ireland final and Limerick's 3-32 in their demolition of Cork was the biggest ever total in a decider. At half-time the Treatymen had 3-18 on the board, a tally two scores shy of what they hit to beat Galway after 70+ minutes in the 2018 final. 3-16 of the 3-18 came from play.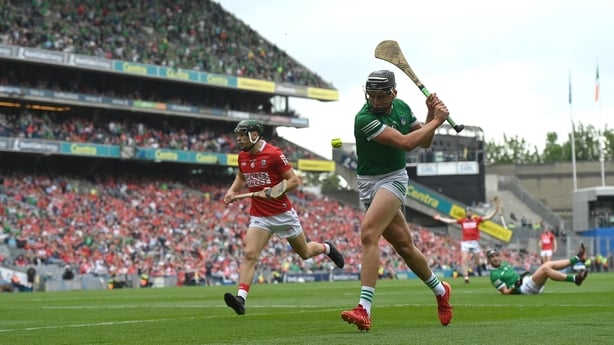 Limerick's performance in winning a third All-Ireland in four years was far from boring, though Cork's marking in the opening half and the awkwardness in working their short restarts, was the Achilles heel in them coughing up so much.
Larkin's thoughts have a certain validity; there is too much space afforded on the field of play, too easy then to raise a white flag. Hurling purists, you suspect, will not care at such a view.
The 2021 championship gave us 60 goals, compared to 41 (same number of matches played) in 2020. Okay the latter staging was played out before empty stadiums, and that perhaps contributed to the difference. Getting in for goals is the obvious method to stop rampaging Limerick, but that's easier said than done.
Recently Dublin GAA supremo John Costello floated the idea of increasing the value of a goal to four points in both football and hurling. Anthony Daly was of a similar view a few weeks earlier on the RTÉ GAA Podcast, when he floated the idea of four points for a second and subsequent goal. Would the GAA do something as "volcanic" as that, he wondered?
T is for Tallaght Tigers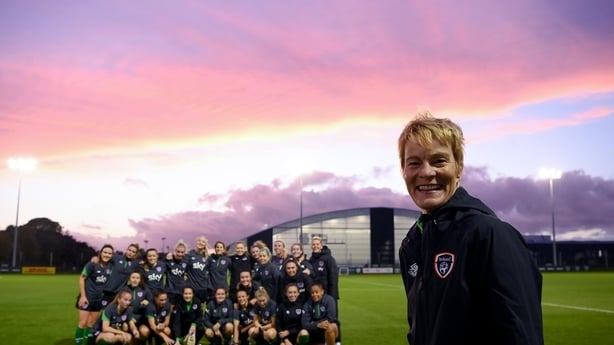 Ahead of the two World Cup qualifiers against Slovakia and Georgia, coach Vera Pauw visited the tiger compound at Dublin Zoo to encourage fans to come out in support of the 'Tallaght Tigers'. An earlier reference from Pauw, where she referred to the Irish team as a "bunch of tigers", a clear metaphor then as to type of performances expected on a road that might see qualification for a first ever World Cup.
So far the Irish have enjoyed a decent start to the campaign. A near-full Tallaght Stadium has witnessed a narrow loss to group favourites Sweden, a draw against a Slovak side who'll also have designs on second sport, and then the 11-0 demolition of the hapless Georgians. In between was the gutsy 2-1 away to Finland.
GET IN!
Katie McCabe equalises

The Arsenal star plays a captain's role, running on to Denise O'Sullivan's pass and drilling a low shot across the Slovakia goalkeeper#rtesoccer #IRLSVK
📺https://t.co/2W5kFtUgZE
📻https://t.co/QHSJNYlfx8
📱https://t.co/vFciaNF7Xg pic.twitter.com/PmX1olnrFq

— RTÉ Soccer (@RTEsoccer) November 25, 2021
There is a lot of goodwill out there towards the team; reaching a major final would heighten interest even more. 2022 could be a magical year for Pauw's tigers.
U is for Unsentimental
Another All-Ireland loss for the footballers of Mayo in 2021. The Green and Red have had 13 bites at the cherry since 1989. Ouch!! There's no need to recall the agony and the heartache, but there is a sense that fewer people are now in their corner hoping that they finally can over the line. Against Tyrone on 11 September, Mayo were beaten fair and square.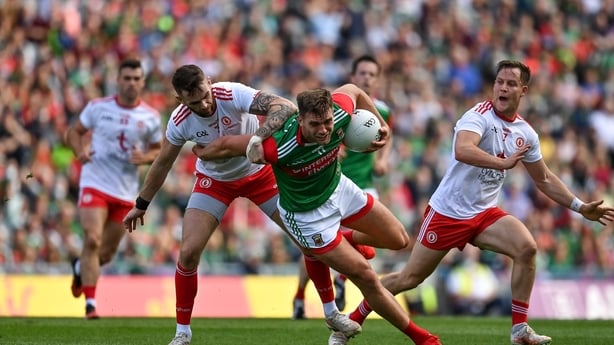 The Ulster side were more clinical when it came to taking their chances and, crucially had more leaders on the field when the game was there to be won. After every final loss, there is that common take-away that Mayo are 'missing something' - whatever it is, it's a small thing. The heroism that they showed in overcoming Dublin in the semi-final was only going to take them so far and certainly did not warrant the favourites tag heading into the final.
More soul-searching for James Horan. He's used to that at this stage.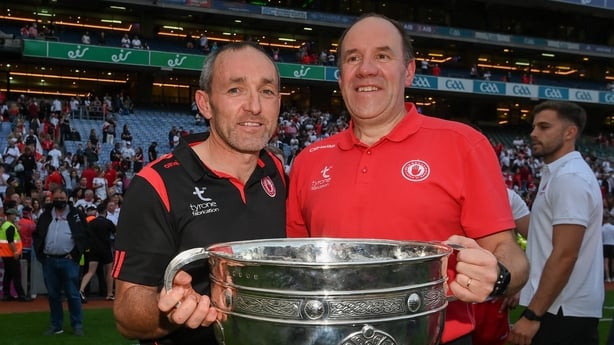 Tyrone are likeable again. Deserved winners after a June collapse in Killarney. New management did help to freshen things up this year. There was more enegy in their play. Logan and Dooher deserve credit, as does Mickey Harte before them.
V is for Vote
Proposal B, a league-based format for the football championship, though not perfect, failed to reach the 60% threshold for it to be passed at the GAA's Special Congress in October. And so the chance to fundementally change the quest for All-Ireland glory had passed. For now, that is. Change is coming. Next February's Congress in Mayo will see a proposal, green light by Central Council, go before delegates.
So which proposal will it be?
The 'red' proposal suggests a round robin provincial championship in February/March. This would be followed by a league-based championship from April to July. This template is seen as an 'improved' proposal from what was narrowly defeated in October.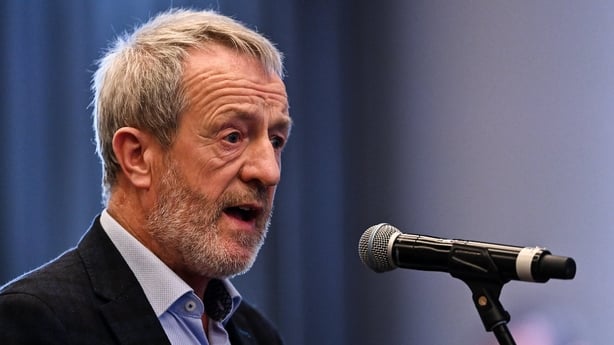 A new 'green' proposal - as promoted by former GAA president Seán Kelly - would see the retention of the current Allianz League and provincial championships.
These competitions would be followed by round robin groups in the Sam Maguire and Tailteann Cups.
A decision on whether it's 'red' or 'green' will be revealed on 22 January.
W is for Wonder goal at the Aviva
St Pat's Chris Forrester, take a bow! Great individual effort that helped to break the deadlock in the FAI Cup final. A Bohemians equaliser would follow before Pat's prevailed after a penalty shootout. Over 37,000 turned up at the Dublin 4 venue, breaking the attendance record for a final at the Aviva. A positive note to end the League of Ireland year.
We need your consent to load this YouTube contentWe use YouTube to manage extra content that can set cookies on your device and collect data about your activity. Please review their details and accept them to load the content.Manage Preferences
X is for X-rated
Swimmer Adam Peaty twice dropped the 'F bomb' on live TV as he reacted to winning Team GB's first gold medal at the 2020 Tokyo Olympic Games.
The 26-year-old claimed victory in the 100m breaststroke, so becoming the first GB competitor to retain an Olympic title, and he was quite emotional when he spoke to BBC afterwards. "It takes an athlete to be the best person on the day and who f***ing wants it more," he said.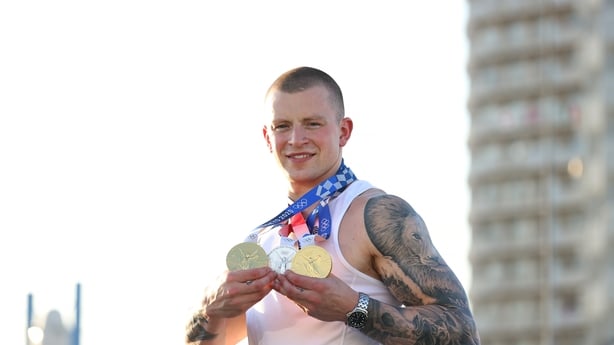 "It's like the four minute mile - once one person does it others do it. Thanks to the nation for being behind me for five years and my family and my beautiful boy.
"I knew it was going to take every bit of energy and I'm just so f***ing relieved. Apologies for the swearing!"
After his Tokyo success, Peatty went on to compete in BBC's Strictly Come Dancing. He was the sixth contestant to be eliminated, so he did get to show off his dancing 'skills' for a while.
Y is for Yearning
Oh please Covid-19 go away and all your spikey variants!
As we come to the end of the year, the world is still in the grip of the virus. The Omicron strain has already played havoc with Premier League fixtures. Here measures set to limit capacity for outdoor venues to 50% or 5,000 people - whichever figure is lower - are in place until 30 January.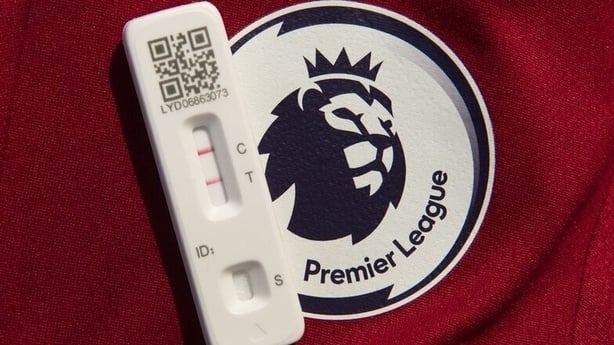 Indoor sporting events will be subject to an 8pm curfew and a maximum capacity of 1,000 attendees or 50% of capacity, with the lower figure dictating crowd numbers.
Heineken Champions Cup matches between British and French clubs were called off in the week before Christmas.
There are growing doubts about the African Cup of Nations, already postponed from this year, taking place from 9 January to 6 February.
Covid-19 viruses, in truth will never go away. 2022 will hopefully see the pandemic become endemic allowing sport and other recreational activities to function a lot more freely.
Will throw in an extra Y here to acknowledge a piece of cricketing history in October.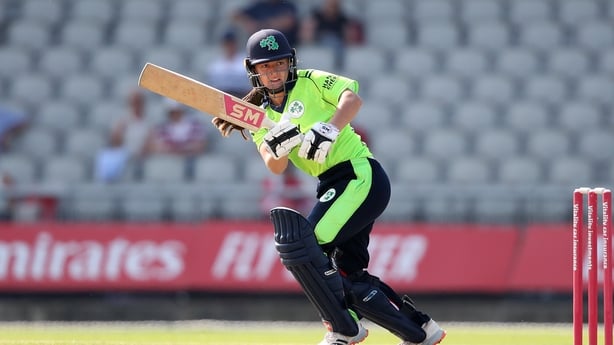 A sweet 16th birthday for Amy Hunter.
In August, the Ireland Women's cricketer struck an unbeaten 121 against Zimbabwe in Harare to become the youngest player, male or female, to score a one-day international century.
Asked if she could think of a better birthday present, Hunter told the PA news agency: "No, you really can't. It was more than I ever imagined to be honest."
Hunter's 121 helped Ireland power to 312 for three from their 50 overs.
The history making moment! 🙌

Amy Hunter strikes a four to become the youngest centurion in Women's one-day international cricket. 🏏☘️

Just listen to what it means.👏@HanleyEnergy | #BackingGreen☘️🏏 pic.twitter.com/Ht16kpyYnO

— Ireland Women's Cricket (@IrishWomensCric) October 11, 2021
Her runs came off 127 deliveries and included eight fours as Ireland won the match by 85 runs to complete a 3-1 series win.
Not surprisingly, Hunter was named player of the match.
The Instonians batter pipped Mithali Raj to become the youngest ever ODI centurion - the now India captain was 16 years and 205 days old when she scored 114 not out against Ireland.
Z is for Zaza
Aged 12, Hend Zaza was the youngest competitor to compete at the Tokyo Olympics. Representing Syria in table tennis, Zaza was defeated in the preliminary round, losing to her 39-year-old Austrian opponent. Still she is determined to make her mark in a sport which has provided her an escape from all the suffering and pain of war.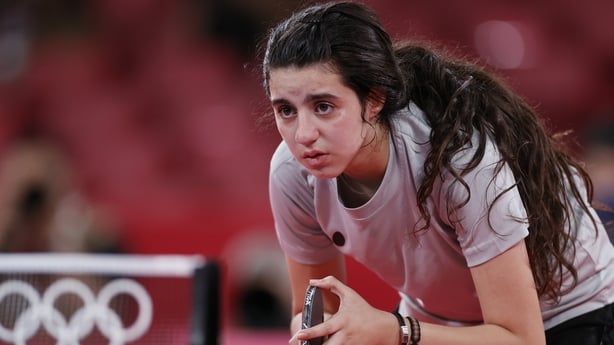 "Table tennis is my whole life," she told reporters in Tokyo.
"I will not stop playing. I spend all my time playing it, other than table tennis I study. I'm working towards the future, to be the world champion and an Olympic champion, and to be a pharmacist or lawyer with my studies.
"The day that I don't train, I feel that I'm missing something and the day is not good."