Stephen Kenny said that he is not concerned regarding reports in the media that the FAI is looking to insert a clause into his new contract should the manager leave the job ahead of the completion of its expected two-year term.
The Ireland manager admitted that talks with the FAI had begun, but stressed that they were only at the early stages and he expected that they would ultimately be completed in order to place him in charge until Euro 2024.
The manager did admit, however, that he did not expect the contract to be finalised before Christmas, stating that "it's an ongoing process, and these things take a little bit of time to sort out".
Kenny is expected to be handed the opportunity to bring the national team through the qualification campaign for the 2024 tournament, which is taking place in Germany, however, his current focus is on next summer's UEFA Nations League, which will see Ireland play six games in June and September.
"I don't know why that would be reported, I've no idea why it would be reported," said Kenny, when asked whether he had any knowledge of reports suggesting that the FAI might feel the need to insert a value for money clause in the contract.
"It's not something that I would be concerned about. Talks are ongoing, they have just started really.
"I'm looking forward to the Nations League campaign and I am sure and pretty certain that I will be the manager for the European Championship campaign as well.
"So it will be sorted out in due course."
The manager also rubbished the concept that he could be given a contract that would only run to the end of the Nations League campaign, which in effect would only be a two-month extension from July to September.
"That would not make sense," said Kenny. "That would only be a two month contract from July to September.
"I've never heard of such a contract before. It would be quite unprecedented.
"Listen, we've just started talking, and everything will be ironed out in due course."
Looking ahead to the start of the competition next summer, where Ireland have been drawn in a group alongside Ukraine, Scotland and Armenia, the manager expects that all of his current squad will be available for selection with no players indicating that they are stepping away from the international set-up.
And Kenny is also confident that his current backroom team will remain in place, stating that Keith Andrews, Anthony Barry, Dean Kiely and himself all love working with each other.
"Nobody has opted out," said Kenny. "Darren Randolph is capable of getting back playing at a good level for sure, he's not old by goalkeeping terms at all, he's still got plenty of football left in him.
"James McCarthy has had a few games at Celtic but needs a run of games, but I wouldn't like to rule anyone out. To the best of my knowledge there has been no retirements or anything like that.
"[The backroom staff] love it, we all actually love working together and have a great working environment and obviously the whole backroom team, the longer we've worked together, the better we've got as a unit working together.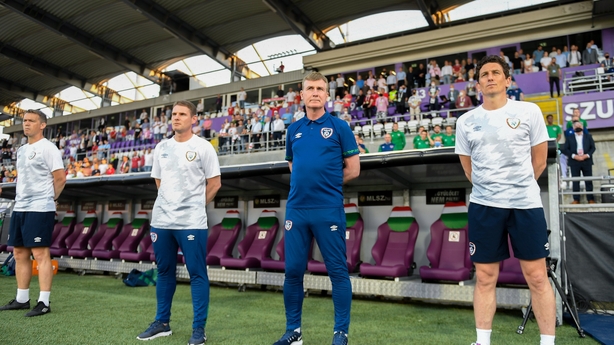 "We'd like to keep it intact and that would be the idea, they'd ideally like to stay on of course. And for them it's different, I suppose, because they are involved in day to day stuff at their clubs, they're not thinking real long term about it, but they want to stay on board and are very much an important part of the set-up going forward."
The manager believes that Ireland have a tough schedule for the next edition of the Nations League as his side must travel to Ukraine and Armenia either side of a home fixture in June, and he said that UEFA "seem to be favouring the top seeds as Ukraine play Scotland and Ireland in the one trip, while Scotland have two home games to start".
However, the manager said that he is excited by the challenge and that the team will be well prepared for every game of the four matches to be played over a two-week period in June.
"It's a challenge but not one I'm fearful of. I'm excited about it," said Kenny.
"I was always one as a manager, when we had seven games in 21 days, it never really bothered me. I never complained.
"It's when other teams get other advantages in terms that they might have two matches and we have three in that international period. That can be difficult but if everyone has four games, well then that's fine. We'll make sure that we're ready."
As for the team's chances of topping the group, an aspiration that the manager proclaimed even before the draw was made on Thursday, Kenny would not offer an opinion as to whether Ireland were, in his opinion, the strongest in the group based on current form.
"Most neutrals wouldn't say that we are the strongest in the group. They'd say Ukraine having got to the quarter-finals of the European Championships would be the favourites and the top seeds," said Kenny.
"Scotland of course have a lot of their players playing regularly with some of the top Premier League clubs, so they are a strong side.
"From our point of view though, we can't concern ourselves with any of that. We're just looking to get better ourselves, collectively. It's a collective team that we are trying to build. We are evolving as a squad and there is a good connection between the experienced players and the young players, we're seeing that more now.
"And the reason I spoke about having the ambition to win, because that is important…we need everyone, because this tournament is important to us and getting to the European Championships in Germany is everything for us."