Minister of State for the Gaeltacht and Sport Jack Chambers has set a target of 40% female representation in leadership roles in Irish sporting organisations by the end of 2023.
That is just one of 40 initiatives included in the newly-published Sports Action Plan to cover the period of 2021-23, a document that also aims to help the recovery from the Covid pandemic and also build up the sporting infrastructure in Ireland.
"Equality in sport is so important," Chambers told RTÉ's News at One.
"If you go down to any local grassroots club now you're seeing huge numbers of girls and women participating at club level and it's important that we see that reflected at a leadership level when it comes to all sporting organisations.
"That's why there will be this new target and deadline at the end of 2023 of 40% women on the boards of sporting orgnisations.
"We have seen progress from some in recent years but we have a number who have a long way to go. That's why they have two years now to get their act together and to ensure that they hit 40%."
The Sports Action Plan, released as part of the National Sports Policy 2018-2027, will be funded as part of the Government commitment to at least doubling its investment in sport, from €118 million in 2018 to exceed €220 million by 2027, and aims to ensure that 60% of the population are participating in sport or physical activity.
Other key headlines in the policy include the implementation a 'sport for all' approach to tackle barriers to participation and establishing an Inclusion, Diversity and Equality Fund and a Disability Sport fund and the development of a new annual winter initiative campaign, starting this year, to encourage the recovery of membership and participation in sports clubs and enhance the sports sector's recovery from the pandemic.
There will also be the implementation of Sport Ireland's high-performance strategy 2021-2032 to ensure Ireland's top athletes are fully prepared and resourced to compete successfully at international level.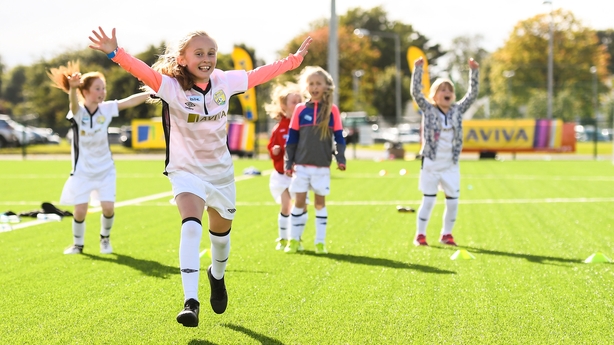 The report also proposes the development of a policy so Ireland can compete with the best in the world when bidding for major events.
Alongside that, it is proposed that "Sport Ireland [will] explore potential areas of greater strategic alignment on the further development of sport on an all-island basis, including the potential for new all-island competitions at elite and recreational levels, and opportunities to make joint North-South bids in the future for international tournaments."
Ireland are considering a a potential joint bid to host the 2030 FIFA World Cup in conjunction with the English, Scottish, Welsh and Northern Irish football associations.
Other highlights from the plan include the development of a national database of all sport and recreational facilities countrywide that will make key information on sporting facilities accessible to all and a new youth forum on sport so young people have input into the design and implementation of programmes to encourage lifelong engagement with sport and physical activity.
"Sport and physical activity should be a lifelong pursuit," the Minister said.
"Building high levels of physical literacy at a young age is vitally important if we are to succeed in helping young people to take the lead and get involved in a sport and physical activity that best suits them.
"We know that too many young people are dropping out of sport during their adolescence, particularly young girls, and we need to stop and reverse that worrying trend."
The Sports Action Plan 2021-2023 is available here.