The NBA has become increasingly international when it comes to the nationalities of the players in the league.
But only once has a player born in Ireland made it onto its courts. That was Pat Burke, who was born in Tullamore before moving to Cleveland, Ohio aged three.
At 6 foot 11, he naturally took up the centre position when he featured in the NBA for the Orlando Magic and Phoenix Suns in various spells between 2002 and 2007.
Three centimetres shorter than Burke but also occupying big man roles on court, Aidan Igiehon is aiming to become the second player born in Ireland to make it into the world's premier basketball league.
It's seven years since the proficient dunker took a bold leap of faith and moved from his native Clondalkin to the US East Coast to try and make the dream happen, and it's one that has seen a player dubbed the 'Irish Hulk' take a new fork on that road this year – but more on that later.
In some ways the start of his journey bears some similarities to fellow Dubliner Ben Kiernan. As the latter told RTÉ Sport recently, he moved to the state of North Carolina at high school level before making a mark in American football as a punter despite it being a sport he wasn't well acquainted with.
Igiehon also left Dublin as a teenager but his first steps as a budding basketball player began at home when he was spotted playing soccer at the age of 12 by Dublin Lions coach Mick White.
"I played soccer from when I was six. I had no idea about basketball. But it was my English teacher at Moyle Park that got me into it," the 21-year-old tells RTÉ Sport during a recent day off from his busy schedule at Grand Canyon University where he has recently transferred to become part of the institution's basketball team, the Antelopes.
Igiehon quickly got to grips with his new sport as he learned the game in youth teams for his school Moyle Park College in Clondalkin as well as his club Dublin Lions.
But it was facilitated by a sudden growth spurt that saw him grow by a foot in the space of a year, reaching the heady heights of six foot six by the age of 14.
And then came the most pivotal moment in his life to date when Dublin Lions decided to take their young league-winning players on a trip to the US to take part in a Philadelphia 76ers camp.
"Previously we had won the league at under-13 and under-14 and (the trip) was kind of like a treat," Igiehon recalls.
"It was going to be about €2,000 so I told my Mum, 'Listen, I don't want any birthday presents or Christmas presents, if I can go on this trip, I'm good'. So she made it happen.
"(The team) had a couple of things planned. We went to New Jersey, went to New York and did some sightseeing. But the whole majority of the trip was to go to the 76ers camp.
"It's not even an exposure camp but just a camp for the kids. But there were some good players there and college coaches there."
And it did not take long for Igiehon's talents to garner attention under the watchful eyes of high school coaches.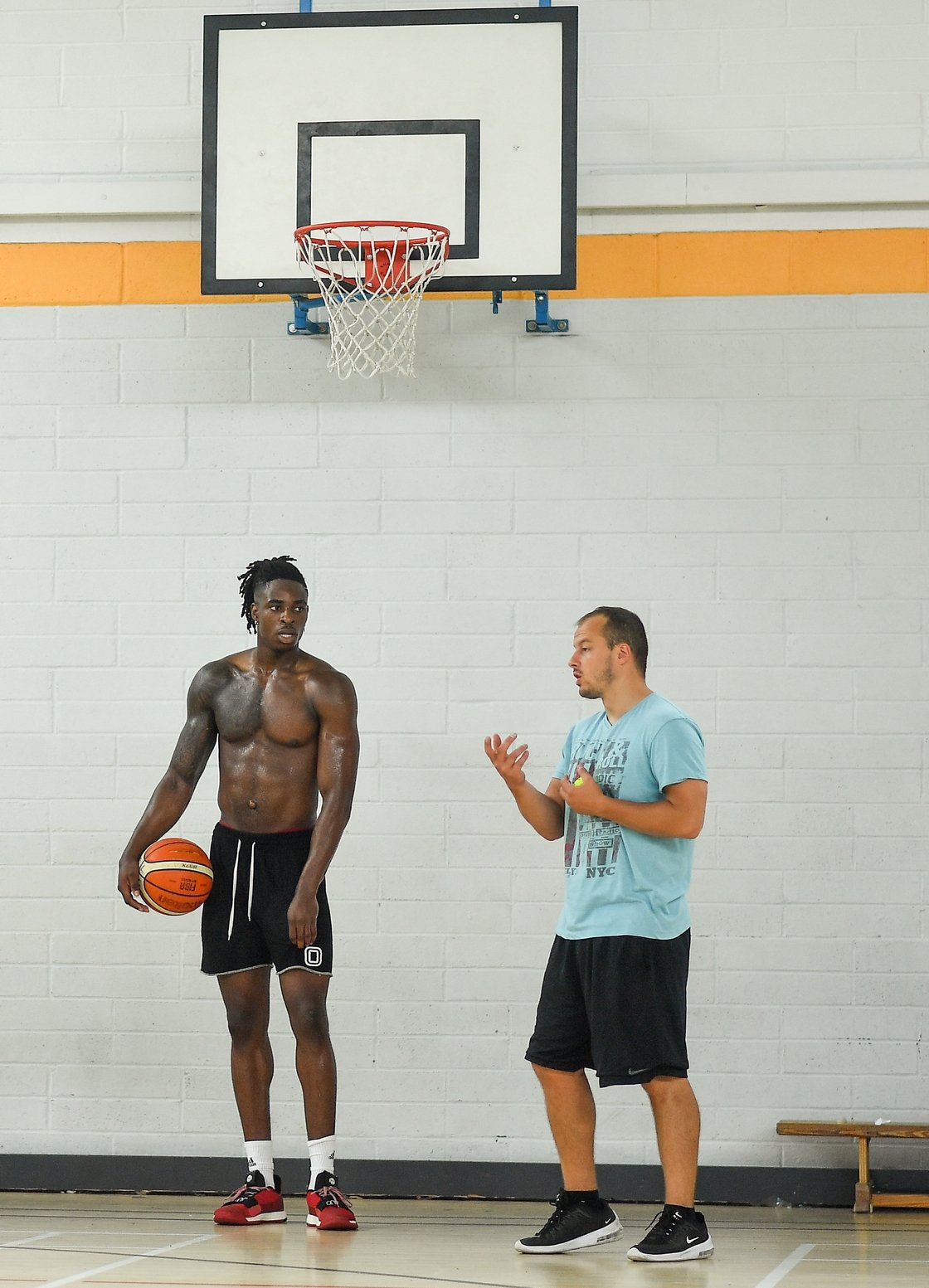 "When I started playing, I was playing extremely well at a level that I had never played before. This was all new to me," he says.
"Just imagine you doing things in the game that you're like 'wow, that's so cool, I didn't know how to do that'. That was every second. So it was like a switch and before I knew it, my second last game was swarmed full of high school coaches and I thought we were playing against really good players and I turned out to be that good player that they were there for.
"I had a really good game and it's actually funny because I had a broken knuckle in the game. So I was playing with a cast on and I've actually never told anyone that.
"But I played really well, I was dunking everything and they see a 6 foot 6 Irish kid that's 13-years-old flying around, that makes some college and high school coaches drool."
Given it was only supposed to be a short trip with the Dublin Lions before returning home to school and normal life at the end of that summer of 2014, it was only dawning on Igiehon that he would be staying put in the US for the foreseeable future.
I did get homesick a lot because it wasn't Dublin but it was that much easier just having family and somebody I knew that cared for me
"I hadn't expected it when they said that," he says of US coaches recommending that he stay stateside and make the most of his basketball talent.
"At first I thought they were joking. First of all, my Mum would never let that happen. I was rarely allowed out to play so to go to a whole different country was a no-go.
"But my (Dublin Lion) coach Mick White, and Rob White his son, called my Mum and strongly advised her that this would be a good thing for me and it turned out to be really good."
With the green light from his mother and the presence of an aunt and uncle who he could live with in the Brooklyn, New York area, Igiehon joined the Lawrence Woodmere Academy, a prep-school on Long Island, on a scholarship.
"It was good. They were all about developing their players and that's what I needed the most," he adds.
"I did get homesick a lot because it wasn't Dublin but it was that much easier just having family and somebody I knew that cared for me."
Playing for the school's team as well as for the New York Lightning in an amateur league, it was perfect preparation for trying to make a case to be scouted for college level even as daunting as it was for a player adapting to a country where basketball is one of the big sports.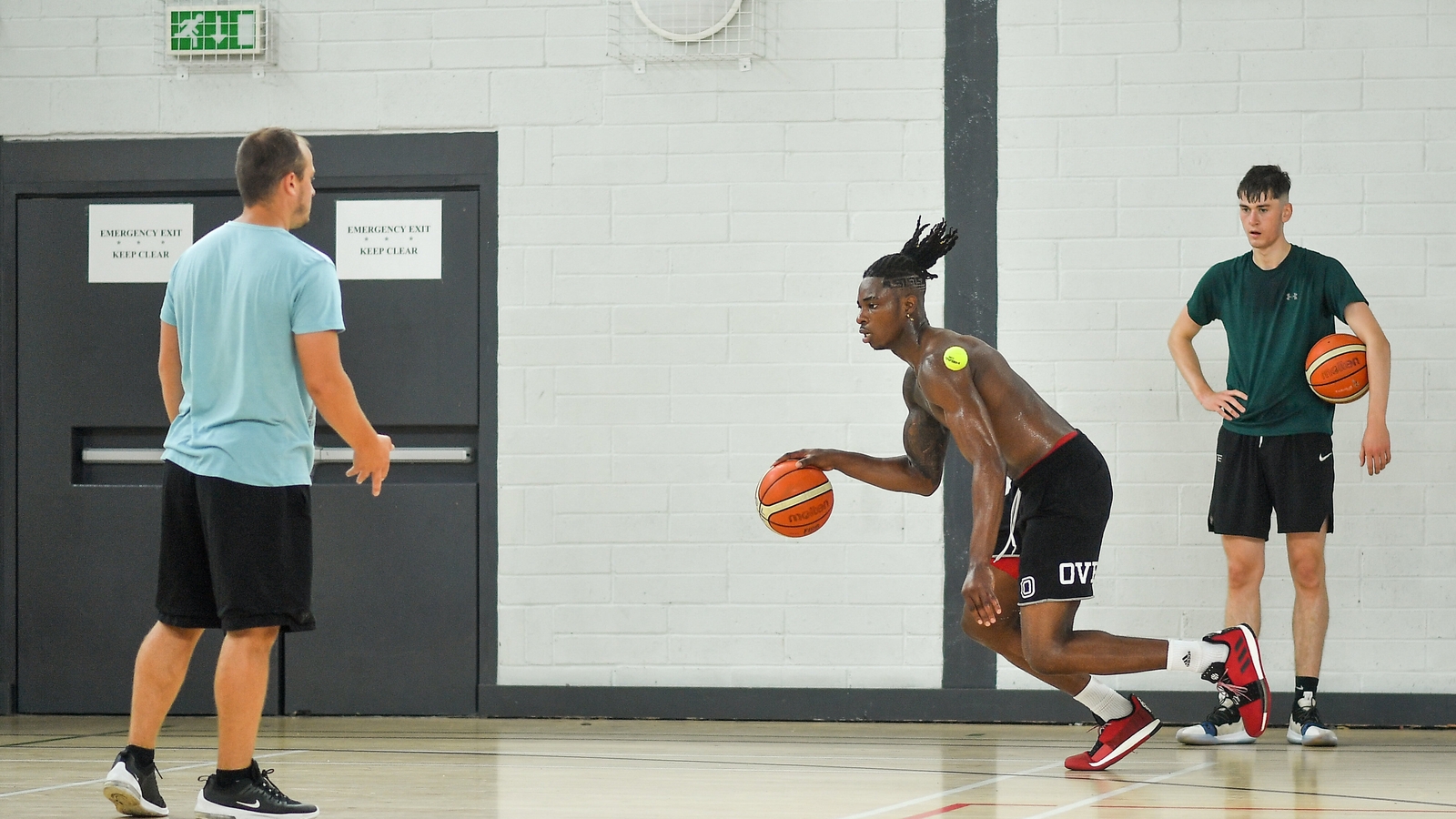 Plus, by his own admission, he was behind physically and in the fundamentals of the game compared to his American peers initially, although his development was aided by his drive to match the levels of players older and stronger than he was.
"The first game I actually played was for an Under-19 league here in Brooklyn and (the coach) said 'We're just going to throw you in here and see how you do,'" Igiehon recalls.
"It was probably one of the scariest things I've been a part of. It was grown men flying around and dunking the ball harder than I've ever seen anyone dunk it. I was like, 'I'm definitely not at this level yet'. So it was daunting at first but it made me realise they eat, breathe and sleep basketball. That's what they do. They wake up, they work out, they go to sleep for a little bit, they wake up again, eat lunch and work out at night. I had to adapt to that and mould myself to be in that sort of a culture."
With his on-court scoring and rebounding statistics soaring as he adapted, the interest and offers from university programs followed during his ninth grade (third year) and in the end he chose to join the University of Louisville in Kentucky in 2019 where he would be tasked with trying to break into the Cardinals' team whilst majoring in business similarly to Ben Kiernan at North Carolina and Co Kerry punter David Shanahan at Georgia Tech.
"Their recruitment game was just the business," says Igiehon of Louisville's approach.
"When you're so young and you don't have anyone to mentor you or have been through it in your family, (it's) who wooed you the best.
"And that's a very important word right there, 'wooed', because that's what they do. They show you how green the grass is and what they can do for you and how beautiful the city is, how the facilities are... so it was the school that was the most sexy, I would say."
While he loved the city of Louisville which is nestled just inside the Kentucky border near the neighbouring state of Indiana, circumstances dictated that he wasn't able to get off the ground in the way he would have hoped as part of the Cardinals' squad during the 2019-20 and 2020-21 NCAA Division I seasons.
"I wasn't as close with the coach as I thought I would be but again, it's a business. Once they get you there, it's a done deal," he explains.
"I hurt my shoulder pretty bad in my freshman year and I was out for five months and then my sophomore year, I tore my labral in my hip and I didn't even know I'd torn it but I knew I just couldn't be on full go.
"So I've had my fair share of injuries and Covid and stuff like that, so it did give me more of a rough time (at Louisville)."
Game-time was limited as a result, averaging just under six minutes per game in the few matches he was able to play over the two years. So he decided to take the plunge and put his name in the transfer portal and seek a fresh start at another university which is how he has ended up in Phoenix, Arizona with the Grand Canyon Antelopes for this coming season.
"There's something called the transfer portal and when you talk to your coach, the university that you're currently at will put your name in the transfer portal for you and coaches shop at the transfer portal all the time. They'll look there first before they actually look at the high school level," Igiehon explains.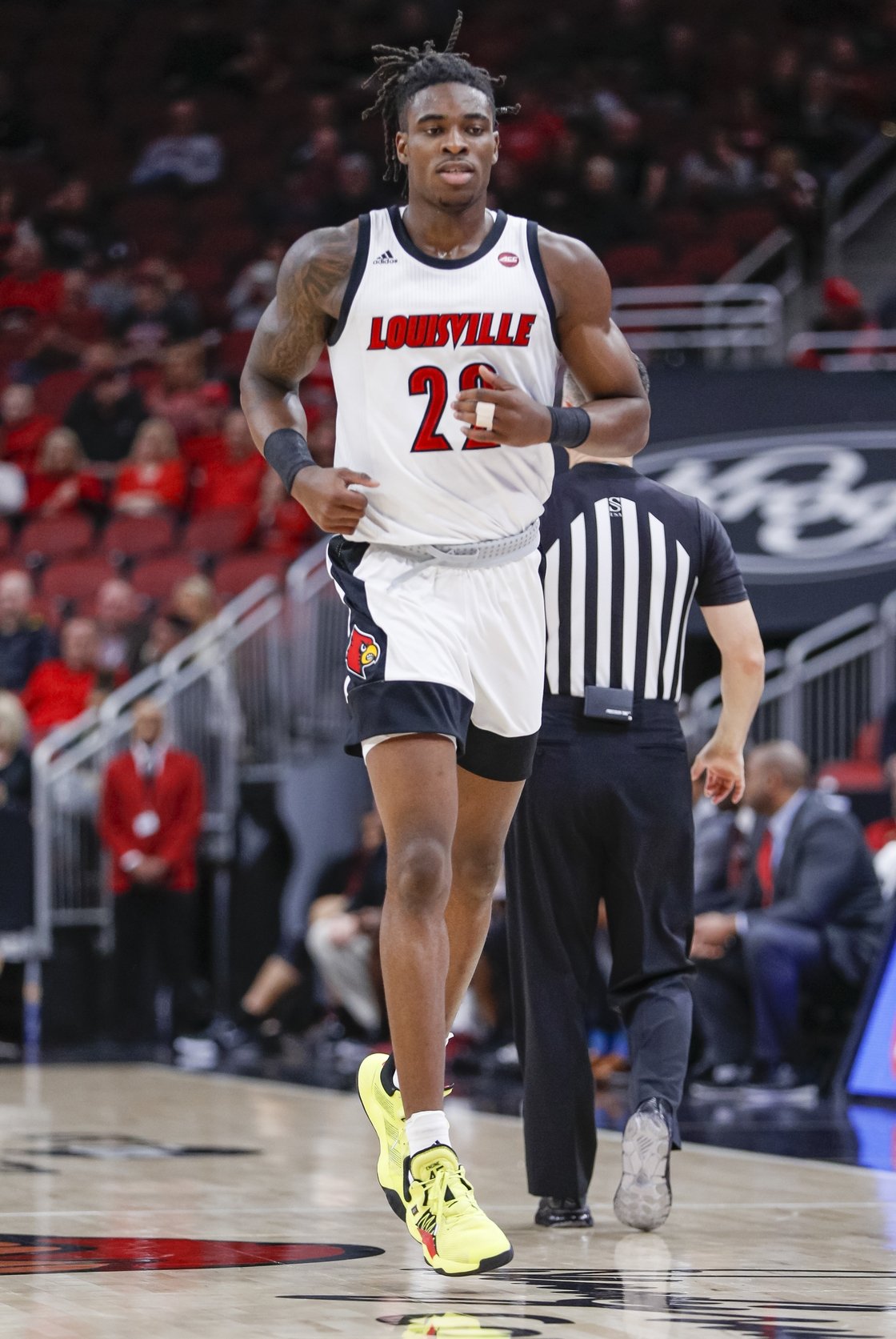 "So I put my name in the transfer portal and then you just wait and schools call you. If you went through what I went through (at Louisville) and you have such high expectations for yourself and things don't pan out, you just want a fresh start.
"And when I left and I came here (to Grand Canyon), it felt like a breath of fresh air. I got into the best shape of my life and I just feel good. It's a fresh start, all your injuries and your past complications with coaches, that's behind you so you have the chance to have a do-over."
The chance to test himself again at NCAA Division 1 level will come next Saturday when the Antelopes begin their season.
But he is already getting to grips with the busy schedule – hectic academic and team commitments that Kiernan and Shanahan would quickly recognise at their respective universities.
"It's a very full day," Igiehon says of the average day in the life where he lives on campus in a four-bedroom apartment which he is currently sharing with one of his team-mates.
"I wake up in the morning to lift weights and after that I go to do my work-outs on the court. There might be a practice run after that or it might be team work-outs. Team work-outs would probably last an hour where you work on your game and a bunch of shots and do a little cardio and conditioning.
"And then I'll go get some treatment. That's a big thing for me to take care of my body. Whether you're in the normatec boots, the cold tub or if you're getting a massage, you'll get to do that then.
"And then you'll go to class after that. Our classes are in the afternoon and after you take care of your academics then you go back to practice back at the gym.
"After practice, I have the training table which is catered food to make sure you're maintaining your overall weight. I'll go home for a little bit, relax and then come back at night time to work out again."
And like Shanahan and Kiernan, he can avail of academic advisors to provide a guiding hand when it comes to the schoolwork.
College eligibility when it comes to declaring for the NBA draft is normally four years, he says – Igiehon is currently at the start of his third – but with the impact of Covid-19 that has been extended to five years, giving more breathing room in pursuit of his on-court goal.
I told them I'd do my absolute best to put on an Irish jersey
"I can actually declare for the draft after this year but it depends on how you play," he says, adding that he feels tailor-made for the more flexible demands of the modern big-man power-forward and centre roles in the NBA.
"Thank God, I'm perfect for today's big man role because you have to be able to do everything. You have to be able to shoot it, be athletic, run and guard multiple positions – that's the biggest thing.
"It's the defensive end, you have to be able to switch on point guards and so on, guard ball screens in different ways and that's a big deal. I'm agile enough, big enough and strong enough to do all that so I think I'll be able to turn that over really well."
And the 'Irish Hulk' nickname that he has already earned stateside plays into that physicality.
"(The name) was because of how muscular my body always was," Igiehon explains.
"After I hit puberty, I hit the gym and was working out. In sophomore and junior year of high school I became very muscular so people just started to call me that because of how big my arms and shoulders were and how strong I was on the floor too. So they just said, 'We're going to call you the Irish Hulk' so I just went with the flow of it."
But in the short-term, one goal - other than being able to get back to Ireland as regularly as previously pre-Covid - is to pull on the Irish national team jersey soon.
"I've had some contact with Basketball Ireland. I've spoken to them a decent amount of times and I'm going to try and play for Ireland maybe the (next) summer coming up," he says.
"I told them I'd do my absolute best to put on an Irish jersey. I've been wanting to for such a long time but with the injuries, starting college and stuff like that, it's been rough. But if all goes well this season, I'll be in an Irish jersey."
Only one logistical obstacle would prevent that though, he adds: "The only thing that would stop me is if I'm putting my name in the NBA draft."