"He was wearing blue as well!"
Normally, when you talk about Kerry and Dublin in opposing camps, it's played out on a Gaelic football field.
Not on 25 September though. Ben Kiernan might have been wearing a fitting light blue as Kerryman David Shanahan noticed very quickly but the ball was more of an oval shape.
As fate would have it, two of US college football's premier outfits were facing each other that night at the Mercedes-Benz Stadium in Atlanta, Georgia, with each side having an Irishman playing as their starting punter. Kiernan for North Carolina's Tar Heels and Shanahan for the Georgia Tech Yellow Jackets, both in the Atlantic Coast Conference of the NCAA. It was the first time two players from this country had togged out – or suited up – against each other in a fixture of that magnitude.
Their journeys to that point of meeting, chatting pre-and-post game and posing for a photo have been very different and both touched on that as they joined RTÉ Sport over the last couple of weeks to share an insight into what it's like as Irish sportspeople in their particular corner of the US collegiate system.
We need your consent to load this YouTube contentWe use YouTube to manage extra content that can set cookies on your device and collect data about your activity. Please review their details and accept them to load the content.Manage Preferences
Shanahan's journey to Georgia Tech is well documented. Having grown up in Castleisland, Co Kerry with a grá for American football, he was able to make it on the first step towards his dream via a spell at Prokick in Melbourne, Australia where he honed his kicking technique.
Last year, he received a scholarship to attend Georgia Tech as a punter on the football team and in June he flew out to begin the adventure.
Kiernan though had been in the US since the age of 15 when his parents moved the family over from Dublin to North Carolina in 2015 in order to find the best specialist care for his sister, who has cerebral palsy.
Up to that point, Kiernan had been primarily playing rugby at club level and for his school Blackrock but with other sports taking precedence in the US, he quickly found himself trying out a sport he had only experienced through the medium of Madden NFL games.
"I continued playing rugby here but I figured out that rugby can only take me so far in the US, so I picked up football," he explains of that switch at high school where he attended Wakefield in Raleigh, NC and had the distinction of being stopped in hallways by locals fascinated by his accent.
"I played a whole bunch of positions. I figured out that I didn't know the rules for everything and I was just running out there looking for the ball, doing what I could and then on the last day of try-outs in my first year playing our coach lined us up near the sideline and one-by-one everyone kicked the one ball and I was the last person to kick the ball and I hit it the furthest of anybody.
"My coach just kind of looked at me and said, 'Yeah, you'll be kicking for us for this year."
Kicking a rugby ball and its American football equivalent are like chalk and cheese however when it comes to spiral kicks which takes some getting used to.
"I was used to kicking a rugby ball but the difference between a rugby ball and an American football is that the football is a lot more pointy and skinnier, so on a rugby ball where it curves, you have what we call a 'sweet spot' and if you hit that, it will go as far and high as it can go," Kiernan explains.
"On a rugby ball that spot is absolutely massive so when I came over here I had to learn how to do the directional punts so you hit the spiral out of it. To do that on American football, you have to be very precise with everything.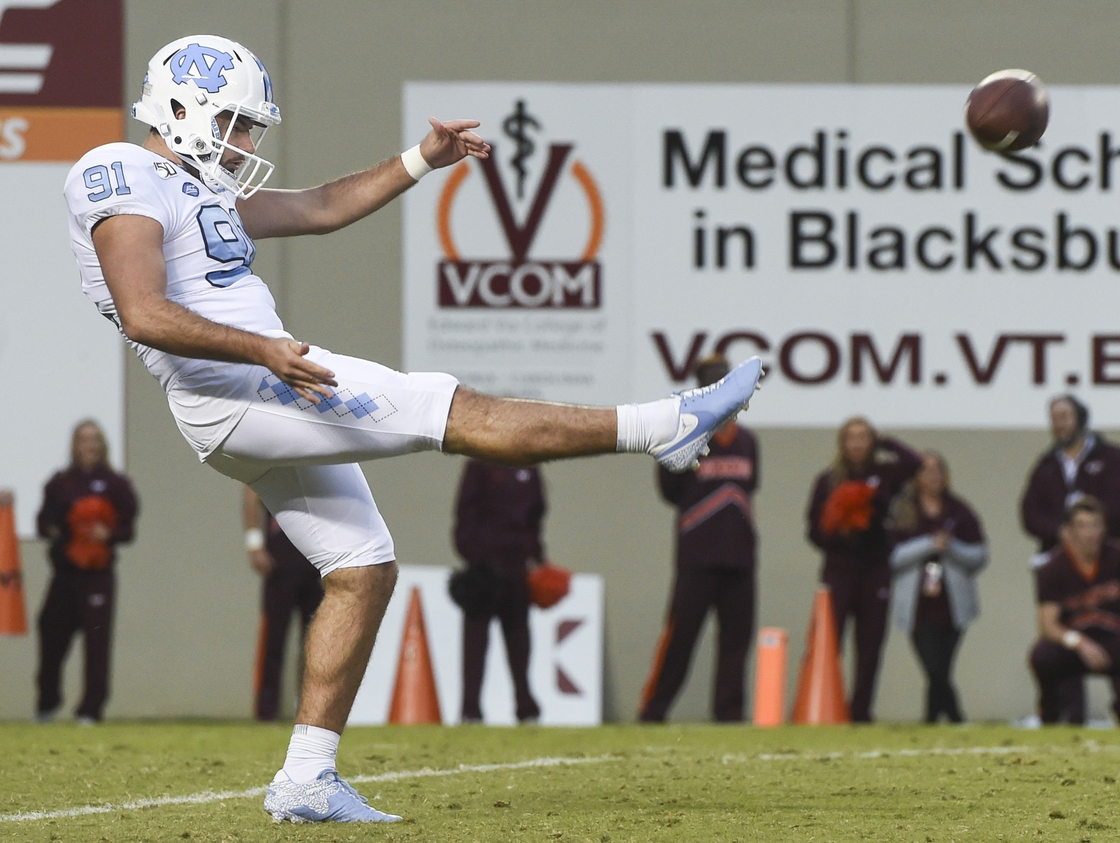 We need your consent to load this comcast-player contentWe use comcast-player to manage extra content that can set cookies on your device and collect data about your activity. Please review their details and accept them to load the content.Manage Preferences
"You have to keep everything tight and streamlined and it's pretty much all in the technique. That took me about a year to get used to."
Kiernan adapted and didn't look back and as he progressed through the latter years of high school football, the self-confessed competitive animal had even got himself ranked second nationally for his position, which is no small feat.
For special team positions like the punters, the college scholarship offers tend to come in later than for other roles and are a long, drawn-out process. But it worked out for Kiernan, who had already had his sights set on the University of North Carolina, among the first programmes looking to recruit him during his sophomore year in high school.
"After my junior season, that's when I got ranked and I was number two in the nation and then literally the next day, I had at least 10 or 12 schools calling me on my phone and saying, 'we want you to come visit the school and come to the campus here,'" he recalls.
"A couple of weeks later, my dad sat me down, put out a map of America, did a big circle around North Carolina, a little radius, and saying, 'You can go around these schools in North Carolina and you can't go over to California, it's too far away'.
"My two brothers, they went to NC State which is about 15 minutes from where we were and they were playing rugby there. So I started getting recruited by North Carolina towards the end of my junior year and came on a visit there and immediately loved the campus.
"And one thing I wanted to do was wear the Blackrock SCT colours, the sky blue and white stripes. So when I came here, the kind of blue was the exact same. They had white as well, it was literally the exact same uniform."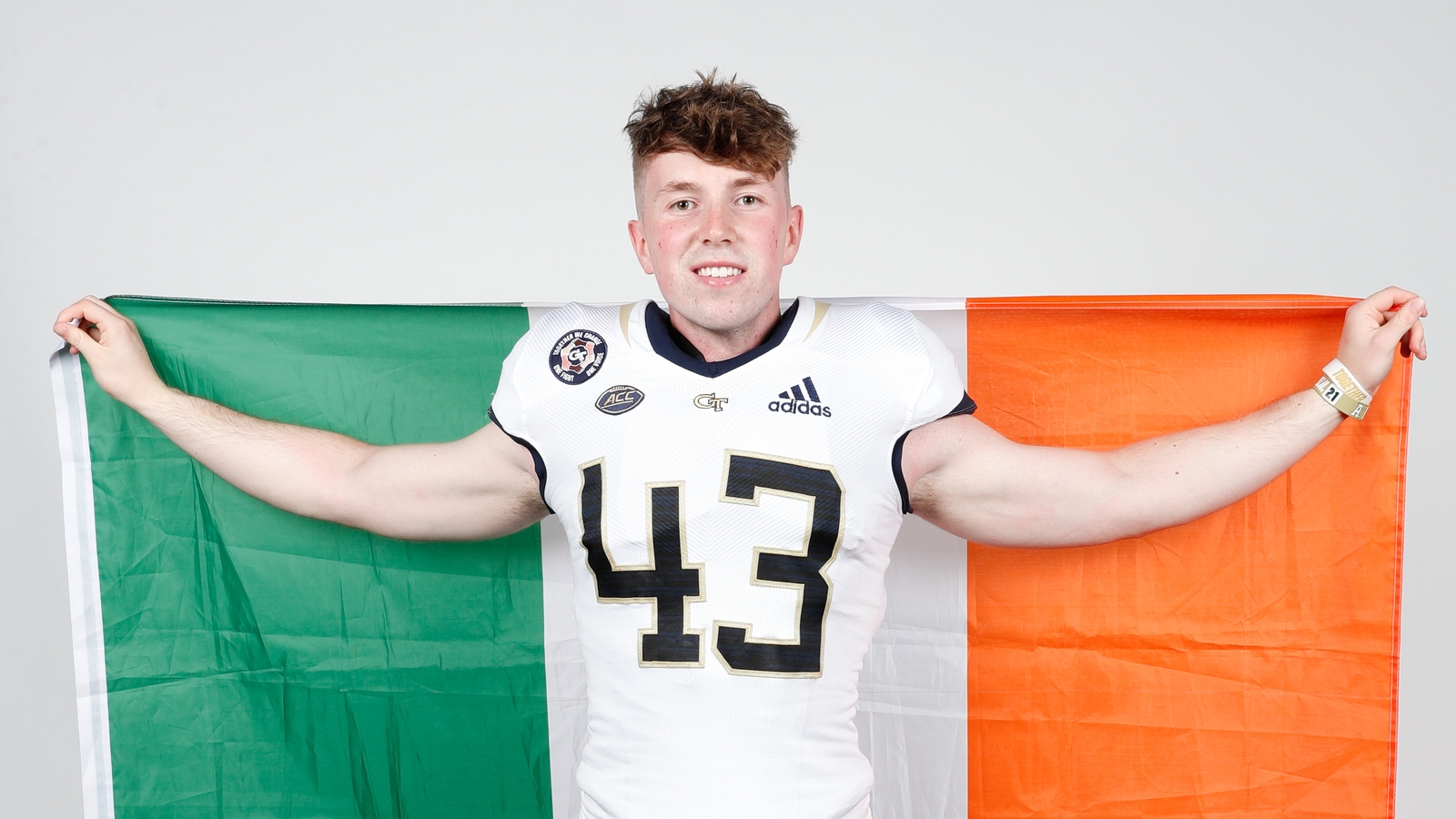 The colours, which as mentioned at the outset, Shanahan noticed when they played each other last month.
While Kiernan is now in his third year at UNC, Shanahan is in the first year of that journey of college-athlete life over at Georgia Tech, having had the summer just gone to acclimatise ahead of his debut autumnal season.
The cultural adjustment from Ireland to Australia was a lot easier than Ireland to America
Interestingly though, while he hasn't felt homesick at all, moving to the US felt much different for him than when he headed to Australia to join Prokick.

"The cultural adjustment from Ireland to Australia was a lot easier than Ireland to America. I don't really know why," says the Kerryman.
"It might be because in Australia they have AFL, and AFL and GAA are so similar and the culture around them is so similar in the sense that the locker room and dressing rooms are all the same and it's all bantering and stuff.
We need your consent to load this comcast-player contentWe use comcast-player to manage extra content that can set cookies on your device and collect data about your activity. Please review their details and accept them to load the content.Manage Preferences
"You get that here as well but it's just a bit different and the culture around the whole American football is just so different to anything I've been around. In Australia, they've got rugby and stuff as well.
"Homesickness wasn't really an issue and I wasn't really that homesick in Australia. Anything homesickness I had I've got out of my system now. But I would definitely say the cultural shift from Ireland to America was a lot different from Ireland to Australia."
Arriving on campus in June along with the other football recruits was an early opportunity for the 20-year-old to get a taste of the sporting and educational demands as a Georgia Tech football player.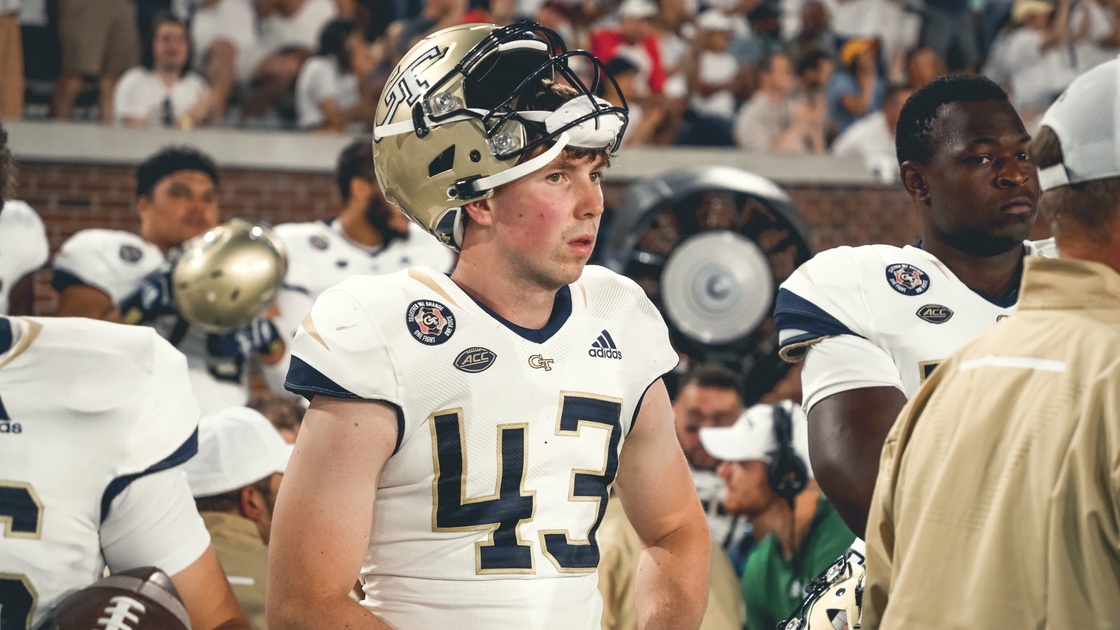 "We got here in the summer and after about two weeks we were in summer school, so we were taking classes then," says Shanahan.
"But the practice schedule in the summer is a lot lighter. In the summer we got up around 6am and then we'd work out and be at the facility at about 9.30 or 10am and then we're free for the day and we'd just have class.
"That was a good intro to time-keeping because then there's a thing called fall camp and that starts the beginning of August. That's kind of the start of our pre-season and once that starts you're basically in the football facility all day from dawn till dusk really.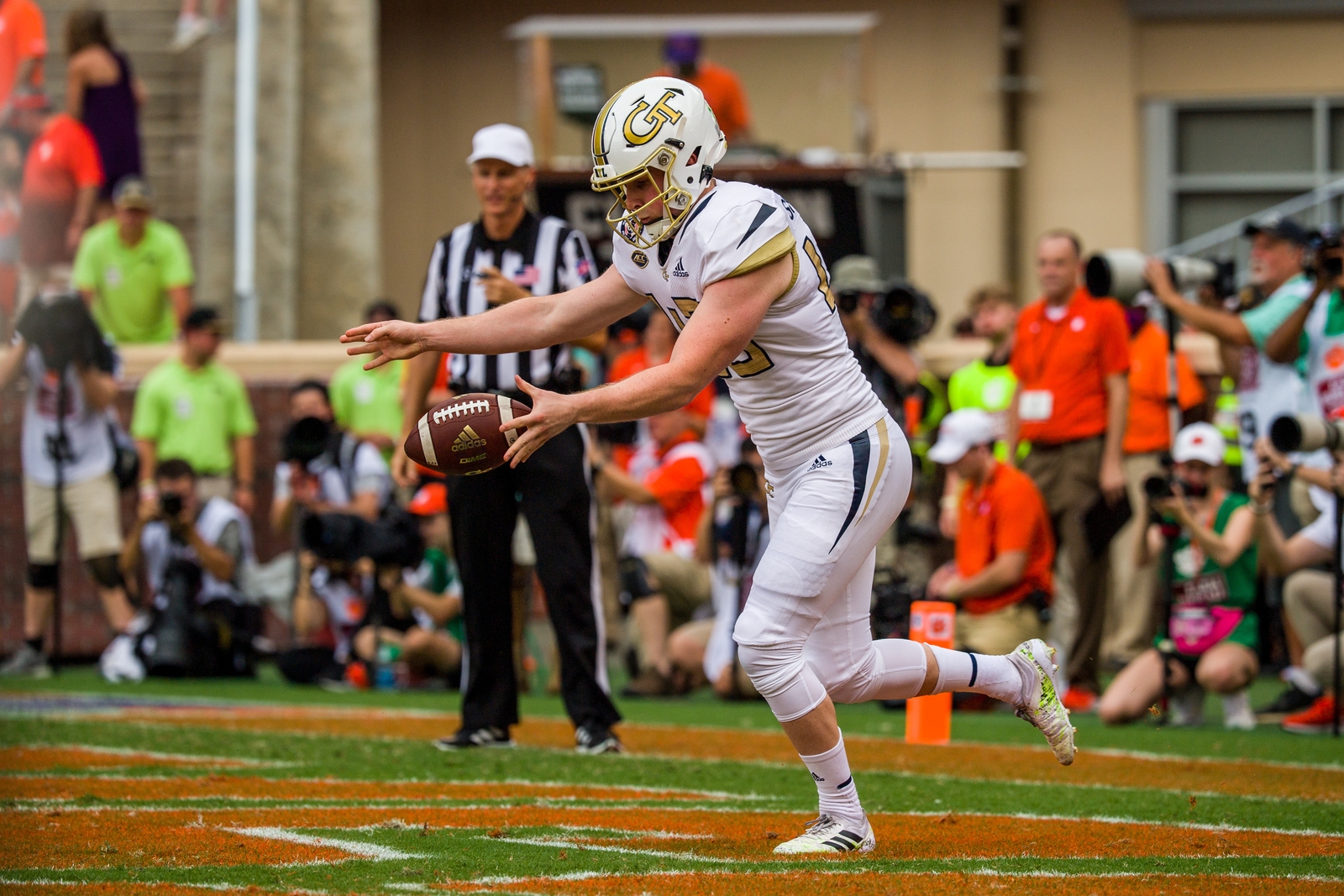 "You're doing your practicing, your lifting, your meetings and stuff. And then school starts simultaneously with the season.
"So a typical day Monday to Friday, we're up at 6.30am and then we've practice and lifts until 11.30am and then we go to class until 5pm or so and then we go to study hall and then it's 8.30 or 9pm at night and you repeat."
Kiernan's average week is just as busy with practice every weekday except Monday, in a schedule packed with class, watching game and practice film with the coaches, before recovery and rehab.
"Tuesday, Wednesday and Thursday are more like the normal days for us. We wake up at 5.30am, (team) meetings at 6.30am, practice starts at around 8am and is over by about 10.30 or 11am and then after that you've got class and you'll come back for a lift, recovery or a rehab after," he says.
"And after that you have dinner and then usually after that you'll meet with your coaches for a little bit and then you'll be back at your room or your dorm around 7-7.30pm. So it's pretty much you wake up at 5.30am and you'll be back in your room at 7.30pm, so your packed for the whole day.
"With time-management and everything, when you're at practice, you've got to really give it your all and put everything into it so that when you do go back home and have the 30 minutes to an hour of off-time that you have, that you're not stressing and thinking I need to work on this, this and this."
He lived on the UNC campus for his freshman and sophomore years along with other athletes with all room and board paid for by the scholarship for the first two years before moving into a house off-campus this year.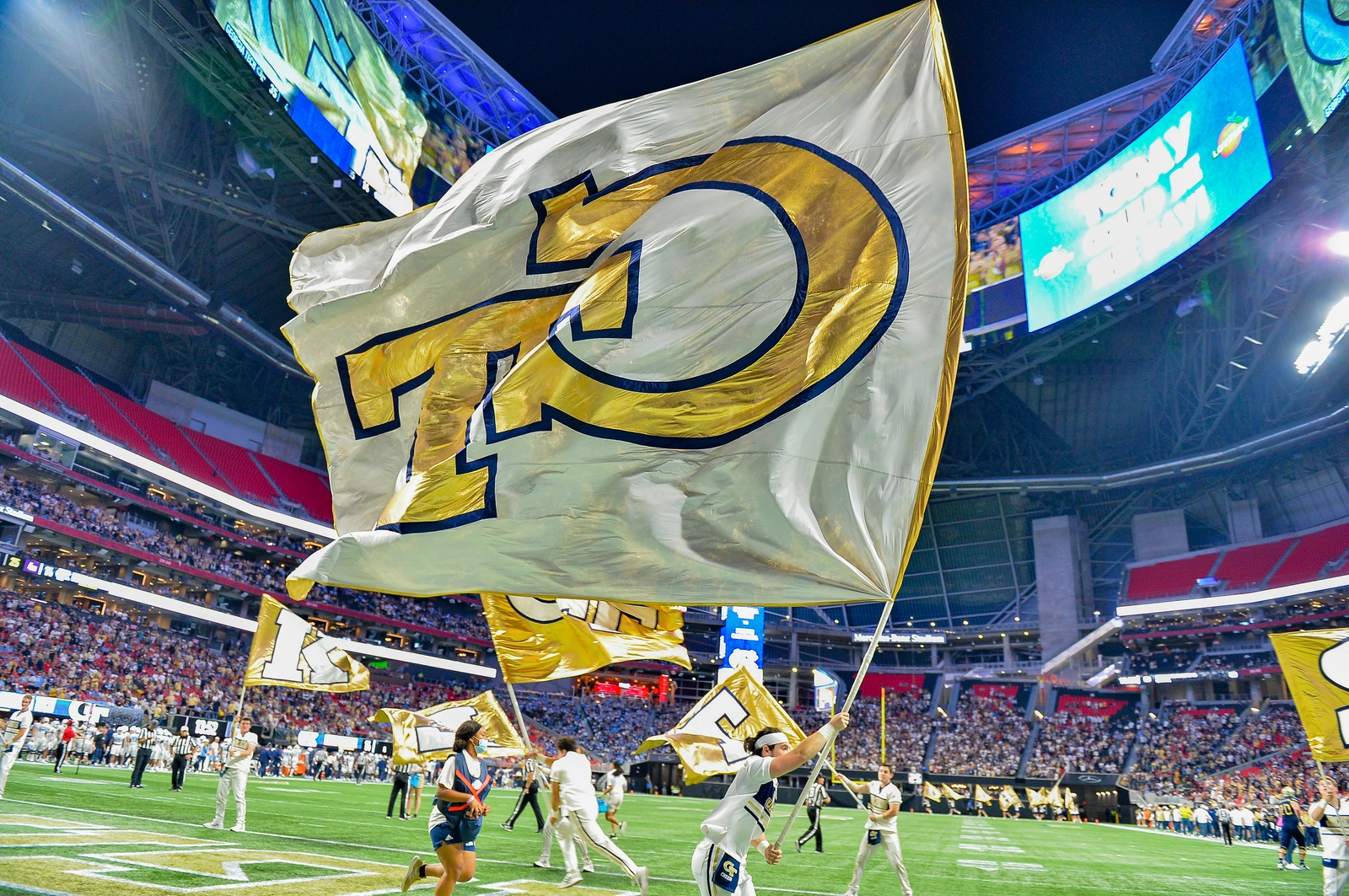 Similarly, Shanahan is living in a Georgia Tech football environment, in a four-bedroom apartment with other team-mates on the Georgia Tech campus, a five-minute walk away from the Bobby Dodd Stadium, which he describes as "really handy" and a boost for team bonding "especially at the start when nobody really knows where they're going or what to do, it's safety in numbers."
While the emphasis on strength and conditioning in US college football is "just a completely different level to what we have back home" in Ireland according to Shanahan, punters like him and Kiernan don't have the same physical demands in the gym as those who occupy more physical roles like the offensive and defensive linesmen.
But the focus on studying in parallel with football remains paramount regardless of the position, with both Shanahan and Kiernan doing business administration degrees. Thus, why the academic tutors assigned to athletic teams play significant roles.
"We have a bunch of academic (tutors). They make things way easier, they tell us where to go and what we have for the day. We meet with them twice a week," says Shanahan.
"Freshmen have a study hall for an hour and a half every night so any issues we have, we can sort it there."
Kiernan adds that from first year to third year, the tutoring time does reduce as long as the student is on top of their assignements and "they figure out what you need to learn and then they'll apply themselves" to the individual approaches of each student.
"So if they just need to be there to look over you and make sure you're doing your homework and everything on time, they'll do that. If they need to help you write notes or need to be in a way like a dictionary for you – if you don't know a word or what this phrase means, they'll write it on the board - it's essentially just having another teacher, an assistant with you, and honestly it helped me a lot my freshman year with the change from high school classes to college classes."
The educational transition isn't the only step up to grapple with. On the American football field, the difference between high school opponents and the college equivalent is quickly apparent for a punter according to Kiernan.
"(The opponents) are a lot bigger, they're a lot faster and they're a lot smarter in how they use their body and also the punt returners, usually the returners are the most shifty athlete that they have, so I have to be a lot more careful where I'm placing the ball so he doesn't get a free run back home," he says.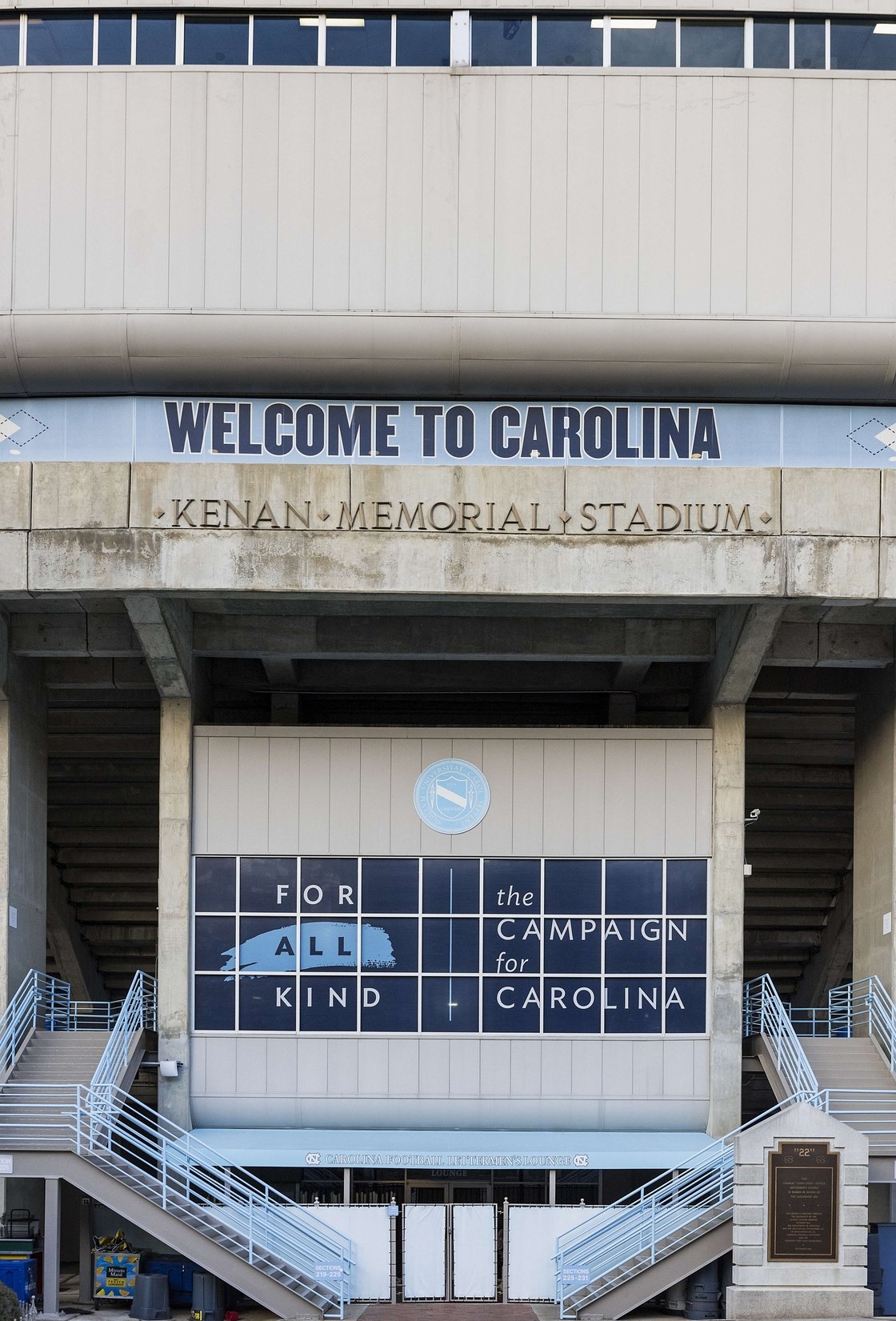 Shanahan, who didn't have the benefit of the high school experience but is also calm and collected in interviews and on the field, admits he had butterflies when he went out to kick in his first proper practice with Georgia Tech.
"First day I suited up in full pads was the first day of fall camp and that was the start of August. I remember taking the first rep and being pretty nervous obviously because it's the first time you get guys rushing at you," he says.
"But honestly, I felt really confident after doing that because it wasn't totally different to what we'd done at Prokick or training by myself. So after the first day I felt really confident.
"And then obviously the first game (against Northern Illinois Huskies) was so cool. It was under lights here, a 7.30pm kick-off and it was just unreal and a pretty surreal experience. I mean, I can't even remember my first kick. I feel like I just blacked out. I just remember being delighted that I got the ball on my foot and I didn't get it hit."
Since that 4 September opening game, Shanahan and Georgia Tech have been in NCAA action every Saturday night, as have Kiernan and North Carolina.
And it was Game 4 for both teams that saw the two Irishmen share the field for their aforementioned first meeting.
Both were vaguely aware of each other's existence prior to the game.
"The guys in ProKick knew of (Kiernan) and were like, 'Do you know there's an Irish guy at North Carolina' - I didn't really know him. I googled him and I knew a little bit about his story," says Shanahan, with Kiernan echoing the sentiment of knowing the Kerryman's story after receiving the Georgia Tech offer.
"So before the game, an hour before kick-off the field is literally just kickers and punters. So I just went up to him before the game I just introduced myself and we just kind of got talking.
"I wasn't sure what kind of accent he'd have because I knew he'd been living in America for a while but he's got a pretty strong Blackrock accent. So it was good to meet him and good to start chatting to him. It was definitely a really cool moment."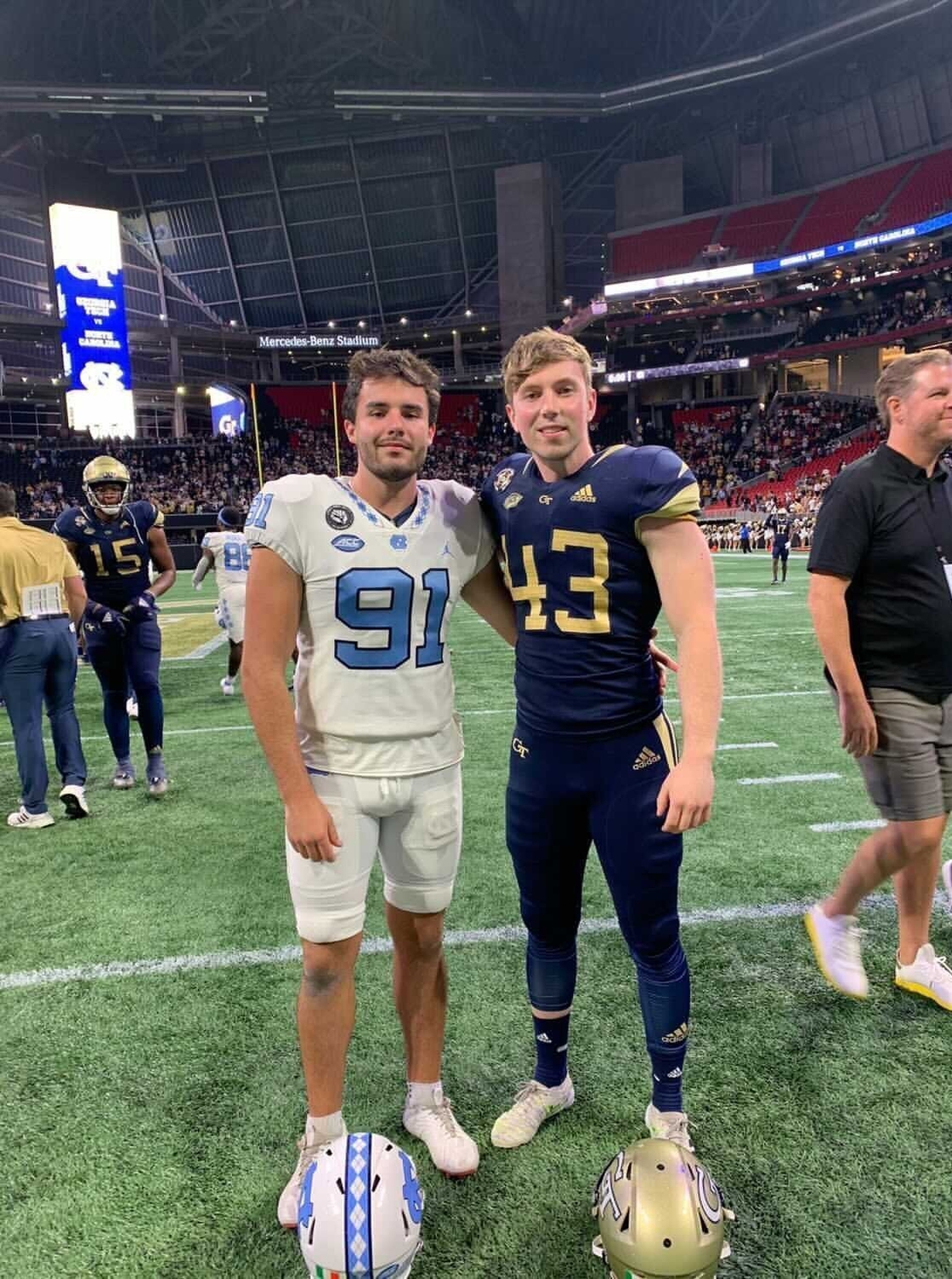 The game itself went the way of Georgia Tech by a 45–22 but afterwards Shanahan and Kiernan were able to have another chat with the experienced Kiernan offering his fellow Irishman advice whenever he needs it and plans to meet up in Ireland and practice kicking next time both are able to get home.
"After the game he came up to me because we were coming after him during the game, we were trying to block as many of his punts as we could and when he came up to me after the game the first thing he said to me was, 'You guys are trying to take my head off' and I was like, 'Yeah, that was pretty much the plan," Kiernan laughs.
"But I congratulated him and he had a good game and we chatted a little bit and talked about next summer in Ireland, meeting up and having a little kick session."
There are two Irish flags at the back of our helmets so it was cool
Plus, they were able to get the momentous photo that did the rounds on social media at Shanahan's instigation.
"I just asked one of the operations people here (to take a photo) and I figured we'd get a snap," says Shanahan.
"I don't know if you see it but at the bottom of the picture you can barely see our helmets but there are two Irish flags at the back of our helmets so it was cool."
Amid Covid-19 restrictions, the Georgia Tech-North Carolina match still attracted 37,450 supporters in the stands at the Atlanta Falcons' arena which goes to show the intense spotlight Shanahan, Kiernan and their team-mates are playing under.
"Some of the stadiums we've been in, especially in ours, it'll get so loud that you can't hear the person to the left or right of you," says Kiernan whose side are based at the 50,000 seater Kenan Memorial Stadium in Chapel Hill, North Carolina.
"It's an experience every time, you never know what you're going to get."
It also meant there were plenty of eyes on him during North Carolina's game with Notre Dame last November which meant viewers were exposed to a small snippet of the Irish language.
If you look at Kiernan's header image on his UNC profile page, there is a photo taken from behind where you can see his jersey number and a single word as Gaeilge above it: 'Comhionannas'.
When he told Shanahan that he was keen not to lose his native accent during their chat on the field two weeks ago, he had added that it was important for him to stay close to his roots. This was just one way of doing that.
"Last year it was a big thing for us with Black Lives Matter in the US and there was a whole bunch of terrible things that had went on and happened, so we decided that for the Notre Dame game which we'd have the most TV coverage and the most people seeing our game, we'd have something on the back of our jerseys that resemble what we stand for," he explains.
"We had guys who had 'Peace', 'Equality' or 'Love', or they dedicated the game to a passed relative. I was thinking about what I was going to do and I was watching an NBA game and Luka Doncic who plays for the Mavericks who is from Slovenia, on the back of his jersey he had 'Equality' but in his language and I was talking to my roommates at the time and said it would be pretty cool if I got that but in Irish.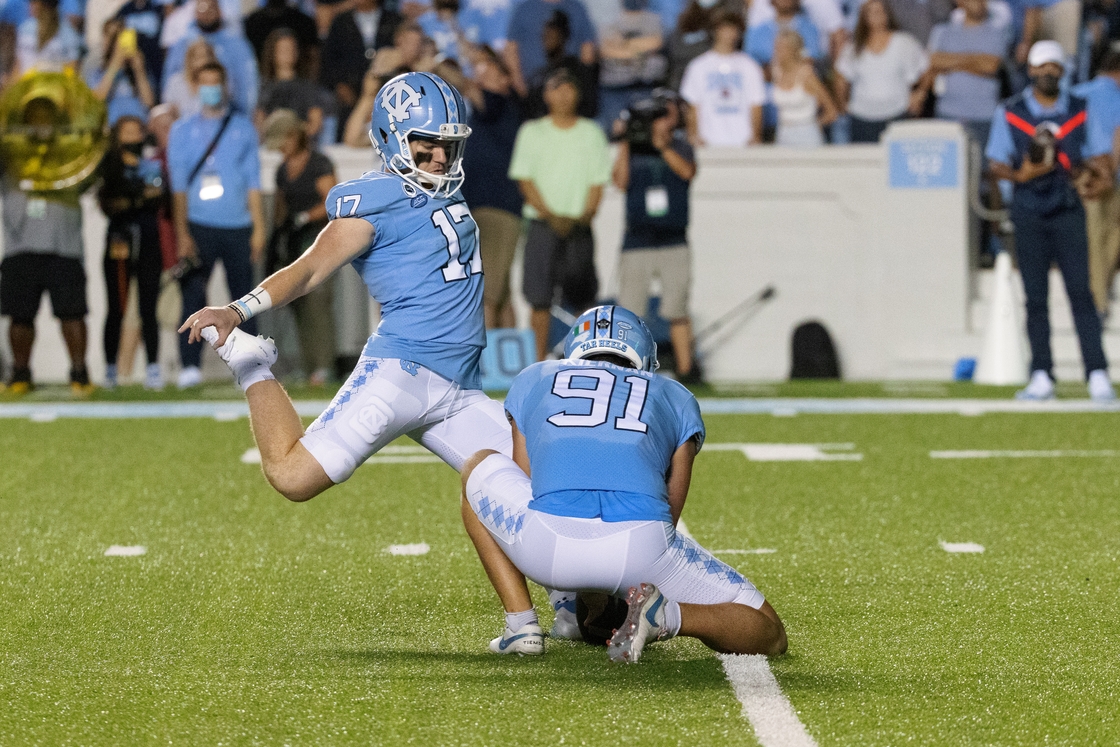 "So I texted our equipment manager and asked can I put this on the back of my jersey and they said, 'Sure, no worries'. I thought it was a super cool thing to have."
Whether American football audiences get to see or hear more of the Irish language in future, both Shanahan and Kiernan are confident that they are just the first of a wave that will blaze a trail across the Atlantic and try to forge a career in college football and possibly beyond towards the NFL.
History in the making - has there ever been a matchup in CFB history featuring two starting punters from Ireland? May the punts rise to meet you. 🇮🇪 pic.twitter.com/TgGSoeYw4I

— Andy Demetra 😷 (@AndyDemetra) September 25, 2021
"Last week when I tweeted the picture (with Shanahan) out, that got a little bit of attention, I probably had 20 kids going to my Instagram to send me a message asking me how I did, they're playing American football over in Ireland and I had no idea that we had American football teams so when I saw that happen I was a little bit blown away," says Kiernan.
And Shanahan sees the pathway he took via Prokick in Australia as a route other Irish players will look to follow.
"The guys at ProKick are chomping at the bit to get to Dublin to run a trial there," he says.
"So once international travel allows it, they're going to come to Dublin, they're going to hold a trial. I get probably five or six messages every week from 16, 17, 18-year-old Gaelic football players asking me what to do and I get videos of them kicking American footballs, so I definitely won't be the last one."