In 2019, I got to experience the joy of winning an AFLW Grand Final but last Saturday it was the opposite feeling as my Adelaide Crows team-mates and I lost out against Brisbane Lions.
It was hard coming into the Adelaide team in place of captain Chelsea Randall because she is one of my really good friends.
She missed out on the final due to concussion and it was obviously a really hard blow for her but she really put the team first.
I guess I was just the fortunate one to get the call-up because there were so many other girls who had played really well through the year.
But it was a huge occasion to come in with the game being held at the Adelaide Oval in front of nearly 23,000 spectators.
Even though we've had crowds throughout the season, it's still a little bit weird even for me. I got so used to being at home where nothing was on - no spectators, no events, nothing - so it was just incredible to see.
It wasn't the same as 2019 when there was a packed 53,000 at Adelaide Oval but the capacity numbers have obviously changed due to Covid but it was still great to see the crowds show up and to see everyone round at the Oval. It was pretty cool.
I was coming into the game off the back of not playing a couple of rounds so I was a bit raw but it was a privilege to get out there and play in my second Grand Final.
I just tried to not let the occasion get to me and just get out there and play my part as best I could.
On the day collectively, we didn't get it fully right or the result we wanted but I was just happy to be out there and to be part of the journey right at the end.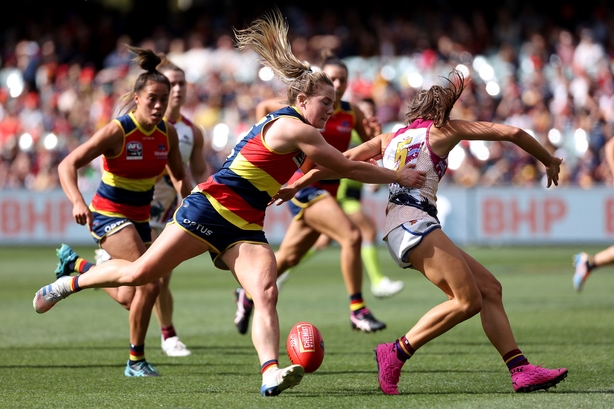 I was a wing for the majority of the game and then in the last quarter I ended up in the back-line. They're tough positions to play in because there is a lot of covering and running and you're not really on the ball that much.
But I did get 11 disposals and 11 kicks and that is my highest number of disposals in my entire AFLW career which is a decent day to do that but I just wanted to contribute as much as I could while I was on the field.
I think Brisbane wanted it a little bit more. They were everywhere and we were just chasing the game from the get-go. They really brought pressure and they played their game style extremely well.
The harder we tried, we just couldn't make any ground.
One of their key players was Tipperary's Orla O'Dywer. Before the game, I was hoping to say a quick hello and give her a high five but I didn't get a chance to talk to her pre-game.
But at one stage during the game we ended up being on each other on the wing and I just gave her a pat on the back because that was my first interaction with her.
After the game with their celebrations and presentation, you don't really get a chance to go over and see them but I did manage to give her a hug and say congrats straight after the final buzzer went.
She had a great game and she's had a great season for Brisbane so it's an absolute credit to her and well deserved to be on the winning side on the day.
I guess for me it did become lonely because I didn't have family to look to
In our dressing room, it was very down and for me it was a complete opposite to what I had experienced the last time around because I had my family there in 2019.
It was a lonely dressing room because families weren't allowed in either and it was just the girls and people were pretty dejected and down. And I guess for me it did become lonely because I didn't have family to look to and sometimes you need them more after a loss than following a win.
When you lose you feel pretty down and it's the people close to you that you need but we stuck together as a team which was really nice.
We went out together last Saturday night after the game and stayed together as a collective unit and tried to take the positives from the year.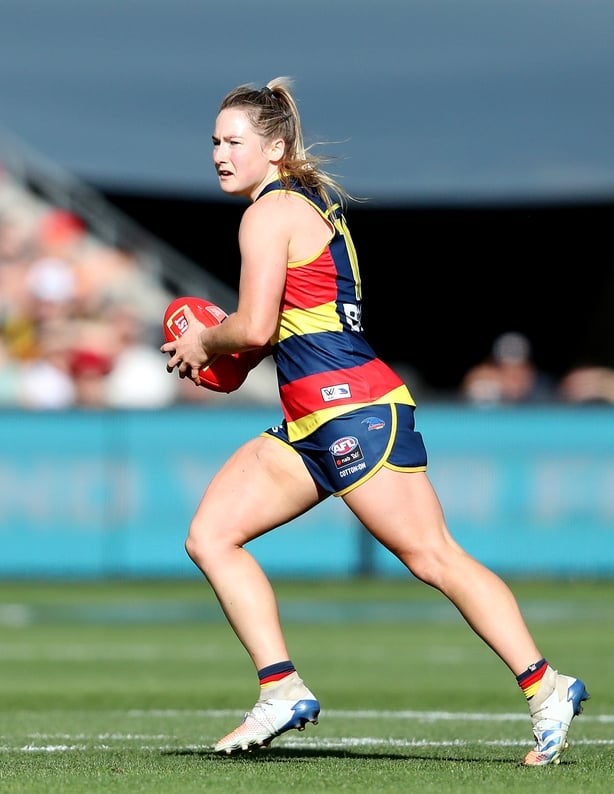 It was an incredible few months with that bunch of players and management that were involved.
The AFLW season is over but my plan is to keep coming back out to Australia and playing as long as possible and as long as my body is physically able - and ideally that will be with Adelaide.
But I do have to come home in the next couple of weeks because my sister is getting married in July so I have to make sure that I'm home in time.
While I'm here, I'll still be playing in the local SANFLW league with West Adelaide for the next couple of weeks and then I'll look to fly home in the next month or so and we'll see how it goes from there, spend a bit of time at home and then hopefully be back in Australia and playing AFLW next season.
So the plan is to keep playing until I'm physically not able to anymore because I really like the lifestyle and I have really loved the experience of being a professional sportsperson. I'll keep pursuing it for as long as possible.