It's been a crazy week.
Last Saturday I watched from the stands at the Adelaide Oval as we got past Melbourne with 18 points to spare (33-15) to make the Grand Final against Brisbane.
I was an emergency reserve and didn't play any part in the victory but I was proud of the girls and delighted to see us get to another decider.
The game didn't go completely smoothly though.
In the first quarter our captain, leader and inspiration Chelsea Randall collided heavily with Eliza McNamara. Both players exited the game. Chelsea suffered a concussion and that means she is out of tomorrow's final.
I know that pain. All of us ache to play and being denied that opportunity because of injury is such a desperately frustrating feeling. It's just part of the game and though we all felt for Chelsea, who is a tremendous presence in the group, it became clear that her injury would open the door for someone to get back in.
Eight of us who've been hovering around the fringes were in the equation and we all trained with butterflies in our tummies this week as we waited to see how it would pan out.
On Wednesday we had an open training session at the Adelaide Oval where a lot of the fans came to watch us go through our paces in what was the last rigorous workout before Friday's captain's run.
We always do lower-body gym sessions straight after the Wednesday session so we drove back to the club, which is about 30 minutes from the stadium, and got to work. Once that was done, it was the moment of truth.
.@Duckyc7 is in for the decider! 🔥🤩💪#crowsaflw #weflyasonehttps://t.co/6iR5wLlraq

— Adelaide Crows AFLW (@CrowsAFLW) April 16, 2021
I saw our coach Doc Clarke wandering around the gym having a quiet word with some of the players and braced myself. As he came towards me I expected to get bad news, but he said: 'You're in'. I was speechless. We all knew someone had to replace Chelsea but I never got ahead of myself, knowing how strong the competition for that one place was.
Doc kept talking but to be honest I haven't a clue what he said! I'd zoned out. I was in shock. My emotions were a mixture of happiness and humility.
Tomorrow will be a busy day for my mother. After our Grand Final, my sister Eimear is lining out for Ireland against France in the Six Nations so I fear mam will burn down the house with the amount of candles she'll have lit for us!
I chat to Eimear two or three times a week though we haven't had the chance to call each other as much as normal the last few days - we've both just had too much on as we prepare for the weekend.
My inclusion is welcome but it is bittersweet. Chelsea is an incredible person and player. I can't compare her leadership to anything I've seen before - it's been a privilege to get to know her and now call her a friend. She's been incredible this week, putting the team first and not once making it about her.
I think every single one of us is going to go out there desperate to win it for the club and the squad because that's what Chelsea instils in us.
We feel a huge responsibility as Crows players. The fans are incredible, so passionate and supportive.
There's two teams in Adelaide - the men's and women's Aussie Rules sides - and they get behind us in a massive way. As soon as anyone spots you wearing the gear in the shops or on the street they're always over to wish you luck.
They'll be behind us tomorrow and we're really going to need them. Brisbane are a top side full of quality and steel. It's going to be a hell of a battle.
A reunion with my old friend Orla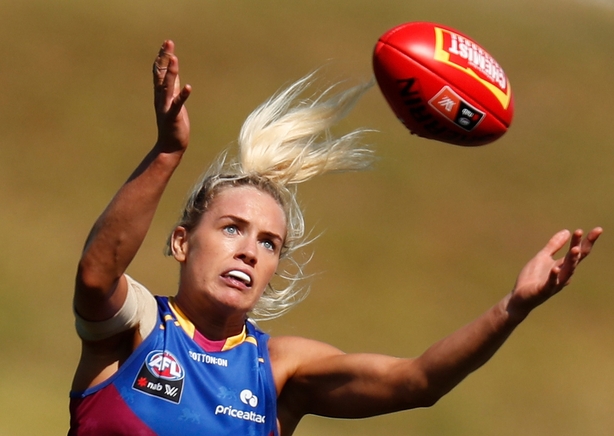 This season I've really noticed the growth in interest in the AFLW from Ireland. With the large Irish representation we have in the league, and TG4 now showing highlights every weekend, it's been great to see people getting on board.
I guess the fact there's been fewer live sporting events happening in Ireland due to Covid-19 has helped. Aussie Rules is a different option for people - live competitive sport with something riding on nearly every game.
Tomorrow I'll come face to face with my old friend Orla O'Dwyer, who lines out for Brisbane. I played football and camogie with Orla when we were in UL, and of course had a few battles with her in Munster football finals whenever Clare would come up against Tipperary.
When we step out on the oval tomorrow I'll make a bee line for her to give her a high five and wish her luck. It's a huge privilege to be involved in a game like this and to know that one of your own is out there too is nice.
There'll probably be over 30,000 fans present at the Adelaide Oval, it really is a massive occasion.
I hope it goes well for both of us but of course I'll go to sleep tonight dreaming of another Crows triumph. If Eimear and the Irish girls can get past the French too, it would make it an incredibly special Saturday for our family.
Let's hope mam's candles do the trick.