Ireland's footprint on the sporting world continues to spread and you can find our athletes in all corners of the globe.
Covid-19, however, has impacted these stars more than ever and for some their Christmas plans have been greatly impacted by the pandemic. Others have escaped such issues.
RTÉ Sport has spoken to three stars who represent Ireland on the global stage to see what their 2020 Christmas plans look like.
Paddy Butler (Yamaha Júbilo, Japan)
Tipperary native Paddy Butler is in the middle of pre-season with rugby union side Yamaha Júbilo, who are based in the city of Iwata in Japan.
The side's Top League campaign begins on 16 January when they travel to Hyogo to face Kobelco Steelers.
"We're in pre-season games at the moment, we have been playing maybe the last three weeks," said the Cashel native who joined the Japanese side at the start of 2020.
"We've another two games to go before the start of the season with Yahama in Iwata, which is between Tokyo and Osaka.
"We're training hard, getting ready for the new Top League season."
With that new season just around the corner, the Christmas period is set to be one of hard work rather than celebration.
Christmas differs quite a lot in Japan from Ireland with fried chicken replacing turkey as the meal of choice while Christmas Eve is often celebrated more and has an almost Valentine's Day feel to it with strawberry cake a popular treat for couples.
For the former Munster player though, bench-pressing and some running will be on the menu.
"We have training Christmas Day because we play on 26 December so we have a captain's run and a bit of weights in the morning.
"It's not a public holiday over here but we are doing Secret Santa in the club so all the players are buying a present and sticking it on the table. I think it goes from the oldest down to the youngest to pick out what they want but that kind of celebrates the day for them over here. It's nothing what it's like back home.
"I think there are 11 boys here in the club from elsewhere and we're all just meeting up after training for a bit of a dinner and a get-together to try and celebrate it between ourselves."
Butler, who was in Ireland between April and September due to Covid-19, said that he is loving his time in Asia.
"It's been a really good experience. With the way Covid is over here, it's been pretty lenient and everything is still open. There's nothing closed, there are no real restrictions. There is no real difference to be honest from what we were doing last January and February."
Ailish Considine (Adelaide Crows, Australia)
For Ailish Considine, hours could be the difference between getting some sort of Christmas Day and being stuck in a hotel watching the festivities on TV.
Clare's Australian Rules footballer must complete an isolation period before joining back up with the Adelaide Crows, and that means being locked away in a hotel room in Perth.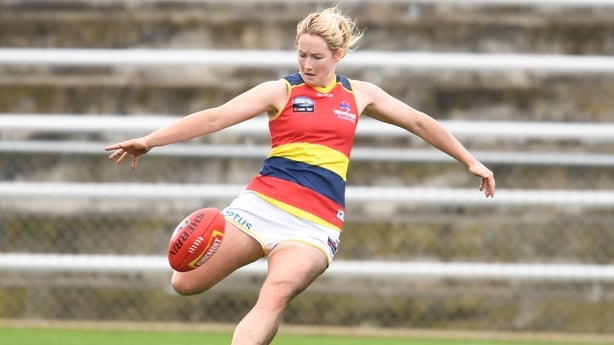 That quarantine just happens to come to an end on Christmas Day, but the talented Gaelic footballer is waiting to find out if it ends at midnight Australian Western time, or at 3.30pm earlier that day.
"Initially I was supposed to fly straight to Adelaide but that flight got cancelled just the night before we were due to fly out," said Considine, who won a WAFL Premiership with the Crows last term.
"We got redirected to Perth so I have been in the Novotel Hotel in the city centre. It's not a great way to see the city for the first time but it is what it is.
"The situation is that I have to stay in here until Christmas Day, there's still a little bit of uncertainty about the time we get out on Christmas Day. Some have said 3.30pm and others are saying we might actually have to stay until midnight."
Despite being in quarantine, Considine, who has a BSc Exercise & Fitness Science, is still finding ways to keep in shape.
Her Instagram followers have been kept entertained by her videos showing her completing a 5K run by doing lengths of her hotel room.
The player said that she wanted to be in top shape for the new season, which begins for Considine on 30 January with an away match against Melbourne, so a Christmas Day bike and gym session are to be completed.
"Training has been a bit hindered being in here," she said. "The girls are in the middle of their pre-season with the Adelaide Crows.
"I'm fortunate enough to have a bike, which I now hate, but I also have a set of dumbbells, a kettlebell and just a few more bits to tie me over.
"I'm basically just trying to keep as active as possible while I'm in here. I'm just setting myself little goals, trying to reach 10,000 steps daily and things like that.
"Generally I have about four to five bike sessions a week, which adds up in here. Similarly with the gym sessions, it's would be one every day varying between body weight and some of the weights that I have.
"Then I add in a few core sessions and a bit of skipping and a bit of kicking against the mattress or against the sofa cushions, whatever I can manage, that has been training in quarantine."
And how does she feel about training on 25 December?
"It doesn't really matter, when you're in season, Christmas Day is still a training day."
Cillian Sheridan (Wisla Plock, Poland)
Seeing that he has played professional football in eight different countries, Cavan man Cillian Sheridan is well used to being away from home at Christmas.
The Bailieborough man has always had a sense of adventure to his career and has represented clubs in Scotland, England, Bulgaria, Greece, Cyprus, Poland, New Zealand and Israel.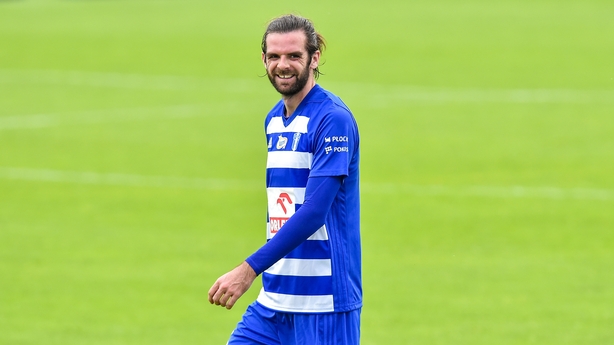 This season he is back in Poland with Wisla Plock having previously played for Jagiellonia Bialystok in the Ekstraklasa, and the good news for Sheridan is that there is a winter break in the league.
He is isolating in Ireland, but he is at least grateful that he is getting some sort of Christmas as Israeli side Ironi Kiryat Shmona played through the festive period last season – with games on 24 December and 28 December - meaning that the turkey and ham was put on hold.
"In Poland the league takes a winter break for about a month, six weeks overall," said Sheridan.
"We get two or three weeks off so we get a decent enough break.
"Obviously everything is a bit all over the place this year but I suppose just having a Christmas is better than last year in Israel where they don't celebrate it at all.
"Even in the streets in the little town there were no lights, nothing up. You wouldn't even have known it was Christmas.
"We went to training like normal on Christmas Day, no 'Happy Christmas' or Christmas greetings. Nothing. It was just like a normal day.
"So in terms of that, it's good to get back home, do my isolating and keep quiet."
Sheridan, who has a cult following on Twitter due to his humourous observations, will have a schedule to follow when back in Ireland, but nothing too hectic.
"We've a little bit of training to do over the break, the club has given us some stuff.
"I'll take a week or 10 days off and then go and start doing a bit of work."
The former Cavan minor will stay with Wisla Plock until the summer and then there may yet be another move on the cards.
"My contract in Poland is until the summer so I have to wait and see what happens then," he said.