In all, Martina Navratilova won nine Wimbledon singles titles in an era spanning from the late 1970s all the way to 1990.
Yet, the 18-time Grand Slam winner did not receive the same amount of prize money as her male equivalent.
It was just one clear sign of the inequality that existed at the time and that persists in sport in a myriad of ways and it was an issue that Czechoslovakian-born American tennis legend emphasised as keynote speaker at the KPMG 20x20 finale event which rounds up two-year campaign highlighting and promoting women's sports in Ireland.
"When women and men were competing together in the same tournaments back in the '60s and '70s, men were getting 10 times more prize money," she explained on a panel hosted by RTÉ Sport's Jacqui Hurley.
"So we had to break away and establish ourselves and then we could compete together in events and get equal prize money.
"But it was such a long, long road to get there. There are many women athletes that are household names, that are as big a star as any male athlete, but not enough of us.
"I would just like to see more volume and that's to get more girls involved in sport, more sponsors and more attention.
"I'd say we are more than halfway there but we need to keep going because there are still a lot more minds to be changed and barriers to be broken."
Indeed, it took until 2007 for Wimbledon to offer equal prize money to men's and women's singles players, with Navratilova stating that "it shouldn't have taken that long" for the most prestigious of Grand Slam events to come to their senses on the issue - a full 34 years after the US Open had made that change.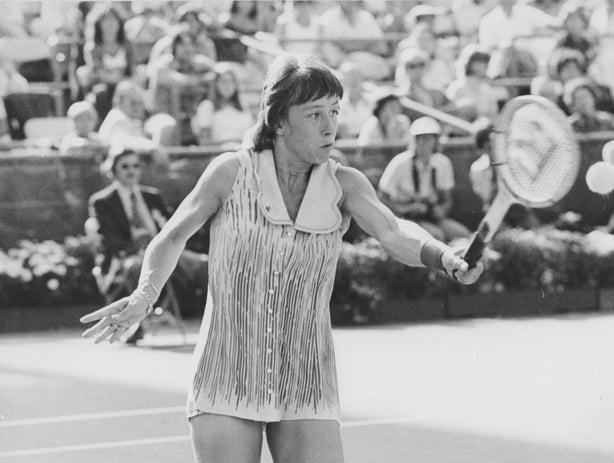 "It wasn't about the money, it was about the principle," she said.
"They just thought women should get less and one ridiculous excuse we even heard at one point was that 'we need part of the budget to go towards the petunias because we need petunias all around the grounds'.
"I'm not sure who said that but needless to say, it was a man. But the excuses that come out of people's mouths... they just come out with some amazing, amazing stuff."
Men are validated immediately, women have to fight their way in
Navratilova also highlighted the important role men can play in spreading the message of equality in sport and that the core principle is about a level playing field rather than taking anything away from men's sport.
"People pay attention more to men than women. Men are validated immediately, women have to fight their way in," she said.
"We're not pushing for taking away from boys or men, but we are also not less than.
"This is not a question of either/or - either boys or girls - it's a question of 'also girls, also women' on equal footing.
"So it's not taking away but being a part of on an equal level. That's all it is, so anyone who has a problem with women being equal, maybe they need to feel superior too. But guess what? Whenever you need to feel superior to someone else, than that makes you inferior.
"So we need to keep pushing that it's not about taking away anything from somebody but adding to it."
The 64-year-old, who also added multiple doubles Grand Slam trophies to her haul of individual honors, felt that change behind the scenes can help move things forward.
Don't be afraid to raise your hand and speak up. Being silent is not acceptable
"Change comes from top to bottom easier. But real change really comes from the bottom to the top," she said.
"So just keep plugging away on every level that you can. Overall, we need more women in positions of power.
"We need to make ourselves heard. Don't be afraid to raise your hand and speak up. Being silent is not acceptable."