As sport returns bit by bit and lockdown restrictions begin to ease, coaches and managers have the opportunity to be more hands-on again with their training methods.
Back in March, RTÉ Sport spoke to Clare senior football manager Colm Collins, Shelbourne FC boss Ian Morris and Eanna Basketball head coach Darren McGovern about dealing with the uncertainty around their respective sports just as restrictions and postponements were being applied.
While the inter-county GAA, camogie and Ladies football seasons remain further off in the distance to allow for club action to return first, the horizon is a little bit closer for domestic basketball and soccer.
The four League of Ireland clubs qualified for Europe returned to training in early June, while Shelbourne have also resumed, though not as a full squad, albeit they are hopeful of being able to do so in the near future.
The deadline for deciding on a resumption of the league is due on Friday in regards to the format but the FAI and the Premier and First Division clubs have agreed an 18-game season to kick off again on 31 July.
Meanwhile, Basketball Ireland had confirmed that pre-season training could resume at all levels from 20 July with normal ballpark start dates for next season expected thereafter.
So how have Ian Morris and Darren McGovern been using the past three months and how are they and their sides fixed for a return to frontline action?
Darren McGovern
"As a team, we were in constant contact with each other and there was plenty of banter on the Whatsapp groups," says the head coach of Eanna's Super League side.
"Personally, it was an interesting 10 or 12 weeks, figuring a few things out and doing a lot of research, online seminars, Zoom calls and planning ahead.
"So, if anything, I was just as busy coaching wise, doing some clinics, watching some potential players coming in next season and watching their highlights and full games to figure out who to take in for next season. So it's been productive.
"One of the international coaches started putting on webinars for all the coaches around Ireland and then more specifically, started doing a few more of them for the international coaches as well which was really good, getting seminars from coaches from abroad... America, Europe and different places."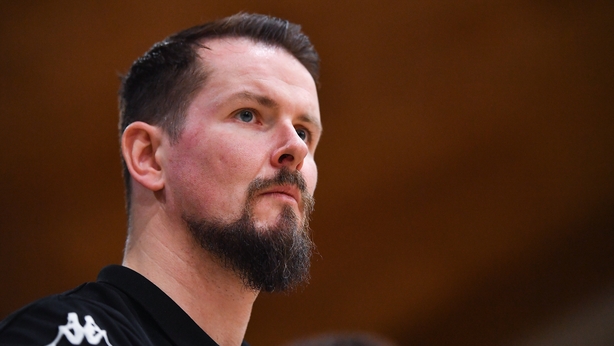 Back in March, the onset of restrictions had an impact when it came to the overseas players in the Eanna squad who were due to return their home countries.
But with potential quarantine measures, given how some countries and regions remain affected by coronvirus, has that had an effect on recruitment of overseason talent?
"It really hasn't had a massive impact. It's just been a thought process," says McGovern.
"For instance, if we're taking in a new American player, it could be difficult depending on how well or how not well [the United States authorities] deal with [the pandemic] from now on.
"So if things get worse in America, Europe or Ireland could impose visa bans or restrictions for a certain amount of time, then that could have an impact.
"But otherwise, if there is a quarantine, we're lucky enough that we have our own accommodation there for the players which is good."
While having a clear return date of 20 July for training has been positive, uncertainty still remains about the domestic basketball season itself in terms of the format, according to McGovern.
"The only thing is we just don't know when the Super League season is going to start for exact reasons," he says.
"Being financial reasons, obviously because of social distancing and people coming into games to watch. That's the lifeblood of the Super League because clubs wouldn't be able to survive financially if fans are restricted coming in."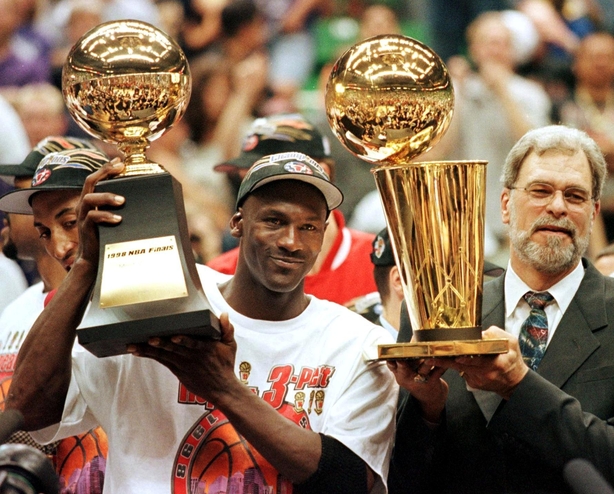 He adds: "We start training on 20 July but the season might not start until October or November so there are certain stages where we might not even need to go back to pre-season until August. It all depends on the start date of our season."
But one cannot talk about basketball in relation to the lockdown period without mentioning ESPN's The Last Dance which many of us watched on Netflix.
Along with the likes of Tiger King, the documentary series about Michael Jordan and the Chicago Bulls 1998 Championship winning team captured the attention of not just basketball or sports fans.
McGovern definitely feels like it brought some renewed enthusiasm and interest in the sport in Ireland.
"From Whatsapp groups and friends who play various different sports, every episode, everyone was talking about it," he says.
"I had family members ringing me going, 'Jesus, that documentary was brilliant' and everyone got a sense of the 'wow' factor about it and how amazing Jordan and the Chicago Bulls team were.
"You could see more people playing basketball outside. You could even see up at the basketball courts at Eanna, you could see people playing basketball outside - a lot more football players playing basketball because they can relate to it even though it's not their sport. They could relate to the passion and being driven so much to win."
Ian Morris
Like McGovern, Zoom calls and meetings have been a regular staple at Shelbourne for the first team's head coach.
As some things slowly return to normal, Zoom and other online tools will be one of the elements that the club will continue to avail of going into the future.
"I think Zoom has been a fantastic asset to us over the last 14 weeks," says Morris.
"It has given us the tools to have team sessions both physical and tactical. They have been immensely important for us. We will use these services to our advantage going forward."
The financial implications of no fixtures had an impact on a number of clubs in both divisions, with some having to temporarily lay off players and staff.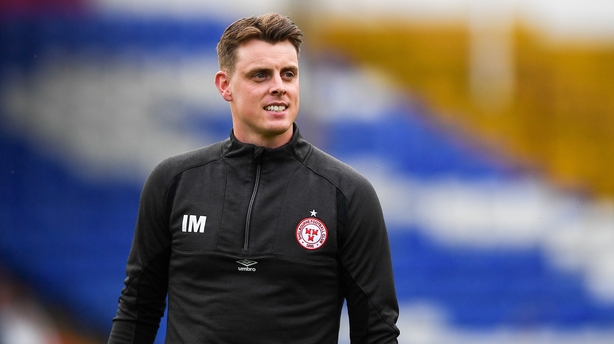 However, Shelbourne were in a position to maintain pay for players and staff and have been the first club - apart from the four involved in Europe who resumed in early June - to resume training.
Having returned to training in small groups in compliance with the FAI's Safer Return to Football protocols, Morris feels his players are returning physically and mentally stronger than before the lockdown came in.
Pre-season fixtures for the coming month are already in the pipeline with Morris adding: "Our games will be all behind closed doors unless told otherwise. The club will be releasing our July fixtures over the coming days."
Normally, League of Ireland clubs would be preparing for a longer, drawn out season but this 'mid-season pre-season' will now focus on the likelihood of a curtailed campaign when it comes to training loads and being mentally prepared for the possibility of games behind closed doors or with limited crowd sizes.
"We use GPS, readiness questionnaires and RPE forms to keep an eye on the players physical loads. These tools are really important for us to gauge intensity, distance and timing in training," says Morris.
"With possibly 14 league games to play, it is certainly going to be a sprint finish in the league. We have prepared really well over the previous 14 weeks to put ourselves in the best possible condition to play.
"We use training as our guide for constant tempo to our play. We train at such high intensity with no crowd, that we will transfer that in to games. The group are fantastic at driving each other and not dropping standards.
"And the club has been fantastic putting in place protocols for our return to training. No stone has been left unturned."
The earlier return of soccer on the continent and in England's top two divisions has also painted a picture of what Shelbourne and others can look forward to in regards
"Watching games on the TV so far it is extremely different with the crowd noise on and off," says Morris.
"Hopefully we should be starting the back with a minimum of 500 supporters being allowed in to watch. That will provide some sort of normality to games. Extra subs and drink breaks can allow you to communicate more frequently with option of changing personnel to influence the game.
"I have brought a sports psych on to my staff to add that extra dimension for staff and players. Mental health is an area as a club we are really keen to provide as much help and support to everyone, as proven by our recent mental health awareness T-shirt campaign."