Due to the spread of the coronavirus, the Irish and global sporting calendars have been heavily impacted with postponements and cancellations across a range of sports.
The GAA, FAI and IRFU are among the sporting bodies that have suspended fixtures over the coming weeks, although rugby's four provincial teams continue to train as normal at their respective bases.
But with the unprecedented situation that clubs across numerous codes find themselves in, how are managers and coaches dealing with it amid preparations that are now up in the air due to the uncertainty around rescheduling and return dates?
Colm Collins
The Clare senior panel had upcoming Allianz Football League Division 2 fixtures against Fermanagh and Armagh over the next two weekends.
But those have been postponed after the GAA suspended all activity until at least 29 March.
Clare manager Collins was informed about the cancellations on Thursday and preparations for Sunday's now postponed Fermanagh fixture were already well underway.
But now Collins and other inter-county managers face a period of uncertainty.
"At the moment, obviously there can be no collective gatherings at all, so that's the situation," he said.
"But the worrying thing is that it will all depend on whether the situation escalates or not.
"So could it be more than two weeks [with no games], you don't know."
The CEO of the Gaelic Players Association, Paul Flynn, has e-mailed all county managers to emphasise the importance of strictly adhering to the two-week ban on collective training, a call Collins backs.
"That only makes sense," he says.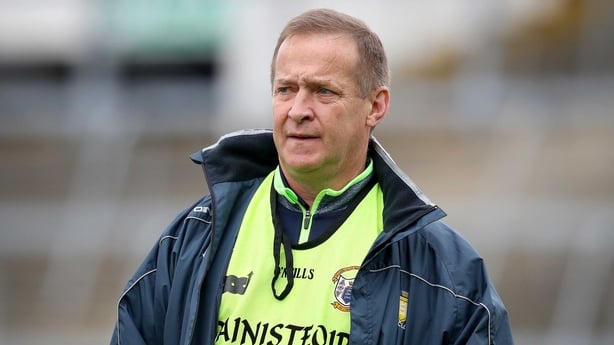 "There's no point in postponing these fixtures if we're going to continue collectively meeting, so that makes perfect sense."
The Allianz League plays a role in this year's All-Ireland Football Championship which adds further complications - even without mentioning the April-for-clubs month - if league games are pushed into the early summer months.
For Clare, if they do not finish in the top six of Division 2, they would in theory end up in the new tier two competition, the Tailteann Cup.
"That's going to be interesting. These are all little situations now that have arisen and people are going to have to get their heads together and resolve them in the most equitable way," says Collins.
"But it's very hard to tell what's going to happen. It's a bit like predicting results in Division 2."
In the meantime, despite no collective training and the uncertainty over future fixtures, there are small things Collins can put into place in terms of team prep.
"A lot of the preparation work for the first game has been done," he says.
"There is a certain amount of work we can do in preparation for a potential last game.
"From a players' point of view, they can work on individual areas of their game which they need to work on which I suppose was maybe neglected because of the tight schedule in the league.
"These are all things that you can do but it's very much up in the air in the sense that you don't really know where this is going."
Darren McGovern
Similarly to Collins, Eanna Super League head coach Darren McGovern found out about Irish basketball's enforced hiatus after the governing body's confirmation on Wednesday.
Unlike the GAA, Eanna are coming towards the end of their season with a final fixture against Templeogue which had been due to take place on Saturday.
"It came kind of as a shock but also probably as a welcome sort of combat to stop the spread of the virus," he said.
"We were coming towards the end of our season. We just had one more game to play on Saturday - we were due to play at home against Templeogue.
"So it was due to be a really big game for us because both of us had played each other twice this season - two very, very good games and we were hoping to try and get one win over Templeogue this season and unfortunately it's not going to happen now because of this."
Eanna and other teams now have to wait it out and see what happens to the remainder of the fixture list.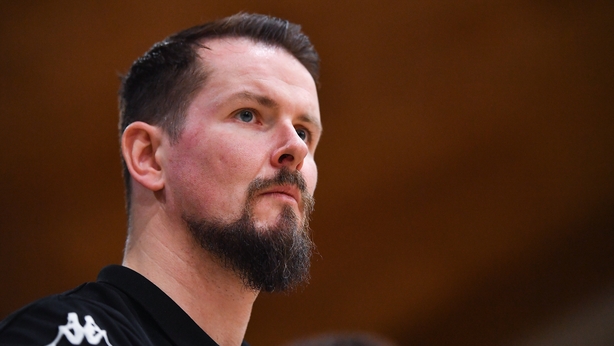 But in any case, the club are unlikely to have the services of key overseas players if and when action resumes.
"If anything, things are starting to go in the direction of finishing up because we already have one player who is due to leave to go home," McGovern explains.
"We have a Serbian guy who's heading home today actually. We've a couple of imports - Americans - and they are anxious as well because the country is in a slow-down mode at the minute that they're like, 'I may as well be at home in slow-down mode rather than being here'.
"So it's quite difficult to keep things going."
While players and staff can keep in touch via Whatsapp and other messaging services, they are limited in terms of the amount of physical practice they can do in light of availability of facilities.
"The Whatsapp group has been in full flight the last couple of days, people asking questions, 'Can we do this, can we do that?'" says McGovern.
"Pretty much the answers are you can only do what the guidelines tell you from the government and all our training facilities are generally in local schools or community centres and obviously all training is finished and the gyms are starting to close around the country, so [the players] can't even get into gyms.
"So it's pretty much one of those situations where they have nowhere to train and we have nowhere really to train them."
Ian Morris
In the League of Ireland, Premier Division Shelbourne, for example, had been due to face Waterford (13 March), Finn Harps(16th), Sligo Rovers (21st) and Derry City (27th) before the FAI suspended all fixtures until the 29th of the month.
The decimated fixture list of course poses a challenge for staff and players alike.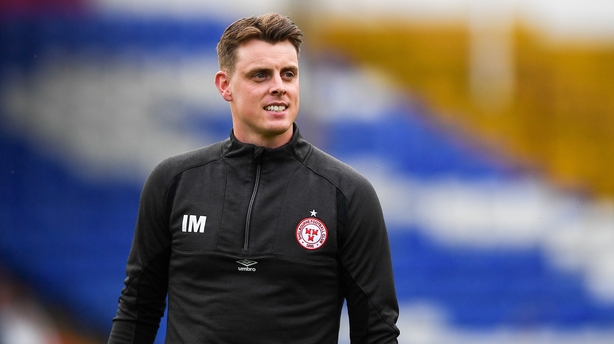 "We need to act in the best interest of our players and staff," said Shels head coach Ian Morris.
"It's a scenario where there is no guidelines in place. It's an unknown to everyone. As staff we will work tirelessly to put a programme in place for the players to work off and maintain their fitness levels as best and safe as possible."
He added: "We will be following the directive from the FAI, PFAI and Government on the cessation period."