Over 90 per cent of sports people in Ireland feel that drug-taking is cheating and that deliberately using banned substances to improve performance was 'morally wrong under any circumstances'.
However, a Sport Ireland doping survey also reveals that four in ten athletes claim to personally know others who have used banned substances.
These are just some of the findings of an online questionnaire exploring the attitudes towards anti-doping in Irish sport taken between August last year and February this year which attracted 148 high performance athletes across 14 sports.
Interestingly, athletes believed they were much less likely to be tested out of competition rather than in competition when the reality is three in four tests are currently conducted out of competition.
Minister of State for Sport Patrick O'Donovan was on hand on Thursday to launch Sport Ireland's 2016 Anti-Doping Review, a 32-page report on the battle against drugs in Irish sport.
Athletics (250), Cycling (156) and Rugby (113) remain the most tested amongst Irish sport, with Sport Ireland having a stated policy of testing in areas where they believe there to be the highest risk of doping.
GAA sports were next on the list with 97 and boxing 61.
Rugby continues to top the list for Therapeutic Use Exemptions (TUEs) in Ireland, with 11 of the 12 sought granted. GAA sports were next on the list with eight of nine applications granted.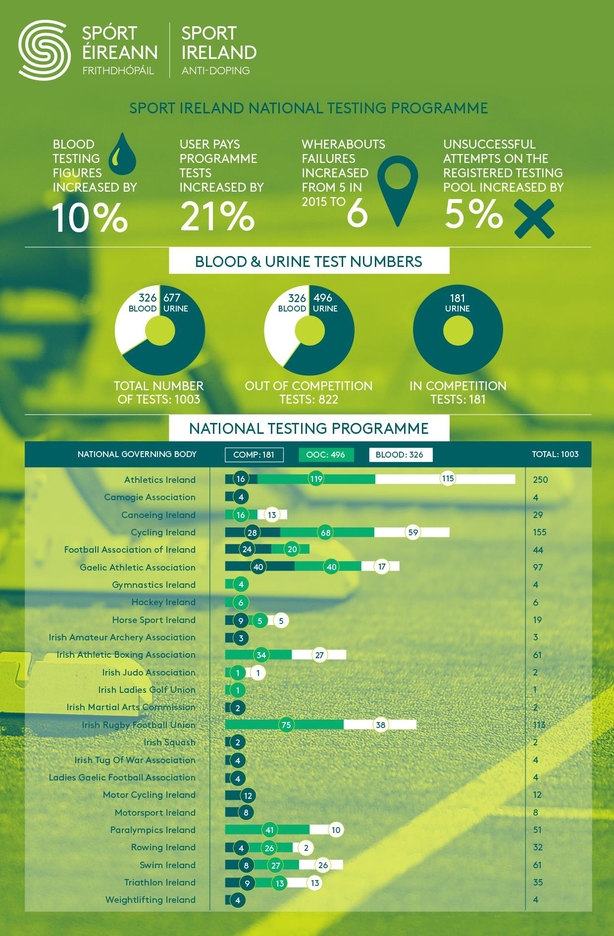 TUEs are granted upon successful applications to athletes who require medication that may be on the banned list to overcome a specific medical condition.
They have become controversial in recent times, with British cyclist Bradley Wiggins amongst those found to have used them prior to big events with some critics arguing that TUEs gave them an unfair advantage.
Of the 46 valid TUE applications made to Sport Ireland in 2016, 40 were approved by the independent TUE Committee, staffed by respected medical professionals, on receipt of up-to-date medical file.
Six remained as incomplete applications at the end of 2016. Incomplete applications were because of non-receipt of a medical file, the medication ultimately not being used or the athlete awaiting further medical assessment.
In all Sport Ireland conducted 1003 doping tests on Irish athletes last year, split between 677 urine tests and 326 blood samples. Of those, 822 were conducted out of competition.
This means it was done away from a competitive event and while the athlete was either training or at home. All 326 blood tests were conducted out of competition.
The number of whereabouts failures went from five in 2015 to six in 2016. This is when an athlete isn't where they say they will be at a particular time, leading to them missing an out of competition test.
Two of these were for athletics Ireland athletes, two from Canoeing Ireland and one each from Gymnastics Ireland and Cycling Ireland.
Sport Ireland reported two failed drugs tests in 2016; one in Paralympic cycling and one in motorcycling.
The highest profile doping case in the country last year was boxer Michael O'Reilly's failed test on the eve of the Rio Olympic Games, but the case is still pending.