By Barry McEneaney
Fans at UFC Fight Night 59 in Boston almost got a sneak preview of Conor McGregor's next fight against featherweight champion Jose Aldo when the action threatened to spill out of the octagon and continue in the front row.
Just seconds after seeing off Dennis Siver via a technical knockout in the second round of his bout in front of an official crowd of 13,828 at TD Garden, McGregor scaled the cage with impressive alacrity and made a beeline for the Brazilian before security intervened.
"I just seen his little skinny Brazilian head and I knew they flew him over here, and I was like, 'what's he doing sitting there front row'," the Dubliner told reporters.
"I dived over and they thought I was going to see my girlfriend or hug my hug my girlfriend. They must have thought I was a romantic.
"But I was going to kill that little Brazilian, but Pat and Lorenzo's right hand intervened thankfully, because I like money, and when fights happen outside the octagon they take your money."
UFC supremo Dana White admitted to confusion over the post-fight scenes, saying: "I thought he was going to see his family! And then I realised he was going after Aldo.
"It is what it is. It happened. It's Conor, it's his personality, it's the way he is."
McGregor now seems destined to take on Aldo in Las Vegas, and White offered interesting insights as to why the organisation was eschewing Dublin, and a bout in Croke Park, for the bright lights of Sin City.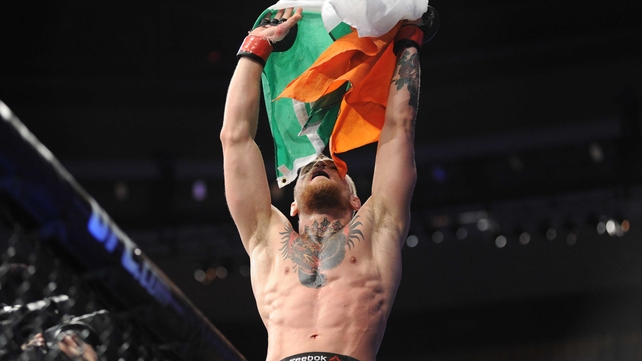 "There are a lot of obstacles for Croke Park," White said.
"The time - they have a curfew at night where you can't get permits to stay out that late and do an event there.
"You lose about 25-30% on pay-per-view, being in another country [other than the US]."
White also cited costs associated with staging a fight in Croke Park and the threat of rain as reasons for avoiding a Dublin showdown, adding: "The amount of money and the production for Croke Park, because I can guarantee you it's going to rain. I'm not a meteorologist but I bet you it's going to rain. I'm not saying we're never going to do it, but Vegas for this one."
Reflecting on his earliest memory of hearing about a young Irish prospect, White said: "The first time I ever heard about Conor, I was in Ireland at Trinity College getting an award from them and everyone was talking about Conor McGregor.
"So I came home and said 'who the hell is Conor McGregor?' I told the guys to sign him, we ended up signing the kid."
After making a major first impression on White outside the octagon, the American admitted telling UFC chief executive Lorenzo Feritta: "I don't know if this kid can fight, but if he can even throw a punch this kid is going to be huge."
With any remaining doubts over McGregor's ability in the octagon utterly dispelled, White enthused: "Conor looked amazing tonight. He is the real deal."
Congrats to the McGregor-nator @TheNotoriousMMA on terminating another opponent. Can't wait for your world championship fight. I'll be there

— Arnold (@Schwarzenegger) January 19, 2015
McGregor's description of his win and relentless progression up the rankings was dripping with melodrama.
"It's tradition. I remove a head, I bring it backstage, put it on Mr Feritta's and Mr White's desk; 'here you go boss, another one done'.
"And then we discuss big business, and big business just happens to be in viva Las Vegas.
"We're going to go to Las Vegas and one more head will be collected."
The 26-year-old, who sipped on a whiskey from a plastic glass throughout the press conference, insisted that he had expended little energy during the bout, saying: "I'm as fresh as a daisy.
"That's a Midleton Rare, that's a 20 grand bottle of whiskey."
McGregor also took the opportunity to expand on the bad blood between himself and Siver, which saw the Dubliner direct an obscene gesture towards the German when he refused to touch gloves before the fight.
"Whatever was said between me and Dennis, as far as I'm concerned, I spoke fact," McGregor said.
"He abused steroids and came into a contest against another man juiced up. And then he's talking about me being disrespectful.
"Whatever was said between myself and Dennis throughout the build-up was build-up.
"When we came face to face and it was time to fight, I put my hand out to touch the glove, I gave him that opportunity.
"I threw my glove, he didn't respond, so I said 'f**k you, you're the cheat'."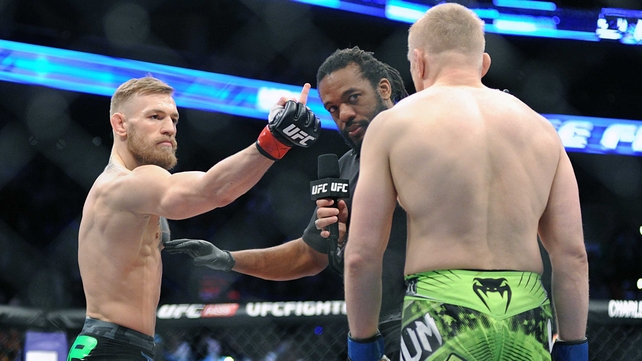 A pleasing aspect of the victory for 'The Notorious' was the manner in which he made his weight for the fight.
"I knew the championship was on the line there, I knew I was number one contender. I did not want to make 146, because 146 - you are a pound over.
"I've never made 145 in the UFC, so I wanted to put that little stamp on it.
"That's 145, that's championship weight. Tell Jose, I'm coming."
However, McGregor, who has targeted a move to the lightweight division in the not too distant future added: "It's hard work making this weight, but I make it correct, I make it professionally, and when I'm in there against these people, they're small, there is no pop, they seem timid.
"Looking at him, he [Aldo] looked like a little skinny Brazilian from the favelas, that was it, same as the way Diego [Brandao] looked; a little 12-year-old, boy body.
"I feel when we collide, he will collapse."
With McGregor very much at the centre of media attention, Patrick Holohan, also a winner on the night, struggled to get a word in edgeways.
In contrast to his more illustrious fellow Dubliner, the flyweight offered a terse assessment of his display, describing his win as simply "awesome".