By Tadhg Peavoy
Ireland's Conor McGregor produced an awesome display to defeat Dennis Siver by TKO in their UFC featherweight bout at the TD Garden in Boston this morning.
The victory sets up a UFC title fight with Jose Aldo in May, likely to be held in Las Vegas.
Early in the first round, 'The Notorious' and Siver exchanged front-leg side kicks as they gauged each other's fight strategy. McGregor attempted a number of missed spin kicks, but as the round wore on, the Dubliner began to exert complete control over Siver. In particular working left high kicks that damaged him badly.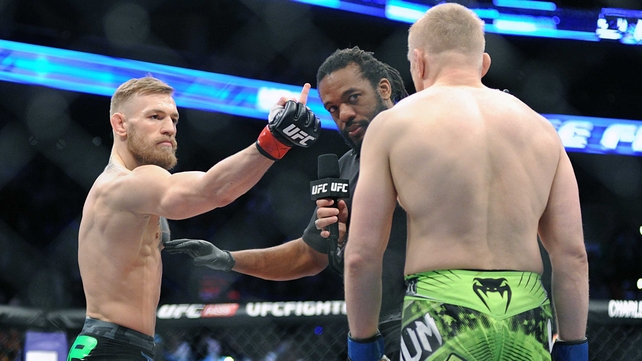 Straight left punches were applied as Siver's face cut open above his left eye and reddened below it.
The fight was over early in the second round when McGregor floored Siver with a straight left, before pinning him on his back and raining down elbow blows repeatedly. The fight was stopped.
With that, McGregor leapt over the cage to confront featherweight title holder Jose Aldo of Brazil in the front row, shouting at the man he will now face in a title fight later this year.
Conor McGregor had given a pre-fight prediction that he would KO Siver, but said afterwards, "I said two minutes. I meant two rounds."
And when asked his opinion of Aldo, he responded: "I don't even know. F**k him anyway. It's all talk.
"I'm gonna get my spit bucket and get him to shine that belt for me. He's gone back to Brazil with that spit bucket."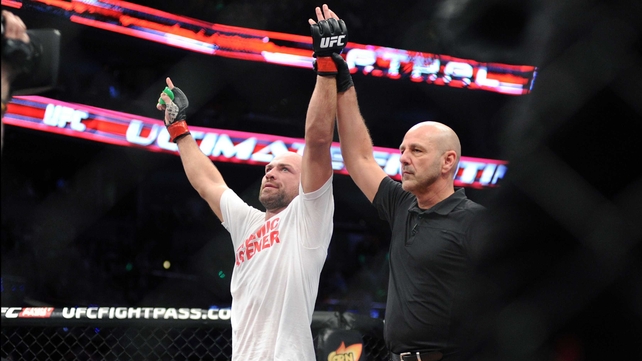 The win crowned a superb night for Ireland that also saw victory for welterweight Cathal Pendred, who claimed a controversial win against Sean Spencer. The unanimous and surprising decision by the judges took Pendred's record to 3-0 in the UFC.
Pendred started his bout strongly with an immediate clinch and takedown, before Spencer rocked the Whitehall man with three hard rights that did some damage. However, Pendred stabilised and proceeded to take another takedown before the close of the first round.
The second round again saw the American focus on left jabs and massive right hooks. But Pendred responded well with a combination of low and high kicks before attempting a kimura and head scissors late on that Spencer managed to wriggle out of with ten seconds on the clock.
The third followed a similar pattern, with Spencer landing key left and rights to Pendred's head, while the Irishman attempted to respond with low kicks and a takedown. All in all, the judges felt it was enough to maintain Pendred's unbeaten record, scoring the fight 30-27, 28-28, 30-27.
However, the decision to give Pendred the win prompted a shocked reaction from some in the arena, not least commentator Joe Rogan, who said: "I just saw someone getting robbed."
Antrim's Norman Parke was earlier beaten by Gleison Tibau of Brazil on a split decision.
Parke's spin kicks stood out in the first round, as both fighters traded stand-up games and looked for openings that largely weren't there. In the early stages, defences stood firm and the fight remained largely even.
The second round also started out as a stand-up game before both fighters hugged the cage and attempted takedowns with Tibau's grappling proving superior.
The final round was again a close affair, with both fighters clipping each other with strong combinations, as they went to toe-to-toe. However, Tibau's grappling in the second round appeared to have tipped the balance as he edged the bout.
Flyweight Paddy 'The Hooligan' Holohan was the first of the Irish in action in the preliminary fights in Boston and he saw off Shane Howell on a unanimous decision after a comprehensive performance.
The Tallaght man pressed for a finish with a body lock and a choke in the closing moments of the final round, but couldn't find the required combination. However, 114 strikes to 26 was a significant stat as the Dubliner came home comfortably.