Ireland will "shut down" to watch Conor McGregor's MMA fight in Dublin on Saturday night, according to the bullish Dubliner.
McGregor will headline the UFC Fight Night Dublin event at Dublin's O2 arena on Saturday night when he goes up against Brazilian Diego Brandao.
Also on the card, Cathal Pendred will fight Mike King.
McGregor, known as 'The Notorious' said: "99% of the population are gonna watch this fight" and that it was "a dream to come back here and put my nation on the map".
He said that headlining the event was the culmination of years of hard work and determination and the realisation of a vision.
"I had this vision and this belief that I was gonna bring UFC back by the scruff of the neck, and I said it many times, and now here we are, and it is upon us," McGregor said.
"I'm gonna embrace every bit of this walk, but I'm not gonna get too hyped, and I'm not gonna get too timid, I'm gonna stay in that perfect storm, and get the job done - for my home town, put my nation on the map, do what hasn't been done before."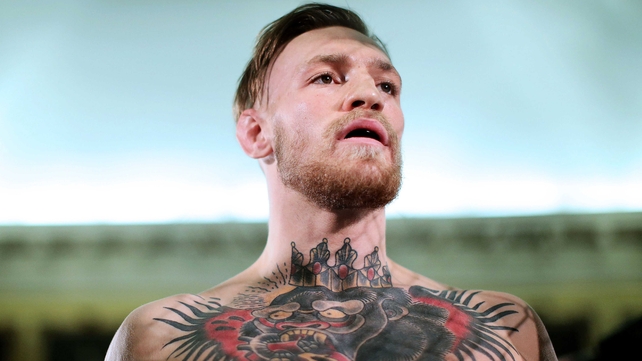 He said that he had promised his trainer when the UFC was last in Dublin, for UFC 93 in 2009, what he would be the star of a show in Ireland, and that he relished setting openly and achieving targets.
"I said to my coach, 'I'm gonna be the one to bring them back. I'm gonna headline the show," he said. "I have a habit of predicting the future, and these visions I have keep coming true.
"When I get these clear pictures and these clear visions in my head of what's to come I embrace them, and I let it be known.
"My name, the McGregor name, has bled on the battlefield"
"I love saying what I'm gonna do, and then going out and doing it. That to me is energising."
He denied that the pressure of being the main draw in the  card would affect him, saying that he would use it to further his career.
"Pressure in an illusion for me, but I want that illusion of pressure. Heap more on," he said.
"Give me more pressure, so when I put this guy away, and make it look easy, which I will do, people will say, 'How did he do that? Let's skip the queue, let's jump this guy ahead of the queue and put him straight in for a title shot.'
"Pressure creates diamonds, it creates drama, it creates tension, you know, it creates money, at the end of the day. I want all this, I want all of this pressure on me.
"I want people to feel like, 'How's he gonna react after this long lay-off, coming home, main-eventing in his home town? How can he cope with all this?'
"And then I go out and perform the way I perform, and blow everyone away."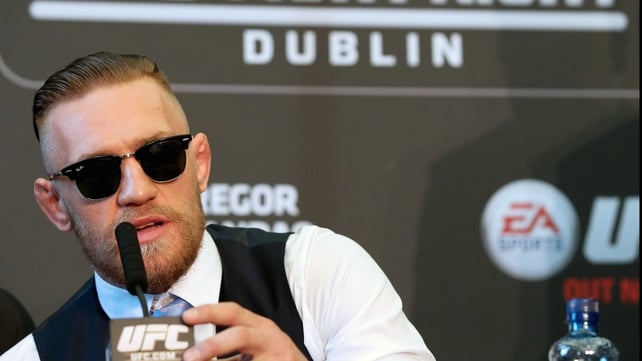 McGregor suggested he was following in a proud line of fighters, and that he was part of a wider Celtic fighting tradition.
"My name, the McGregor name, has bled on the battlefield on the war-torn Scottish highlands in the 17th century, when we were fighting off the British.
"I believe my ancestors were doing that in them days. I'm here doing that in the modern era, fighting in the modern gladiator arena."
"I'm gonna stay in that perfect storm, and get the job done"
He rued the choice of venue for the event – ""We could have sold out Croke Park, we could have sold out the Aviva. The venue is too small, there's no doubt about it" – but indicated that he was treating it as a further step in his remarkable progress within the UFC.
McGregor boasts a 14-2-0 record in his career so far.
"I don't think there's a fighter in the UFC's history that has done what I have in the space that I have done it," he said.
"And Saturday night when I go out there and put Diego away in the first round, I will prove my worth."
He was, unsurprisingly, confident about what the future might hold for him.
"Who knows what way the path will lead," he said. "It changes each step. But the vision I'm having, a clear, clear vision, is that gold belt wrapped around my waist by the end of 2014, and it's as clear as day."