The Kansas City Chiefs maintained the only perfect record in the NFL with a 23-17 win over the Cleveland Browns.
Chiefs quarterback Alex Smith threw for 225 yards and two touchdowns to ensure his side's best start since 2003 having now won the first eight games of the season.
The Browns had fallen 20-7 behind but Fozzy Whittaker's 17-yard reception got them to within a field goal early in the third quarter.
But that was as close as they got as a Ryan Succop field goal in the closing stages sealed the Chiefs' win.
Drew Brees passed for five touchdowns and 332 yards as the New Orleans Saints won 35-17 against the Buffalo Bills.
Saints tight end Jimmy Graham and rookie receiver Kenny Stills both got a pair of touchdowns while Bills quarterback Thad Lewis was sacked four times, intercepted once and gave up two fumbles.
Tom Brady was again off-colour but the New England Patriots did enough to claim a 27-17 win over the Miami Dolphins.
The Pats had trailed 17-3 at half-time, and had managed just 59 yards, before a 17-0 run in the third quarter.
Brady completed 13 of 22 passes for a meagre 116 yards, but his 14-yard touchdown throw to Aaron Dobson began his side's rally.
Matthew Stafford lunged over from a yard with 12 seconds left as the Detroit Lions battled back for a 31-30 win over the Dallas Cowboys.
Michael Vick's return from a hamstring injury lasted only into the second quarter as the Philadelphia Eagles were beaten 15-7 by divisional rivals the New York Giants.
Josh Brown kicked a career-high five field goals for the Giants.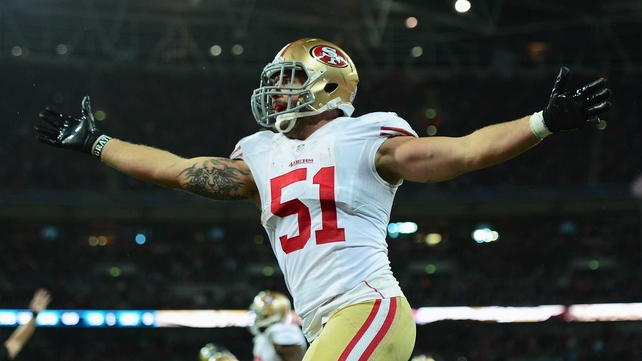 The Jacksonville Jaguars demonstrated all the flaws that have kept them winless through eight games this season as they suffered a 42-10 loss at London's Wembley Stadium to last season's Super Bowl runners-up San Francisco, who are on a mission to go one better this year.
So bad are the Jaguars right now they are making Martin Jol's problems at Fulham – also owned by Shahid Khan – look minor.
They may be keen to establish strong links to London fans with games scheduled each season until 2016, but they will need to offer up better performances than last night's to win new supporters.
Four touchdowns in the first 23 minutes ended it as a contest as the 49ers ran amok.
By the time the night was over, quarterback Colin Kaepernick had thrown for 164 yards and one touchdown, scoring two others on the ground as he rushed for a further 54 yards, while star running back Frank Gore had 71 yards and two TDs.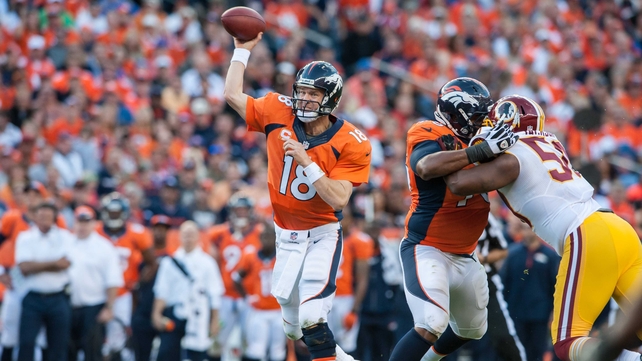 Denver scored 31 points in the fourth quarter as Peyton Manning and the Broncos came through what looked like being a tough day with a 45-21 win over the Washington Redskins.
It was a mixed day for Manning, who threw for 354 yards and four touchdowns, but also had four turnovers.
The Redskins took advantage of two of those turnovers to establish a 21-7 lead in the third, but from there Manning and Broncos dominated.
Manning's fellow former University of Tennessee star Cordarrelle Patterson also had a day to remember as he set an NFL record, albeit as his Minnesota Vikings lost 44-31 to the Green Bay Packers.
Patterson had a 109-yard return on the opening kick-off to set a new mark, but the Packers prevailed with Aaron Rodgers throwing for 285 yards and two touchdowns.
Terrelle Pryor also set an NFL record, this time for the longest touchdown run by a quarterback by scrambling for 93 yards as the Oakland Raiders kept the misery coming for the Pittsburgh Steelers in a 21-18 win.
The Raiders also got two touchdown runs from Darren McFadden.
Also on Sunday, the Cincinnati Bengals beat the New York Jets 49-9 and the Arizona Cardinals were 27-13 winners over the Atlanta Falcons.