Nico Rosberg won the Australian Grand Prix in a race that will long be remembered for Fernando Alonso's miraculous escape from a high-speed crash.
While Rosberg claimed a 10-second win over Lewis Hamilton, with Sebastian Vettel in third, in an entertaining season opener, it was Alonso who took centre stage after he walked away unscathed from one of the biggest smashes in recent memory.
Pole-sitter Hamilton endured a horror start to the defence of his world championship crown after he slipped to sixth on lap one, but he fought back to finish second.
Formula One headed into the first race of the new season under a cloud following the hugely disappointing debut of the sport's knock-out qualifying format.
But amidst all the doom and gloom, we witnessed an entertaining race despite the regular occurrence of a Mercedes one-two finish with a Ferrari driver completing the podium.
Speaking after qualifying, Rosberg predicted an upset when the lights turned green, and the German was not wrong. Vettel, third on the grid, flew off his mark to squeeze past both Hamilton and Rosberg, and it got even worse for the Briton, who was edged out by his team-mate and slipped to sixth.
Kimi Raikkonen threw a further spanner in the works when he moved ahead of Rosberg to claim second place.
Rosberg was the first to stop on lap 12, with Vettel pitting one lap later.
Fernando Alonso is lucky to be alive following a horrific crash during #AusGP at Albert Park #F1 https://t.co/6saOw9LR1g

— Sky News Australia (@SkyNewsAust) 20 March 2016
Hamilton, whose progress back through the field had been stifled by a resilient Max Verstappen, stayed out on track. He finally pitted four laps later, but his hopes of a podium finish appeared all but scuppered.
Then, the race turned on its head in the most spectacular of fashions. The red flags were out after Alonso crashed into the back of Esteban Gutierrez on the 190mph approach to Turn Three.
His front-right tyre ripped off his McLaren and Alonso was merely a terrified passenger as his car was sent into the barrier before flipping through the air twice.
When Alonso's car finally came to a standstill the Spaniard was upside down and missing all four tyres. The sport held its breath, but miraculously, the two-time champion crawled out of his car before limping away from the wreckage.
Gutierrez, who ended up backwards in the gravel, went over to Alonso to shake his hand before both drivers were whisked off to the medical centre, with the latter waving to the crowd.
In testament to the sport's remarkable safety standards both drivers were given the all-clear, and after a 20-minute delay, the race was back up-and-running in what was turning out to be an entertaining affair.
Vettel held off the challenge from Rosberg, now on the more durable medium compound, which would see him through to the end of the race. Hamilton, also on the harder rubber, was back in seventh.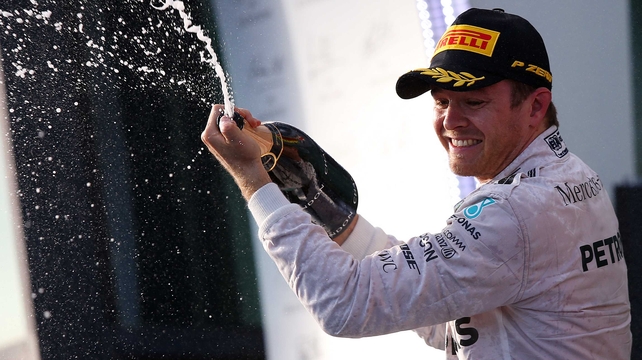 Not long after the re-start, Raikkonen was in the pits. "Something broke," the Finn said before the so-called Iceman was on fire. Flames emerged from the top of this Ferrari, but they were extinguished as the normally laid-back Raikkonen leapt out of his car.
Vettel, who would need to stop again, was failing to shake off Rosberg and on lap 35 he pitted from the lead.
Ferrari were then slow in fitting his front-left tyre, and he emerged in fourth.
Hamilton, who had been seventh at the re-start was now up to third, which soon became second after he passed home favourite Daniel Ricciardo at Turn One.
Rosberg was 10 seconds ahead with 15 laps to go, but the Briton failed to make a dent on his team-mate's advantage. Indeed he was soon fending off the advances of Vettel, who took a trip across the grass with two laps left in pursuit of the world champion.
Ricciardo finished fourth ahead of the Williams of Felipe Massa with Romain Grosjean a remarkable sixth on Haas' debut in the sport.
Jolyon Palmer placed 11th on his debut with fellow Briton Jenson Button crossing the line a disappointing 14th.
Rosberg, who has now four races on the spin following his strong end to last season, said: "It has been a great weekend, thank you to the team, they have done an unbelievable job and to beat the Ferraris was great."
Hamilton added: "It was a great race. I loved the fact that we had to come from far behind. The team did a fantastic job as always. It was very tricky out there and I am glad that no-one got injured in the shunt.
"I have had much worse in the first race so I think this is a real bonus to come back from seventh."