Nico Rosberg beat Lewis Hamilton in emphatic fashion to claim his sixth consecutive pole position for Sunday's season-ending Abu Dhabi Formula 1 Grand Prix on Saturday.
The German, who is also bidding for his third victory in-a-row, finished the session more than a third of a second clear of his Mercedes team-mate under the lights at the Yas Marina Circuit.
Ferrari's Kimi Raikkonen and Force India's Sergio Perez filled the second row behind the two Mercedes drivers, who will be chasing a record 12th one-two finish of the season in Sunday's day-to-night race.
Raikkonen's Ferrari team-mate Sebastian Vettel, winner of three races this year, endured a frustrating session and will start only 16th.
"I am quicker at the moment and I am very pleased about that and enjoying the moment and happy to be on pole again," said Rosberg.
Hamilton added: "I genuinely struggled with the car a little bit."
"We've been working really hard to make some changes, we've had to take something off the car but Nico was just really quick today. "
Hamilton was denied a landmark 50th pole start, though he can take comfort in the fact that only once in six years has the race been won from first place on the grid.
Earlier on Saturday Rosberg was quickest in the final practice session of the year after he topped the time-sheets in Abu Dhabi.
The German, who is bidding to secure his sixth consecutive pole position and third victory on the bounce, edged out Lewis Hamilton by 0.281 seconds at the Yas Marina Circuit on Saturday.
Rosberg is running an older engine than his Mercedes team-mate at the final round of the championship and feared a lack of power will make life difficult for him this weekend.
But after ending Friday's second session ahead of Hamilton, Rosberg followed that up by going quickest in final practice.
"It is a small mistake with a big consequence."
Hamilton, who sealed his third championship in October's United States Grand Prix, is without a pole in six races and has finished second behind his team-mate at the last two rounds in Mexico and Brazil.
Vettel, pictured below, rued a costly error by his Ferrari team after he was surprisingly knocked out at the first stage of qualifying.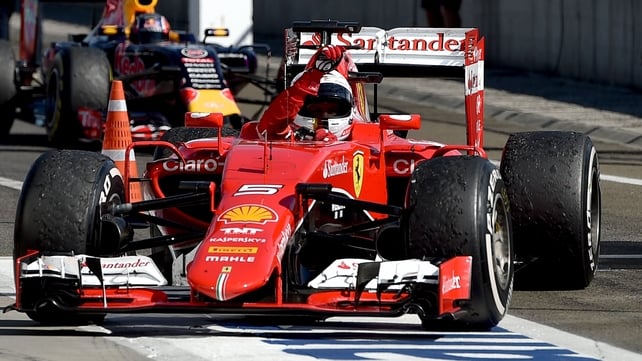 The four-time world champion will start only 16th on Sunday after his miscalculated the cut-off time required to make it through to Q2.
"I should have done a quicker lap and we could have made it, but in that moment we thought it was enough," said Vettel.
"It wasn't and obviously it was quite costly, but we know what happened and now we have to start the race from further back. That is the challenge now.
"We try every weekend to do our best, and this weekend we did not get it right. It is a small mistake with a big consequence."
Meanwhile, in an apparent act of defiance Niki Lauda and Mercedes Executive Director Toto Wolff were pictured arriving at the paddock in Abu Dhabi hand-in-hand.
It has been reported that Lauda, integral to Hamilton joining Mercedes in 2013, may be on the brink of quitting the Silver Arrows at the end of the season following a difference in opinions with Wolff.