Nico Rosberg sealed his second straight victory in Sunday's Brazilian Grand Prix to rubberstamp his runner-up spot in the Formula One world championship.
Lewis Hamilton got close to his Mercedes team-mate on a handful of occasions, but failed to find a way past at this famous Interlagos track.
Sebastian Vettel, now consigned to finishing third in the standings, completed the podium places with his Ferrari team-mate Kimi Raikkonen crossing the line in fourth.
Speaking after qualifying on Saturday, Mercedes boss Toto Wolff said the team's "primary objective" at the final two races was to ensure Rosberg finished second in the championship.
Hamilton, whose Brazilian hoodoo continues having failed to win here now on nine occasions, knew his best chance to beat his team-mate would be on the short run down to Turn One.
And while the pair came narrowly close to touching wheels, as they did in Austin last month, pole-sitter Rosberg retained the inside line and the lead.
In his bid to get past Rosberg, Hamilton requested to try something different to his team-mate.
"Can you get me on a different strategy somehow?" he asked. "I'm faster but it's impossible to overtake." But the Briton's desperate request was dismissed by his team.
Rosberg and Hamilton pitted a lap apart on three occasions and from there it was a rather processional affair.
Hamilton had a sniff at passing Rosberg when the German missed the apex at Turn One midway through this penultimate race of the season - but that was largely as good as it got for the world champion, whose build-up to Sunday's race was disrupted with his early morning car crash in Monaco on Tuesday.
Hamilton, sporting a tribute to his Ayrton Senna on his helmet this weekend, would have been desperate to end his winless streak at the home of his boyhood idol, but his wait will go on.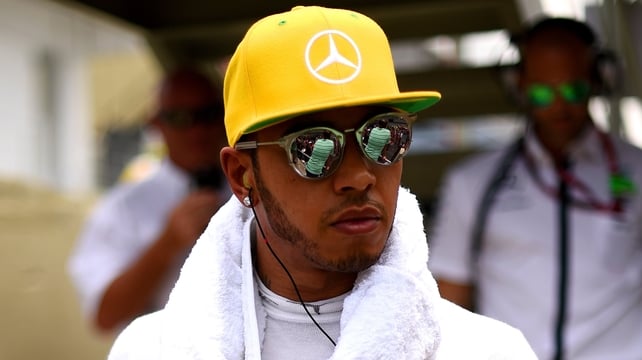 Max Verstappen, the 18-year-old rookie who is surely a future world champion in the making, was the provider of the best on-track action of a tepid afternoon.
The Toro Rosso youngster dived around the outside of Sergio Perez at Turn One before bravely holding on to the position. Romain Grosjean, the only French driver on the grid, followed Verstappen through before later going on to pass the Dutchman.
Grosjean would finish ninth with Verstappen continuing his impressive streak of scoring points by passing Pastor Maldonado in the closing stages to clinch 10th.
The FIA, the sport's governing body, chose not to honour the 130 people confirmed dead in Friday night's terror attacks in Paris with a one-minute silence ahead of the race.
Instead the drivers gathered at the front of the grid to pay their respects to road traffic victims - which had already been scheduled - but Grosjean used the opportunity to unfurl a French flag.
Earlier a French flag with a black ribbon was pinned on to a truck for the pre-race drivers' parade. The drivers, as well as FIA president Jean Todt and the sport's commercial rights holder Bernie Ecclestone, wore black armbands.
Back on track, and Rosberg lapped the entire field up to fourth such was Mercedes' dominance here with Valtteri Bottas finishing fifth and Nico Hulkenberg sixth for Force India. Red Bull's Daniil Kvyat was seventh ahead of Felipe Massa, Grosjean and Verstappen.
Another painful weekend for McLaren culminated in Jenson Button and Fernando Alonso finishing 15th and 16th respectively.