Sebastian Vettel has rejected suggestions the Formula One public has become apathetic to his domination of the sport.
Vettel's fourth successive championship triumph just under a fortnight ago was greeted with precious little fanfare, certainly in comparison to his maiden success in 2010 and his third crown last year.
On both occasions the title race was at least an absorbing affair as it went down to the wire, with no guarantee Vettel would win either.
Since the summer break this year there has been an unfortunate air of inevitability about Vettel's latest success as he reeled off victory after victory, now currently standing at seven in a row.
Vettel, however, feels he and Red Bull deserve greater credit than has been attributed after joining Michael Schumacher and Juan Manuel Fangio as the only other driver to win four titles in a row.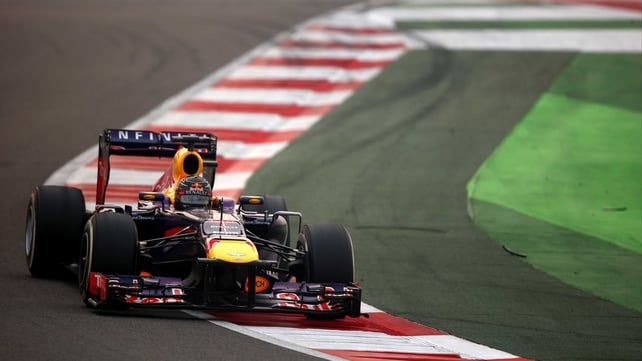 "People tend to call it domination, but I don't like the word because it makes things sounds easy," said Vettel when questioned about the perceived indifference from the general public.
"But if you look back at every single race it has been hard work for every minute.
"There have been times when we've achieved great results by finishing on the podium on days when we shouldn't have.
"Of course, it's a long season and you need to make sure you achieve 100 per cent.
"If you are completely honest you can't do that all the time, but you can get close, and when you look back that feels great.
"To then get the results on the back of that is a great position to be in.
"Maybe for other people it lacks excitement, but not yourself because you know how much hard work has been put in, along with everybody at the factory.
"Everybody knows how hard it has been to get the car where it is now and to score the points we have." 
Team principal Christian Horner echoed Vettel's sentiments as he said: "It's easy for people to become complacent and to suggest a Red Bull victory is almost pre-ordained, but that's not the case.
"Every race we go to is a challenge, and the satisfaction this year has been seeing how the team has continued to develop and improve across all areas.
"That refers to the strategy, pit stops, the development Adrian (chief technical officer Newey) and his team have delivered to the car at each grand prix."
Horner also highlighted the improvements Vettel has made with regard to his skill as a driver, and that it has not been all about the car.
"The progress Sebastian has made, seeing him raise the bar again to the level he has driven this year, has been absolutely magnificent," added Horner.
"To have won 11 grands prix with two races still to go, with the consistency and accuracy with which he has driven, it has been a pleasure to see and be a part of."