Conor McGregor believes Dustin Poirier has shown great improvements since their 2014 fight, but says he is in a "phenomenal place" and expects to emerge victorious at UFC 257 in Abu Dhabi this weekend.
The 32-year-old has held UFC titles in the featherweight and lightweight divisions, but he has been at odds with the promotion since a TKO win over Donald Cerrone in UFC 246 last year.
McGregor defeated Poirier in a first-round TKO in a featherweight bout in 2014 and has promised a "masterpiece" of a performance.
Speaking at the pre-fight press conference, the Dubliner outlined his respect for his opponent.
"Dustin has been on an incredible run since our last fight," he said. "Yes I did get the win the first time, but he has rose right up and I'm excited to compete with him again."
Having predicted earlier this month that he would end the fight within 60 seconds, McGregor was asked if that perhaps regretted such a brash statement.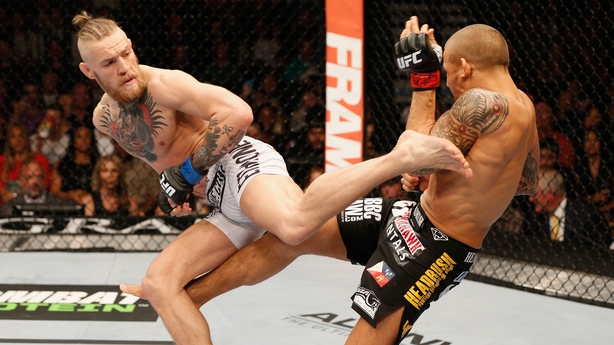 "I got him out of there in 90 seconds the first time," he responded. "That's a complete confidence in my preparation and ability. I know he is a hell of a competitor.
"However, there are question marks regarding conditioning. I know his team has been spouting about conditioning. I have put a lot of work in to get myself ready for 155 pounds.
"I got 40 seconds in the Octagon in 2020 which caused a lot of frustration. It's not enough. I need more. I am going to go in there and I believe I can get him out there, possibly will hit him early and hurt him.
"I hope for a good long bout."
I have so many weapons in my arsenal. They are all fine-tuned. I'm in a phenomenal place
McGregor owns a 22-4 record in mixed martial arts, compared to Poirier's 26-6 record, with one no-contest. In his lone fight of 2020, he beat Dan Hooker by unanimous decision on 27 June. His previous bout was a loss by submission to Khabib Nurmagomedov in a lightweight championship fight at UFC 242 last September.
The former two-weight champion hit back at the questions regarding his own conditioning - "It's a myth that is out there. I will answer it in time" - and believes that when it comes down to it, he will have too much for his opponent.
"I have a million shots. I have so many weapons in my arsenal. They are all fine-tuned. I'm in a phenomenal place."