Conor McGregor has not won a fight in over three years, a stretch he hopes to end next month against Donald 'Cowboy' Cerrone at UFC 246 in Las Vegas.
In the United States, ESPN+ have taken the opportunity to hike up their pay-per-view prices by $5 going forward. Clearly the return of 'The Notorious' was seen as a big enough sell for the Disney-owned subscription channel to carry the price rise.
This move was seemingly backed up at the box office, as the UFC (Ultimate Fighting Championship) announced on Monday that tickets for the T Mobile Arena had sold out in three minutes, grossing $10million.
It will be interesting to see how many of the bums in those seats hail from Ireland. Previous McGregor fights have sparked a 'Green Invasion' of the Nevada city, but his popularity would appear to be on the wane in his native land.
In 2016, at the height of his powers, he was the country's most divisive but arguably also its most popular sports star. The Teneo Sport and Sponsorship Index in that year saw 16% of those polled describing him as the Irish sportsperson they most admired.
That figure in 2019 was 2%.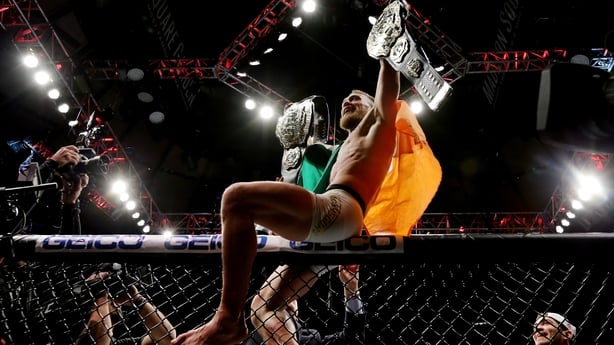 What has happened in the intervening three years? The short answer: a lot.
He courted controversy in promoting a boxing match against the undefeated Floyd Mayweather – losing the battle but winning the financial war and pocketing in the region of $85m.
He apologised on the Late Late Show for using a homophobic slur towards another fighter, he apologised for shoving a referee and slapping an employee at a Bellator promotion in Dublin, he apologised for punching a man in the head at a bar in Drimnagh.
He pleaded guilty to assault and was fined €1,000 for the last incident.
McGregor lost his only UFC fight in three years to Khabib Nurmagomedov, submitted in the fourth round of a fight that boiled over in its aftermath, with the post-fight melee resulting in fines of $50,000 for McGregor and $500,000 for Nurmagomedov.
The build-up to the fight had been fuelled by bad blood, which all stemmed back to McGregor and some of his entourage attacking a bus transporting Nurmagomedov and other MMA fighters from an arena in New York.
McGregor was sentenced to five days community service and an anger management programme after pleading guilty as part of a plea deal in a Brooklyn Court in 2018.
We need your consent to load this rte-player contentWe use rte-player to manage extra content that can set cookies on your device and collect data about your activity. Please review their details and accept them to load the content.Manage Preferences
Earlier this year charges were dropped in Miami after McGregor was filmed snatching at a mobile phone and stamping on it after a member of the public began taking a photo of him outside a hotel.
In November of last year he was banned from driving for six months and fined €1,000 for speeding in Naas District Court.
He also retired for a second time at one point.
Marvin Hagler's old line about finding it hard to get up and pound the streets when you're sleeping in silk pyjamas comes to mind.
The UFC president Dana White this week admitted that success had dulled his biggest star's keen edge.
"The problem is you've seen this, not just in fighting but in other sports, when a guy has 100 and something million dollars, he's young, he's famous and now he is unbelievably rich, it is hard to keep the train on the tracks for some guys.
"That has definitely been Conor McGregor. I think he is at a point now where he realises he needs to get his act together."
But is it too late? Is 'Brand McGregor' irrevocably damaged? Has the litany of court appearances and unpleasant incidents in the last three years all but ended his career?
Shaheen Al-Shatti is a MMA writer with The Athletic and he senses that the 31-year-old's star has certainly begun to fade among the American MMA community.
"It feels to me, if people aren't over Conor McGregor they are at least exhausted by the idea of what he has become over here. For the better part of two to three years at this point, apart from the Khabib fight, it has been bad news," he tells RTÉ Sport.
"I feel the perception of Conor in the last few years has changed significantly and not in a good way.
"For fans of the sport, people in the sport are thinking, 'man you are making us look so bad, just stop'."
"He has been in a lot of headlines since the last time he fought, they have just all been bad… Conor McGregor is still the biggest star that this sport has, or that this sport has ever produced.
"I think for a lot of people in America and in Ireland I am sure too, he is the only MMA fighter that people who do not follow the sport know. When he is getting in trouble… it is a terrible reflection on the sport for the people who don't pay attention.
"For fans of the sport, people in the sport are thinking, 'man you are making us look so bad, just stop'."
You get a different slant when speaking to editors at some of the Irish sports sites that previously received huge volumes of traffic from Irish McGregor fans.
That has slowed due to his lack of fights but all Irish sports news sites see a surge when he does fight – the Nurmagomedov fight and its aftermath was of huge interest to readers of this site and others.
However, one editor noticed that a very large portion of their visitors around the Nurmagomedov fight were from abroad, notably the United States. It will be interesting to see if that interest is still there next month.
There have been no more Late Late Show appearances for McGregor, but as Peter Sweeney, a senior consultant at Teneo Sport, notes, the Crumlin native has never relied on traditional media.
"McGregor has been very clever in the way that he has built up his profile through social media and has appealed to younger people.
"How often do you read an interview with him in a newspaper or see him speaking on television when he isn't promoting a fight? Not very often, court appearances aside, but his combined 100m-plus following on social media following means he doesn't rely on the traditional media for his profile."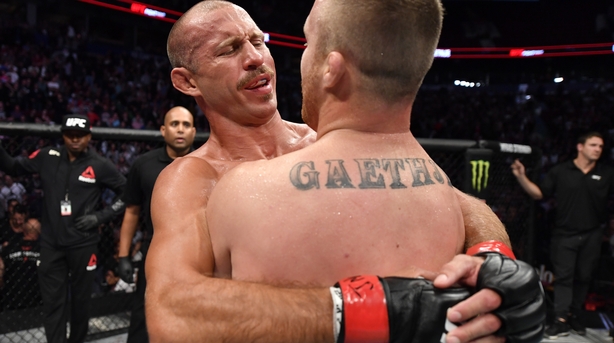 PPV figures and ticket sales tell one story, but Al-Shatti can't help but notice the different scale of build-up for this fight versus McGregor's last.
"Certainly a lot smaller, even at this point with the Khabib fight one month out, that felt like a very big deal and it obviously got very ugly," he says. "This one feels almost non-existent, there has been almost no conversation about it."
That is partly down to the speed with which it was arranged, but previously when McGregor has done things on the fly it has been an admirable gamble - taking the Nate Diaz fight when Rafael dos Anjos got injured being the perfect example.
This time he has sought a fight with a 36-year-old coming off the back of a pair of knockout defeats. This is a confidence builder, not a momentum builder.
"With Conor McGregor there was always a sense of escalation," says Al-Shatti. "Everything was bigger. Everything led to the next big thing.
"Even when we got to the Mayweather thing and nothing could possibly be bigger than this… he then came back and fought Nurgamedov and had the biggest pay per view in the history of the sport.
"That still felt to some degree like an escalation or at least a continuation. This is the first deescalation we have had from him really ever in his career as a UFC fighter.
"If he was to lose to Donald Cerrone," says Al-Shatti, "that would be the result that would cause Conor McGregor to lose a lot of the lingering fascination with him - the star power and the draw to some degree."
Still ranked 21st on the Forbes list of highest-paid athletes in the 12 months up to June 2019, McGregor is riding the crest of a wave created with a splash in the middle of this decade. The UFC has new stars like Israel Adesanya, and Al-Shatti insists White and the UFC could survive without 'The Notorious'.
"I don't feel like the UFC need anyone," he says. "That is how the company is designed inherently. You hear Dana White talking about how they have got themselves into different spots throughout their lifetimes and various stars leave... and there will always be new people coming up. Do they need him? Absolutely not."
The fight has been made and the tickets are sold. Time for McGregor to put on one more show.