Floyd Mayweather will fight Japanese kickboxer Tenshin Nasukawa on New Year's Eve in Saitama in a mixed martial arts bout.
The undefeated 41-year-old, who has won world boxing titles in five different weight categories, has never fought professionally in MMA and it has yet to be decided what format and rules the fight would follow.
His opponent will be 20-year-old Japanese kickboxer Tenshin Nasukawa at the RIZIN.14 event.
Speaking at a news conference in Tokyo on Monday, Mayweather said the decision to fight in Japan was about expanding his global profile.
"I wanted to do something different. I wanted to display my skills outside the US and be in a special fight," he said.
"I spoke with my team and with RIZIN and we put it together.
"I have fought in the US for all 50 of my fights. As a professional I haven't had a chance to go outside the US to display my skills and to display my talent for the world."
Nasukawa competes in RIZIN championships in both MMA and pure kickboxing. He has won all four of his MMA fights.
While boxing rules restrict bouts to the use of fists, MMA rules can incorporate kicks, knees and elbow strikes, as well as wrestling, joint locks and chokes.
Mayweather said the terms of the fight would be decided in the coming weeks.
"As far as the weight class and the rules, we will talk about that and will get that situated within the next couple of weeks," he said.
The Rizin Fighting Federation was founded in 2015 by Japanese businessman Nobuyuki Sakakibara, who was previously the president of Pride Fighting Championships before it was sold to the then-owners of Ultimate Fighting Championship in 2007.
Sakakibara was clearly delighted with his coup.
"There were many twists and turns to get here," he said, sitting between Mayweather and Nasukawa.
"We first negotiated with Mayweathers side to convince him to join Rizin.
"(Then) Nasukawa Tenshin was the first guy we could think of, and the only guy we can think of (for this match)."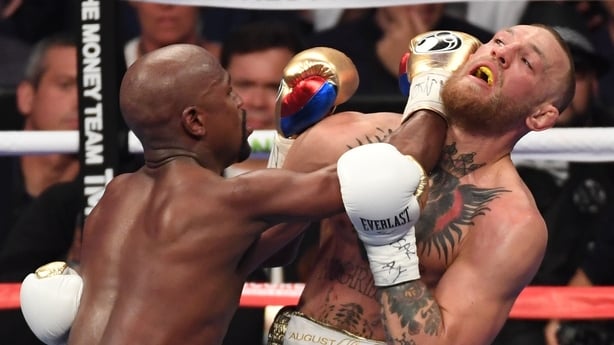 Mayweather's last bout was in 2017 when he beat Conor McGregor, running his boxing record to 50-0 and earning close to $300 million.
Mayweather had come out of a near two-year retirement to fight McGregor and afterwards said he was done with boxing.
"We do foolish things sometimes but I am not a damn fool. If I see an opportunity to make $300 million in 36 minutes why not," he said after that fight in Las Vegas.
"But this is the last one, you have my word on it."
Khabib Nurmagomedov and Mayweather had appeared to be angling for an MMA fight after the Russian's recent UFC win over McGregor, but that now seems to be on hold.