Conor McGregor's coach John Kavanagh predicts that his fighter will defeat Floyd Mayweather in six rounds in Las Vegas on Saturday night.
McGregor, the reigning UFC Lightweight champion, is regarded as a huge outsider against the undefeated Mayweather.
Former Irish amateur boxing head coach Billy Walsh gives McGregor very little chance of defeating Mayweather, regarded by many authorities as the finest pound for pound boxer of the past two decades.
However, speaking to Ariel Helwani on the MMA Hour, Kavanagh was almost blithely confident about McGregor's prospects at the weekend and said he anticipates a knockout sometime in the sixth round.
"When the two of them walk to the middle, one of them has to take a back step. If Floyd takes a back step - which I believe he will - then I predict Round Six (win for McGregor). That's my prediction.
"I think for the first five rounds, he (Mayweather) will back up and lie on the ropes like he does. He will cover up and try to just absorb and try to wear Conor down. That's how I think he'll approach the fight.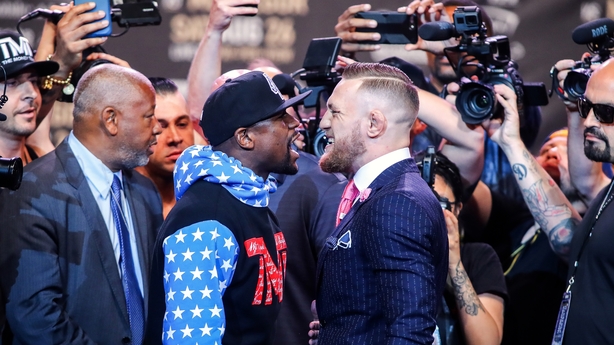 "If he doesn't take a backward step. If he walks forward and exchanges, it'll be a one-round fight. It'll be over in a minute (in favour of McGregor).
"Because he'll be fighting in such a way that's not normal to him, he won't have had time to develop the skill-set for an aggressive, exchanging fighter.
"I didn't know a lot about Floyd before this but I did watch his fights for his defensive work. So for him to go in there and try to trade with Conor and not walk backwards would be so alien to him but so normal for Conor, he'll (Mayweather) be unconscious in a minute.
"But I think he skips to the middle, he'll feint and throw a jab. Conor'll walk forward, Floyd will back up a little. And he'll aim to just potshot, cover-up, clinch and just get through the first couple of rounds.
"As I believe that'll be the scenario, I think in Round Six, Conor's hand is raised."