Unstoppable. The word, lit up in a blinding yellow, was screaming out from the electronic  backdrop.
In front of the giant screen and up on the stage at the MGM Grand Garden Arena on Friday afternoon, the UFC had assembled its full battalion of stars. 
Dana White bellowed and beamed as each one joined him on the pedestal. Six of the UFCS ten current male and female champions - Demetrious Johnson, Domicick Cruz, Luke Rockhold, Daniel Cormier, Fabricio Werdum and Joanna Jedrzejczyk - were there.
And another clutch of fighting favourites who don't currently carry a belt into the octagon - Jon Jones, Uriah Faber, Chris Weidman, Stipe Miocic among them - were also under the spotlights. 
This was the UFC, self-proclaimed as guardians of the fastest growing sport in the world, puffing out its chest as it laid out its plans for the next three months, a huge pay-per-view stadium card in Brazil, a return to the LA Colosseum, first ever events in Croatia and the Netherlands. Unstoppable. 
Thousands had poured into the arena and they cheered each and every introduction, some more than others.
But they weren't really here to see these stars, not the overwhelming majority of them anyway. They were here for the one who hadn't yet taken the stage.
By the time Conor McGregor did climb up the stairs an hour or so later, 8,650 souls had again turned the place into a raucous, chaotic cauldron. 
Vocal chords were shredded for their man, who spent all of three total minutes on stage. But he had stalked the entire afternoon. In fact he'd stalked the morning too. From breakfast time Friday they had begun to queue in the back parking lot of the MGM Grand.
The Unstoppable press conference wasn't due to begin until 2.00pm, the weigh-ins for UFC 196 scheduled for two hours after that. No matter. 
These are now the accepted, even expected, scenes when the 27-year-old from Crumlin rolls into the fight capital of the world.
Tonight, against Nate Diaz, he fights here for the third time in a row, the third time in the space of eight months but this one, unlike the two that went before it, has nothing riding on it. That was supposed to ensure that things were taken down a notch or six, supposed to make it all a bit more low key. 
How wrong those expectations were. Almost out of thin air, some time between Thursday night and Friday morning, a green brigade had amassed in the desert. Nothing on the line. No title. No history. No matter. Still they came. 
McGregor, the featherweight champion, didn't just stalk the UFC on Friday alone. He now hangs heavily over everything related to the organisation, every cough, spit and chokehold.
In just two years he has taken such a hold on the entire sport, that even when he's not there, he's there. There is no UFC without McGregor now.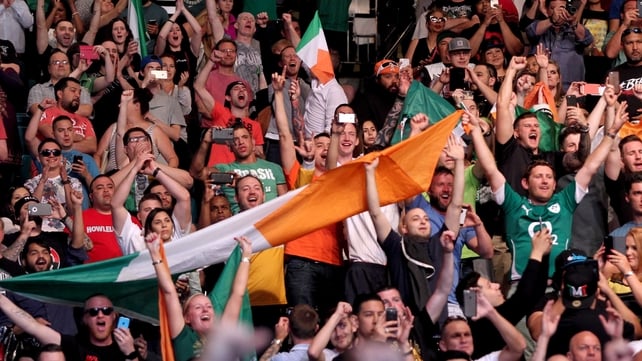 He's front and centre in every way. Every promotional video now ends on his face. In the UFC section of the MGM Grand store, two rails of apparel are branded with the Notorious's name and logo. The rest of the entire organisation share the third rail.
A quick glance at the sartorial showdowns on stage also spoke of his influence, his imprint. Before McGregor, few if any fighters strode press conference stages in three-piece ensembles. Now pinstripes and check are ubiquitous. Cuffs are popped before an answer, waistcoats adjusted before a staredown.
One fighter on tonight's undercard, Tom Lawlor, went a step further during the weigh-ins and stripped down to reveal a full replica of McGregor's chest and stomach tattoos taped to his skin. It got one of the loudest cheers of the afternoon.
Anything related to the Notorious one is saluted. Faber is a popular veteran of the cage but since he starred opposite McGregor in last season's Ultimate Fighter reality show, he was singled out for particularly vocal support. 
This is the McGregor show and with each instalment it just gets bigger. Tonight, quite literally. McGregor was 16% more of a man when he stepped on the scales here compared to his last weigh-in - 168lbs as against 145. At UFC 196 he makes his professional bow at welterweight. 
It was McGregor's coach John Kavanagh who had quipped "you've seen him on salads, now watch him on steak" when the event was originally announced. But that was when the headline bout was to have been a lightweight fight against champion Rafael Dos Anjos.
Then the Brazilian broke his foot so McGregor moved on up again. Less stakes but, at the same time, more steaks. 
"This is always history. Every damn time. The gates keep rising, the pay-per-view keeps rising, the attendance. Everything keeps rising. It's always history when I step inside that octagon," McGregor said earlier in fight week when asked whether he was disappointed that the Diaz fight offers him nothing tangible as a prize.
"I'm seriously considering making my own damn belt. And then I'll decide what weight the flight is at. Why not? Who cares about the belts. [I'm] the money fight. This is the fight everyone wants."
This time round and on less than two weeks' notice it was Diaz who apparently wanted it most. The veteran younger sibling of the hugely popular pair of fighting Diaz brothers has craved this kind of stage.
He's walked hard yards to finally get to this stage. Now that he's here however, as a headline act on a pay-per-view card on a big Vegas night, it's hard to escape the notion that he's out of his depth.
He has talents, many of them. But McGregor has more. And, after spending all of 13 seconds inside a cage in the past seven months, he's intent on showing them off here. In Thursday's heated branded final press conference he branded Diaz "a wounded gazelle... I will eat his carcass in front of all his gazelle friends".
Things are bleak for the 30-year-old Californian, but not quite that bleak. 
"I think it's going to be interesting for Diaz because he has an excellent guard, he can get knocked down," Kavanagh told us this week.
"He's a good striker, he's hurt guys in the past. He's got endurance. Like all fighters, they have their positives and their negatives. We'll look to tap into his negative and put him away. 
"It could drag on because of the way Diaz is. Whereas a lot of Conor's fights he's knocked someone down and quickly landed one or two [more], like he did with Aldo, I think Nate is a bit trickier than that.
"We could see a couple of knockdowns and a couple of standbacks up. But I probably see towards the end of the first round, it will be finished."
Kavanagh is far from alone in that vision. This is where the UFC is now. A man who should make for a very worthy challenger is all but being told that lasting past the first five minutes of a 25-minute contest would represent success. 
This is where McGregor is now too. Tonight in Las Vegas he's bigger. He'll very likely also be better. Or to put it another way, unstoppable.