He may insist he runs the fight game but as he arrived in Las Vegas ahead of his latest attempted takeover of the Strip, Conor McGregor was under fresh attack last night.
The UFC's leading man will kick off fight week on Wednesday afternoon here with a public workout at the MGM Grand ahead of his rejigged UFC 196 headline welterweight clash with Nate Diaz at the Garden Arena on Saturday night.
It's not the fight that McGregor had originally wanted to start his 2016 campaign with, the foot injury suffered by UFC lightweight champion Rafael Dos Anjos just over a week ago spoiling a shot at history for the featherweight champion Dubliner, who had hoped to become the sport's first fighter to hold two divisional crowns at the same time.
However, as he lashed out at McGregor's standing in the organisation, the veteran Diaz insisted that the Notorious one had been preparing to take him on all along.
"It's no McGregor show. It's a fight that needed to happen. I'm the biggest fight," said Diaz on Tuesday night Stateside.
"[The McGregor camp] knew they were fighting me already. They were already training for me. They knew what's up. But hey, don't trip. Maybe I'll plot back. They were plotting on me, I might have been plotting back too. You never know.
"Nobody wants to take fights with me, until they start losing and then they want to take a fight with me. Anybody I fight, you fight me and you get a title shot. They'll deny it, but no one wants to fight me if they're doing good. There's no other real fighters in the game."
Californian Diaz, who took the fight after Frankie Edgar and Jose Aldo both turned down UFC offers to fill the void, sparked the truncated build-up to the fight last week when he twice accused McGregor, rising from the 145lb division to 170lbs for Saturday night with apparent ease, of taking steroids.
That allegation came in a chaotic press conference between the pair, with trash talk continually thrown over and back.
There will now be more of the same on Thursday after the UFC altered their fight week schedule to arrange another head-to-head meeting between Saturday's headline act.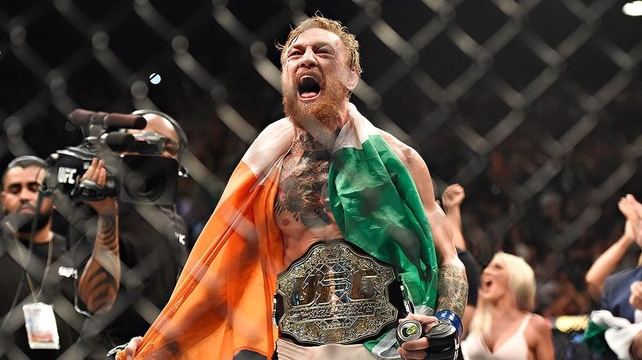 Such has been the hasty revamp of the UFC 196 card that yesterday advertising hoardings in the MGM Grand itself still had McGregor listed as facing Dos Anjos.
While Diaz, who had called out McGregor after his most recent fight in December, insisted he had no qualms taking this one on such short notice, he did admit that having just 11 days to prepare to face a man who has torched through the UFC over the past two years could blow up in his face.
"I think you should beat everybody on your worst day, but you can never be ready enough for a fight anyway," added Diaz, who will be first to work out in front of fans today at the MGM Grand around 1.0pm local time [9.0pm Irish time].
"I might get murked. I don't care, though. It's all good. Or he might [get badly beaten].
"It would have been nice to get a camp. It's all good, whatever. I've went to camps, trained hard and fought like sh*t. Three weeks later, after eating as much as I want, hanging out, not doing nothing, I came in and whooped everybody's ass in the gym anyway. So we'll see what happens."