Conor McGregor was forced to furiously bat away steroid allegations as the brief build-up to his welterweight showdown with Nate Diaz next week began with a bang in Los Angeles.
Having only stepped into the space vacated by the injured Rafael Dos Anjos atop the UFC 196 card 24 hours earlier, the veteran Californian Diaz wasted no time in making things heated and heavy at the hastily arranged media conference on his home turf.
While few have been able to live with McGregor inside the octagon on his incredible rise in the mixed martial arts world, his latest opponent showed that he will be well able to go toe-for-toe in the trash-talking department for starters.
Diaz elicited a stirring reaction from the Dubliner when he flat-out accused the featherweight champion of using performance-enhancing drugs.
"Everybody is on steroids, the whole UFC, everybody," said Diaz, a veteran UFC performer who along with his brother and fellow fighter Nick has a chequered record of run-ins with the sport's chiefs.
"You're on steroids."
McGregor was quick to respond, pointing to two former team-mates of Diaz's who he said were banned for using steroids.
"Everybody is on steroids, the whole UFC, everybody"
The elder Diaz is also currently serving a ban from the sport after a positive test for marijuana last year.
"Your team-mates were two caught on steroids. Not me. What are you talking about? I'm not on no steroids," said McGregor, who will fight Diaz at welterweight, bypassing entirely the planned move up to lightweight.
Once things were under way in Los Angeles - McGregor was again over 30 minutes late - the insults and barbs flew early and often.
McGregor derided a string of his rivals for apparently turning down the opportunity to step in, as he insisted he was the one who orchestrated the rejigged main event.
"I'm involved in everything got to do with this. I am the one who has created this," said McGregor as a huge public gallery cheered his name.
"We're in his home town but look at the crowd for me. Nate for me was the leading option. In reality many people pretended they wanted the fight.
"Frankie [Edgar, the No.1 contender at lightweight] never shut up, but hasn't been heard or seen since. Nate tried to exit the fight cleanly, there was many discussions.
"The first was the money issue, we resolved. He said he could only make 165lbs, I told him to get comfortable and do it at welterweight."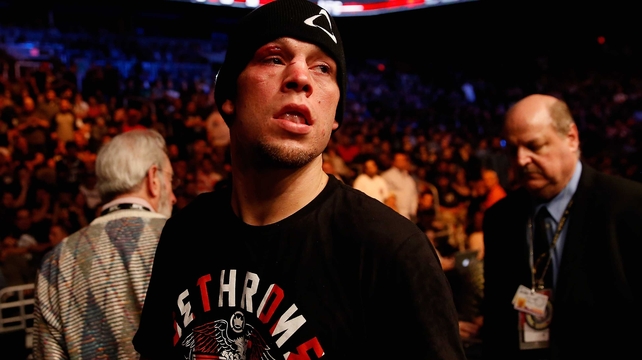 McGregor insisted he quickly got over the disappointment of seeing his chance to create history and holding separate UFC divisional belts simultaneously disappear when Dos Anjos went down with a broken foot.
Unsurprisingly, he derided the Brazilian for withdrawing.
"I just thought, it's another day. They always run. I was expecting it. I looked at the picture [of Dos Anjos' injury] and it was a bruise. I heard ice works wonders," he said.
"I'm prepared, I'm fit, I'm in shape. The belt stung for a little bit. But really it doesn't matter because I should create my own belt, it doesn't matter, it's the McGregor belt, I'm fighting for the McGregor belt."
The Notorious one poked fun at the younger Diaz's pay grade in the UFC, suggesting he took part in community coaching on the side because he needed the money.
"I like Nick's little brother. How can you not like him?" McGregor smirked. "He's like a little wannabe cholo gangster from the hood.
"He makes gun signs with the left hand and animal balloons with the right. He's a credit to the community. Nick is so proud of you.
"How does it feel to be a millionaire now? It feels nice right. I felt pity on your broke ass. I wanted to make you rich."
"I felt pity on your broke ass. I wanted to make you rich"
For his part, Diaz insisted he makes for a very different proposition to anyone McGregor has met so far in the sport, a point backed up when the two went face to face after the press conference and his height advantage was all too clear.
"You fight midgets. You knock out three midgets in a row and you're all pumped up? You're fighting grown men now," said the 30-year-old, who last fought in December.
"They gave me a f***load of money and I said 'I want more of that s***'. They called me, I didn't ask."
McGregor, often compared to both Diaz brothers in the early part of his career, insisted he was happy to finally get a chance to enter the cage opposite one of them.
However, having downed Jose Aldo in 13 seconds last time out, he predicted another brief encounter at the MGM Grand Garden Arena on Saturday week.
"I always enjoy Nick and Nate and their style of fighting. I always knew that somewhere down the line, I'd meet either one of them. I'm happy," said the 27-year-old.
"I feel like we have a similar will, but the will doesn't match the skill [with Nate]. That's going to be the difference. I respect him, don't get me wrong but business is business.
"He will be KO'd inside the first."