Conor McGregor's rapid rise through the ranks of the UFC is about to take on a whole new meaning with confirmation early this morning that the world champion will now face Nate Diaz in the hastily rearranged main event of UFC 196.
"Make it 170. Tell him to get comfortable," was McGregor's directive, according to Ariel Helwani of Fox Sports.
The Californian has stepped into the breach after Brazilian Rafael Dos Anjos was forced out of next week's scheduled lightweight championship superfight yesterday with a broken foot.
However, in a surprising twist to this morning's announcement by the organisation's president Dana White, the McGregor-Diaz match-up has been set at welterweight – apparently at the Dubliner's request.
That will mean that less than three months after claiming featherweight title glory against Jose Aldo Jr, McGregor will skip an entire weight division and make his first professional appearance at 170lbs.
While the weight cut in the 145lb division has never been easy for McGregor, jumping straight up two divisions – which would mark an almost 20 per cent increase in body weight in such a short space of time - is all but unheard of in combat sport.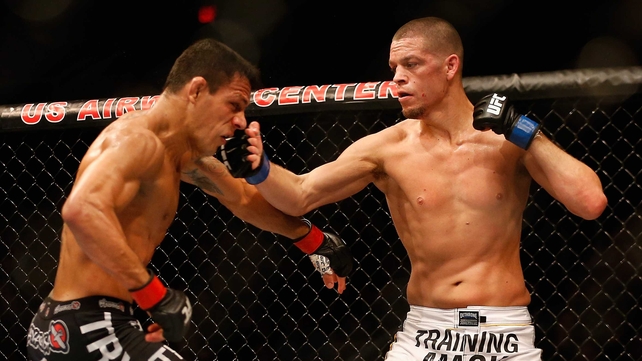 Diaz, the 30-year-old gnarled veteran of 21 UFC fights, emerged as the early favourite to fill the gaping hole left by Dos Anjos' withdrawal on Tuesday with Donald Cerrone's name also to the fore as behind them as a host of UFC names clamoured for a chance to take on McGregor.
However, as Tuesday wore on Stateside, the likelihood of it being Diaz who would step into the cage Saturday week with McGregor at the MGM Grand Garden Arena firmed up.
The only issue, according to UFC sources, was what weight the non-title bout would be set at. With less than two weeks notice it would have been all but impossible for Diaz to drop down to 155lbs and lightweight.
While a catchweight was initially agreed, according to one report, it was McGregor who finally suggested locking the bout in at welterweight.
"Make it 170. Tell him to get comfortable," was McGregor's directive, according to Ariel Helwani of Fox Sports.
Diaz last fought in December, a week after the Notorious one had knocked out Aldo, and recorded an ultra-impressive unanimous victory over Michael Johnson. In the moments after victory, he immediately took aim at McGregor in an expletive-laden post-fight interview.
Where's fatigue? pic.twitter.com/xGwGew8ekQ

— Conor McGregor (@TheNotoriousMMA) February 24, 2016
"Conor McGregor, you're taking everything I worked for, mother f*cker. I'm gonna fight your f*cking ass," he screamed into the camera. "You know what's the real fight, what's the real money fight - me. Not these clowns that you already punked at the press conference.
"Ain't nobody wants to see that. You know you can beat them already. It's an easy fight. You want the real sh*t. Right here."
For his part McGregor had previously lampooned Diaz's current UFC contract which reportedly paid him just $20,000 per fight.
All of that is likely just a taste of what's to come in what is sure to be a hurried, hectic but nonetheless heated build-up to the pair's meeting next weekend.
Given McGregor's obsession with pay-per-view numbers and his opponent's equally quick tongue, the trash talk will very quickly be fast and loose. 
He's going to have to get on his knees and beg...

— Nathan Diaz (@NateDiaz209) February 23, 2016
Diaz, an established favourite of UFC fans stateside and beyond, and McGregor will be in close proximity as soon as Wednesday morning local time in Los Angeles with a public workout before McGregor is a guest on the Conan O'Brien Show later in the day. 
Dealing with a change of opponent is nothing new for McGregor, who has seen six of his last 12 scheduled professional opponents withdraw through injury.
However, while his chance to become the first fighter to hold two different titles simultaneously was lost, in locking this fight in at welterweight, the sport's most sellable star has again made the very best of his situation.
A 170lb victory at UFC 196, mere weeks after claiming a featherweight title would truly set him up as the master of his next move. 
While Dos Anjos would likely be itching to have his lucrative shot rescheduled as soon as he's healthy, McGregor could also opt to go straight ahead for a high summer title tilt - most likely as the headline of the promised UFC 200 megashow - at welterweight champion Robbie Lawler, easily one of the most potent fighters in the sport.