It's been over a year since UFC last paid a visit to Dublin. And it seems somewhat fitting that the man who was first into the octagon that night, as part of a preliminary fixture, should be the one to headline the event this time around.

Following last night's shock announcement that Joseph Duffy is no longer fit to take part in the headline fight at the 3Arena on Saturday, that honour now transfers to Dubliner Paddy 'The Hooligan' Holohan.
Duffy's fight with Poirier is the second cancellation of UFC Fight Night Dublin, after heavweight Stipe Miocic pulled out of his meeting with Ben Rothwell, but, speaking ahead of the sold-out spectacle, flyweight Holohan insisted that the fans will still have something to savour.

"By the time the main event comes, this is gonna be a festival atmosphere and it's gonna be off the hook," he told RTÉ Sport.

"The people who only know this sport a few months don't really deserve their tickets compared to the people who have followed me all the way from the small events. I am proud to take that place and I'll go out and fight with my heart on my sleeve"
"Louis, let's meet in the middle and let's go at it. You will see that your shovel is not big enough to dig deep with me" - Paddy Holohan
Facing Irish opposition is not uncharted territory for Holohan's challenger Louis Smolka. The American recently defeated Neil Seery at UFC 189 in a unanimous decision.

Smolka revealed he is plotting a first-round KO for the fight on Saturday, a prediction which Hoolahan was swift to dismiss.

"No man has ever put me in a position I have not felt comfortable with in my nine years doing this," he said.
"I seek perfection and if Louis thinks he's gonna fly over here and show me something I haven't seen before, I'm gonna show him something he hasn't seen before.'

"Louis, let's meet in the middle and let's go at it. You will see that your shovel is not big enough to dig deep with me. And if you come to knock me out, you better knock me out.'"
There were initial reports that Antrim man Norman Parke, who is due to fight Reza Madadi in another major fixture on Saturday's card, would be a substitute for Duffy.

Poirier, however, declined the offer, which Parke reasoned was due to the fact that the American would be risking too much by accepting the switch.

"When I was offered it I said 'yes no problem' but he's on a winning streak since moving to lightweight whereas I've lost the last two so there's more for him to lose the way I see it. It would have been a win-win situation for me," said Parke.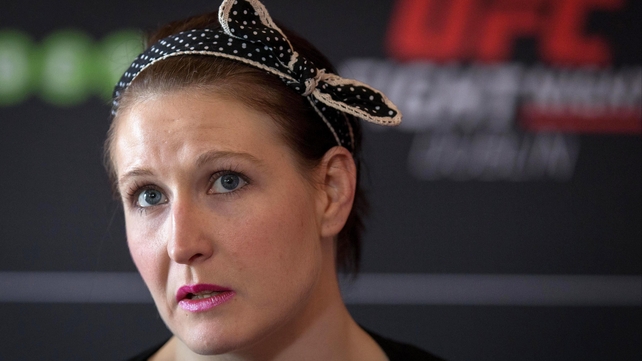 Meanwhile, in the preliminary bouts, Holohan's team mate Aisling Daly will be Ireland's sole female representative on Saturday night. The Dubliner will mark her Irish debut on the UFC circuit with a fight against Ericka Almeida from Brazil in the strawweight division.

Daly missed out on the Dublin UFC card last year and while several commentators feel she deserves a berth on the main card, the established fighter feels that the opportunity to fight this time is a privilege.

"This is a dream come true for me," she said. "It's such a big milestone to have a UFC fight in my hometown."
"I want to impress everybody and I'm so excited. I've given this camp everything: blood, sweat, tears and smiles so whatever happens - happens.'"