Just as they did in the Allianz Hurling League, Meath turned the disappointment of relegation in 2022 into promotion and silverware in 2023 in this evening's Christy Ring Cup final at Croke Park.
However they gave their supporters palpitations on the way, coughing up a 13-point advantage to lead by just the bare minimum going into stoppage time.
James Regan duly stepped up to win a free and knock over his 14th score of the afternoon, and that proved vital as Derry engineered one last chance, but since they trailed by two points at the time, Cormac O'Doherty could only attempt to float the sliotar into the danger area, and Meath were able to block off the danger one last time.
Royal County supporters will wonder how they possibly let it come to that, as even allowing for the breeze, they had more than enough done in the opening 45 minutes to cruise through the final third.
Éamon Ó Donnchadha was sensational, picking off three points from play, including one stunning strike from the Cusack Stand sideline, as they exploded out of the blocks to lead by 0-07 to 0-00 after ten minutes.
Derry finally got off the mark through an excellent Seán Kelly catch and strike two minutes later, though the Dungiven man was injured as he did so, and it wasn't until the fifth minute of the second half that the Oak Leaf men added a second point from play.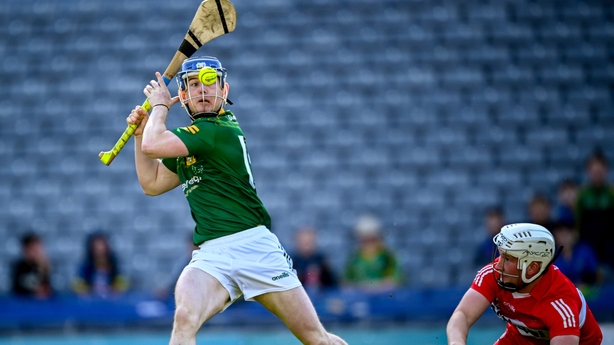 James Regan did the bulk of the scoring for Meath, but they used the breeze well and picked off some nice scores from distance, including points for midfielders Pa Ryan and Martin Healy, as well as a fine strike from Simon Ennis.
Cormac O'Doherty kept Derry partially in the game with frees, but the half-time score of 0-17 to 0-07 was a fair reflection of play up to that point, and once Nicky Potterton sprinted through the Derry defence and wrong-footed Oisín O'Doherty in the Derry goal two minutes into the second-half, it looked like plain sailing from there.
The contest descended into a shootout between Regan and O'Doherty, which suited Meath just fine, as they took their largest lead at 1-20 to 0-10, albeit briefly, as O'Doherty nailed two frees from long distance in the space of just 60 seconds.
Perhaps Meath were lulled into a false sense of security as they lost their impetus, and at the start of the third quarter, a close-range free saw O'Doherty go for goal and fire the sliotar underneath the covering defenders. With that score on the board, Derry found some confidence and ambition, and they quickly started to cause Meath a lot of problems.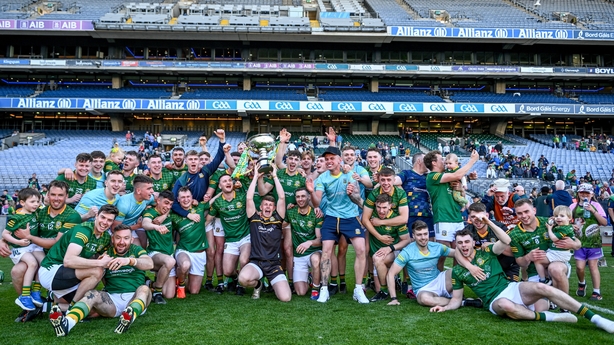 Corey O'Reilly was hugely involved at centre-forward, John Mullan led the line well, and going into the last ten minutes, the lead was down to four points.
An incredibly harsh call to give Seán Cassidy a second yellow card after 65 minutes further piled the pressure on Derry but they continued to press, even after falling five down to another Regan free, conceded after Oisín O'Doherty made a superb save to deny Mark O'Sullivan a goal.
They rattled off the next four in a row to set up a grandstand finish, but Regan's last intervention was enough to deny Derry their fairytale and complete Meath's league and championship double success in 2023.
Meath: Charlie Ennis; Seán Geraghty (0-01), Shane Brennan, Brendan McKeon; Simon Ennis (0-01), Martin Healy (0-01), Niall McLarnon; Pa Ryan (0-01), Michael Burke; James Toher, James Kelly (0-01), Éamon Ó Donnachadha (0-03), Stephen Morris, Jack Regan (0-14, 11f), Nicky Potterton (1-01).
Subs: Gerard Dwane for Geraghty (blood 9-21), Adam Gannon for Morris (ht), Pádraig O'Hanrahan for Ryan (52), Dwane for Brennan (52), Mark O'Sullivan for Kelly (64), James Murray for Ó Donnchadha (67).
Derry: Oisín O'Doherty; Paddy Kelly, Mark Craig, Seán Francis Quinn; Seán Cassidy, Richie Mullan, James Friel; Cormac O'Doherty (1-14f), Meehaul McGrath; Eamon Conway, Corey O'Reilly (0-02), Darragh McGilligan; Paul Cleary, John Mullan (0-02), Seán Kelly (0-01).
Subs: Ségdae Melaugh (0-01) for Kelly (13), Eoghan Cassidy for Conway (32) Pádhraig Nelis (0-01) for Cleary (48), Callum O'Kane for McGilligan (60).
Referee: Kevin Jordan (Tipperary)