Wicklow's stay in the Nickey Rackard Cup was a short one, as the Garden County completed their successful rebound from last year's relegation with a two-point win over Donegal in this afternoon's final.
The Ulster men had the better of the first half and put themselves in a commanding position thanks to goals from Liam McKinney and Ryan Hilferty, but Wicklow were dominant in the second half and controlled the game, building up a five-point lead before Luke White's stoppage time goal from a free rounded off the scoring.
Ultimately, Casey O'Brien's troops just had too much scoring power, particularly off the bench. Seánie Germaine, Daniel Staunton and Pádraig Doyle added six points between them after coming into the game, whereas a Donegal side that was operating without star forward Declan Coulter, simply didn't have the same range of threats.
By some distance, Donegal's sharpest weapon up front was Ronan McDermott at full-forward. The Burt man struck three points of his own, but also played central roles in the goals that were finished by Hilferty and McKinney, as his ability to win his own ball and get a clever pass away in little or no space caused Wicklow a world of problems.
McDermott's third point, kicked over the bar from close range in what was an attempt to score a goal of his own, made it 2-08 to 0-08, but Wicklow picked off the last two points before half-time, both from Moorehouse, to shift momentum ever so slightly before the break.
Wicklow continued to play on the front foot after half-time but missed some early chances, while a delightful sideline cut from Gerry Gilmore pushed Donegal's lead out to five, but already they were showing signs of taking control of the game.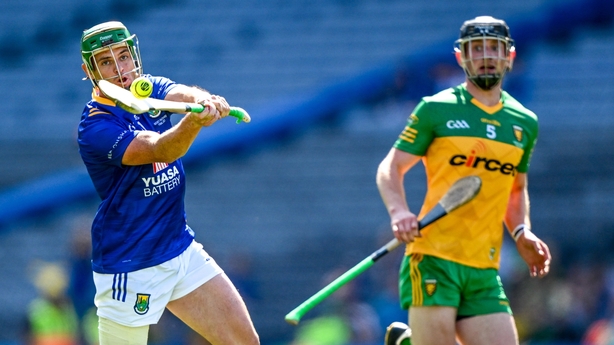 Defensively they were to hold Donegal to just three points from then until deep into second-half stoppage time, with Andrew Kavanagh leading the way with a series of majestic high fetches. Up front, a crafty Moorehouse score on the run got them going, and their push was really energised when Andy O'Brien met a high delivery with a perfectly-timed overhead whip, drawing the sides level with eight minutes gone in the second half.
For the next 15 minutes Donegal went score for score with Wicklow, but they were making very little impression up front, with Brian McIntyre their only score from any measure inside the Wicklow half of the field. Luke Kelly potted a 65 while Danny Cullen fired over a monster, but they were hanging in at the other end, needing big defensive interventions from Pádraig Doherty and Stephen Gillespie to prevent Wicklow taking a decisive lead through goals.
Once David Maloney nudged the Garden County in front with 15 minutes to play, they didn't look back. Moorehouse, Pádraig Doyle and Luke Evans all found the target with excellent scores, as they piled on the pressure and easily repelled Donegal's long ball game.
Some poor wides from the northerners didn't help either, but they did ensure a nervous finish when Luke White's 20-metre free was hammered goalwards and while Wicklow got a stick on the ball, there was too much power and the net rattled anyway.
With just under a minute remaining, Wicklow had one last high ball to deal with, and they just about managed it, smothering Danny Cullen's late shot to ensure that Conor McNally wasn't tested, and their championship season ended in a famous win.
Wicklow: Conor McNally; Ben Kearney, Andrew Kavanagh, Martin O'Brien; Pádraig Doran, John Henderson, Sam O'Dowd; Jack Doyle, Diarmuid Masterson; David Maloney (0-01), Eoin McCormack (0-01), Luke Evans (0-02); Christy Moorehouse (0-09, 5f), Andy O'Brien (1-01), Michael Boland (0-01).
Subs: Seanie Germaine (0-02) for Boland (27), Daniel Staunton (0-02, 0-01 sideline) for Masterson (half-time), Matthew Traynor for O'Dowd (half-time), Gavin Weir for O'Brien (49), Pádraig Doyle (0-01) for Evans (59).
Donegal: Luke White (1-02, 1-01f, 1 65); Pádraig Doherty, Danny Cullen (0-01), Stephen McBride; Christopher McDermott (0-01), Michael Donaghue, Gavin Browne; Jack O'Loughlin (0-01), Stephen Gillespie; Liam McKinney (1-01), Ryan Hilferty (1-01), Conor Gartland; Ruairí Campbell (0-01), Ronan McDermott (0-03), Gerry Gilmore (0-01, sideline).
Subs: Brian McIntyre (0-01) for C McDermott (43), Seán Ward for Gartland (46), Ritchie Ryan for Campbell (49), Ciarán Bradley for Hilferty (58), Oisín Marley for Gilmore (69).
Referee: James Clarke (Cavan).