The 10-minute delay to throw-in at Wexford Park on Sunday allowed for a loud rendition of 'Boolavogue' - a 1798-inspired epic that has more verses than American Pie.
If the intention was to whip the sizeable home support into a fervour it was unnecessary, the Wexford fans had turned out in force.
Back to the scene of the crime, seven days after the horrifying second-half collapse to Westmeath. No matter, this was Kilkenny, Wexford fans always turn up for Kilkenny.
Even during the dog days of the late 2000s and most of the next decade, the fans still showed up for the biennial beating from the Stripey Men.
Double-digit whompings became par for the course, as Brian Cody's history-making Cats tuned up for the best of Munster by grinding their neighbours into the turf, usually of Croke Park.
Wexford hurling folk were suffering from some form of Stockholm Syndrome, becoming somewhat infatuated with the team that kept a jackboot on their throats
Yet there was no massive animosity or hatred. Perhaps that was part of the problem. As fans, and maybe as players, Wexford hurling folk were suffering from some form of Stockholm Syndrome, becoming somewhat infatuated with the team that kept a jackboot on their throats.
There were so many awful defeats, most stricken from the memory, but we can't forget that 2008 Leinster SHC defeat - 5-21 to 0-17.
Sure, you've shipped a 19-point defeat, but it was against the best that ever did it. And they don't overcarry as much now that DJ is gone.
"There is no hatred whatsoever but there is a massive passion when they play each other," agrees Wexford defender Simon Donohue.
"There would always be respect. That team they had in noughties, they were a savage team. They're in the Leinster final now and you'd wish them the best of luck.
"There is no begrudgery in it at all. They came down yesterday and they wanted to beat us and perform and prepare for a Leinster final and you had to respect that as well."
We need your consent to load this comcast-player contentWe use comcast-player to manage extra content that can set cookies on your device and collect data about your activity. Please review their details and accept them to load the content.Manage PreferencesHighlights of Wexford's do-or-die win over Kilkenny
Less than 24 hours after that 4-23 to 5-18 win over Kilkenny, Donohue has taken the time out of his lunchbreak to speak to RTÉ Sport. We felt like taking the day off after sitting in the stand, but he is grabbing a sandwich before going back out to water more dry fields and harvest new potatoes. Such is the lot of the lesser-spotted inter-county farmer.
Donohue is one of the newer crop of Wexford players who made their debut towards the end of Kilkenny's era of graceful, terrible tyranny. He has been present for all seven of Wexford's championship meetings since 2017 - the record showing four wins, two defeats and one draw. Granted Sunday's win came against a Kilkenny side already assured of their place in the provincial final.
The arrival of Davy Fitzgerald signalled a sea change in the relationship, undoubtedly hastened by Cody no longer having a ready supply of generational talent. But this was not just Kilkenny coming back, the Wexford players followed the example of the fans and started showing up for Kilkenny matches.
Donohue puts this down to underage success - his generation of Wexford hurlers had been socially constructed to not fear Kilkenny thanks to minor and Under-21 victories.
"Underage, we always had a good record against Kilkenny, it's not that you ever fear a team, but we know we can perform to a good level, and then I suppose they're our closest neighbours.
"Some of the lads from Good Counsel would have the South Kilkenny lads [in school with them] and be friendly going along. You have that rivalry coming along.
"But it does be said, we are able to mix it with them. Before the current crop, Kilkenny had given us a few trimmings, so there is a lot of payback in it," says Donohue, who struggles to put a finger on how a team humiliated by Westmeath a week earlier could produce that performance against Leinster's kingpins.
"It's a rivalry, we might have been coming out on top lately, but we would want to be backing it up with silverware. There is no point just being able to rise our game for Kilkenny, it's all the other teams we have to be able to do it for now. That's the next stage to build on."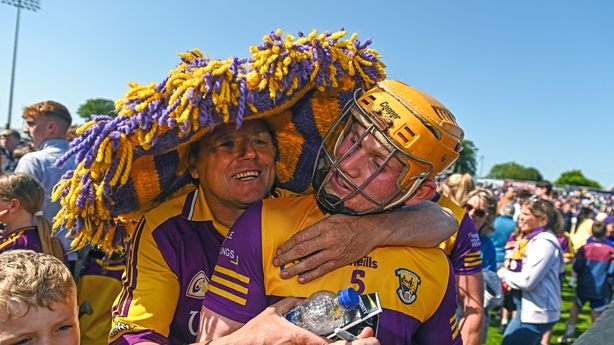 Sunday was one of those crazy games, nine goals shared, another disallowed for Kilkenny at the death, incredible saves, a Cathal Dunbar sideline for the ages and some incredible high fielding on both sides.
"Every team gets a purple patch," says Donohue. "After six, seven minutes they were after getting two goals and you're thinking 'here we go' but as a team we just kept plugging away.
"Sure enough, with the crowd there, we kept chipping away. Once we got one goal we knew the game would take on a life of its own. Wexford-Kilkenny games always do take a life of their own, whether it's league or championship."
The on-pitch celebrations were on a par with the scenes back in 2017, when a first win in 13 years over the Cats sent Wexford into a Leinster final. Yesterday's jubilation was for a fourth-place finish that ended Wexford's championship involvement in May.
"It's only eight days since the Westmeath game, which was an awful result. We had to go to ground, we were taking a lot of stick - players and management," says Donohue, who backs Darragh Egan to stay on as manager for 2024.
"We got ourselves together, we knew it was do or die. We didn't want to be going back to Joe McDonagh. It's not where I want to be hurling, or the team wants to be hurling."
Can he put his finger on what went wrong this year?
"It's a quare one. You don't become a bad team in the space of a few weeks or a few months.
"We came together as a group, we went down to Curracloe Beach the day after the Westmeath game. We got together and said 'we have a week to save our championship'."
Cue the perfect opponents.
Listen to the RTÉ GAA Podcast on the RTÉ Radio Player, Apple Podcasts, Spotify or wherever you get your podcasts
We need your consent to load this rte-player contentWe use rte-player to manage extra content that can set cookies on your device and collect data about your activity. Please review their details and accept them to load the content.Manage Preferences