For an organisation that loves to tinker, the GAA has wisely stuck with the winning formula they stumbled on for the provincial hurling championships.
The dual-group format introduced for 2018 came from a desire to provide more games but also retain some of the tradition of what were already 130-year-old brands, not that you'd catch anyone openly calling them that.
The result has been akin to a long-range free bouncing all the way to the net, and we have had another rollercoaster group phase this year.
The provincial senior football championships are on life support and the new-look All-Ireland SFC group stages possess a distinct lack of jeopardy: kingpins Kerry's defeat to Mayo loses a lot of its impact because the chances of them finishing fourth remain remote.
However, in the small-ball code, Limerick, a team going for a fourth Liam MacCarthy Cup in a row, must beat Cork this afternoon or face a sensational Munster exit.
Only those two counties have qualified from every edition of the round-robin to date but someone's 0 is probably going to go.
A draw would also see both through in what appears the unlikely scenario of Tipperary losing by five or more points to Waterford.
There will be last-day drama in Leinster too as Wexford hope to avoid a first ever relegation and Dublin aim to beat Galway for a place in the final.
We need your consent to load this YouTube contentWe use YouTube to manage extra content that can set cookies on your device and collect data about your activity. Please review their details and accept them to load the content.Manage Preferences
It's worth remembering that the format change only scraped through at a special congress in September 2017, which was prompted by a concern that the Super 8s voted in for football would leave hurling in the ha'penny place.
Ahead of the vote, RTÉ Sport found that of the top-tier hurling counties only Galway and Limerick were strongly in favour, Tipperary and Waterford were strongly against, while Cork, Dublin and Wexford and would have more or less preferred to keep the qualifier system. Clare and Kilkenny inclined to reserve judgement.
A razor-thin majority of 62% of delegates voted in favour - just seven months earlier the threshold for motions to pass had been reduced from the longstanding 66%.
It should be noted that most of the opposition then stemmed from a fear the club calendar would be further squeezed, something that has since been eased by the introduction of the split-season, which may even have gone too far the other way. There is considerable support for pushing the All-Ireland finals back a couple of weeks at least.
Two years of Covid disruption means this is just the fourth instalment of the round-robin. We have had final-day drama every step of the way but most of it to date in less-lauded Leinster.
In year one, Kilkenny came from nine points down to pip Wexford for a place in the Leinster final, 0-22 to 1-18. The top three in Munster had already been set but Clare deprived Limerick of a spot in the decider that ultimately proved no disadvantage to ultimate glory.
The following year was the most dramatic finale to date as provincial holders and All-Ireland runners-up Galway started the day on top of the Leinster table but dropped to fourth following their defeat to Dublin and a draw between Brian Cody and Davy Fitzgerald's teams. There was a three-way tie in Munster behind Tipperary, Clare beating Cork but not by the huge total they needed to catch the Rebels.

Dublin were the team to miss out in 2022, Wexford's victory at Nowlan Park relegating the Sky Blues to fourth place on scoring difference after another three-way tie. Kilkenny turned the tables on Galway in the final.
Meanwhile, in a Munster campaign dominated by Limerick and Clare, Tipperary had lost three from three but bizarrely still had the opportunity to qualify if they beat Cork by seven points and Clare were 8+ better than Waterford. Clare won by 12 and Tipp were four up when Noel McGrath's penalty hit the post in the early stages. The Rebels took over after that.
The reordering extended to the lower-tier competitions, which already better reflected the junior/intermediate/senior club system, and the Joe McDonagh, Christy Ring, Nick(e)y Rackard and Lory Meagher Cup counties have all enjoyed group campaigns with their own share of drama – Kerry edging Offaly out on the final day of McDonagh action last May comes to mind.
Players unsurprisingly prefer being guaranteed at least four/five games rather than months of training for as few as two. The knock-on effect, especially since the introduction of the split-season, has been to render Division 1 of the league meaningless - in direct contrast to football - but then it was only ever regarded as secondary competition anyway.
It does seem that some teams are more suited to the traditional knock-out/qualifier arrangement though.
Both of the Covid-enforced old-style campaigns of 2020 and '21, were comprehensively won by Limerick. Their victories in 2018 and 2022 were much tighter affairs after attritional Munster journeys.
During the debate before the vote in 2017, then Waterford chairman Paddy Joe Ryan said moving to a group system would be "the worst decision in the history of the GAA", but presumably he had no inkling how localised the catastrophe would be.
The county were All-Ireland finalists in 2020 and reached the semis in '21 but resumed their miserable round-robin form last year – the record currently stands at Played 15, Won 1, Drawn 1, Lost 13.
The Déise have so far only played half of the round-robin games they were entitled to at home, however, and perhaps the completion of the delayed development work on Walsh Park can help to revive their fortunes.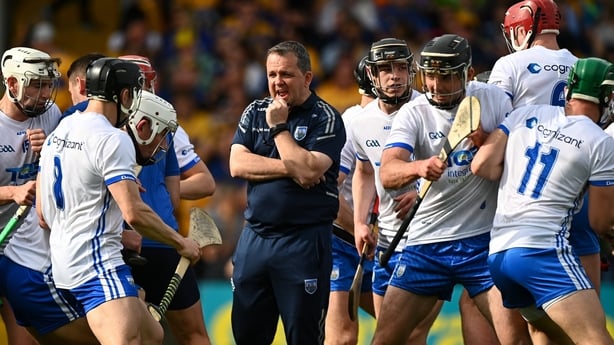 Waterford aside, there is no question that Munster has been more competitive this year.
Galway and Kilkenny have contested half of the provincial deciders since the Tribesmen's relocation from Connacht in 2009 and should make it three from four under the group format.
Leinster was already seen as a less balanced province – the big two, then a middle aspirational pair of Dublin and Wexford, then the two 'yo-yo' teams usually battling each other to stay up since the addition of a sixth team last year.
That is best illustrated by the rule that unlike in Munster, in the event of a three-way tie, scoring difference would only be calculated on games involving those teams. Nobody would get through based on walloping the bottom two by more, essentially.
To channel Ger Loughnane, Westmeath have saved Leinster from going down a bad alley with their unexpected win over Wexford. Though maybe it shouldn't have been such a shock after last year's draw.
The provincial champions of only four summers ago now face a year in the Joe McDonagh unless they avoid defeat against Kilkenny, or Westmeath win or draw against Antrim in Mullingar.
The GAA provide for Kerry to be promoted in the event that they win the Joe Mc but the Kingdom would still need to face the bottom Munster team that year in a play-off. Tipperary, in 2022, and Waterford now, will have been relieved that hasn't happened yet - Antrim only pipped Kerry by a point last year.
There is a reasonable argument that Kerry should be in Munster on a trial basis anyway, even if a couple of years of heavy beatings followed – and they might not. It would balance the number of teams at six in each province and counter the perception that Leinster sides have the unfair luxury of rotating players.
Another question is whether there is still a need for the McDonagh finalists to play preliminary quarter-finals against the third-place provincial finishers. Laois' win over in Dublin in 2019 remains the sole justification for that avenue back into the Liam MacCarthy Cup.
But Carlow's Paul Doyle, who won the inaugural second-tier competition and played in the final again against Offaly yesterday, told RTÉ Sport this week that the chance to pit themselves against top-quality opposition remains a huge incentive. And maybe Westmeath are proof that that can eventually bear fruit.
Tweaks can still be made in the search for a greater spread of competitive counties but for now it seems that hurling has found close to its ideal championship form while football is still experimenting.
The rollercoaster cranks up again for a final descent. Hold on tight.
Watch a hurling double-header, Dublin v Galway and Limerick v Cork, from 1.30pm on Sunday on RTÉ2 and RTÉ Player, follow a live blog on the RTÉ News app or RTÉ.ie/Sport or listen to live radio updates on Sunday Sport on RTÉ Radio 1