Former Waterford player Brian Flannery is hopeful that new manager Davy Fitzgerald will maximise the talents at his disposal with the Déise, but says there will be question marks over the style of play he is likely to implement.
Fitzgerald has returned to senior inter-county hurling management after being appointed as Waterford boss for a second time.
He previously managed Waterford between 2008 and 2011, taking over mid-season in '08 after Justin McCarthy was ousted and guiding the county, via the qualifiers, to a first All-Ireland final appearance in 45 years.
The Déise's last provincial success in 2010 was under his stewardship and Flannery believes the Clare native's wealth of experience was likely the deciding factor.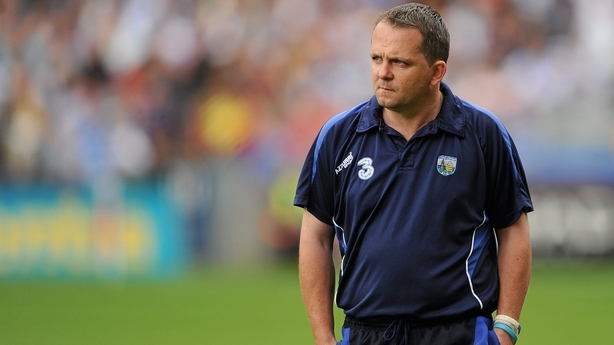 "It's that experience that Davy Fitz that will bring that will have impressed the county board," he told RTÉ's Game On.
"If you look at it from a Waterford perspective, this is a hugely important appointment. If you look at the life cycle of this particular Waterford team, they are very much in their prime.
"Austin Gleeson, Stephen Bennett, Shane Bennett, Patrick Curran, Jamie Barron and Tadhg de Burca are in their mid-to-late 20s, so the window of opportunity for this team to win an All-Ireland is in the next couple of seasons.
"The following appointment, whenever that will happen, will very much be a rebuilding job, so maybe that was on the mind of the county board."
Fitzgerald replaces Liam Cahill in the role, the latter having departed abruptly to take the reins in his native Tipperary last month, with the Clare man's most recent role as a coach with the Cork camogie side that reached Sunday's All-Ireland final.
If Davy was to help Waterford win a first All-Ireland since 1959, they'd be building statues down on the quay in Waterford
Despite leading Clare to Liam MacCarthy success in 2013 and improving the fortunes of Wexford hurling along with a provincial title, Flannery says there will be those within the county with fears that the team will revert to a more conservative and pragmatic approach.
"The concern would be the style of play," he added. "We all know he sets teams up in a particular fashion. Can he adopt to the current Waterford players and utilise them to the talent he will have at his disposal?
In a results business, the Mount Sion man concedes that if ultimate glory is achieved – Fitzgerald arrives on a two-year term with an option for a third term – then questions over the style of play would be easily forgotten.
"If Davy was to help Waterford win a first All-Ireland since 1959, they'd be building statues down on the quay in Waterford."