Kilkenny's 2011 All-Ireland winning captain Brian Hogan has paid tribute to the "phenomenal" Brian Cody who has announced his departure from the Cats after 24 seasons in charge.
Cody's decision comes six days after the county's narrow All-Ireland defeat to Limerick, but the Liam MacCarthy Cup was still furnished with black and amber streamers on 11 occasions during his tenure.
Hogan was the man who was honoured with lifting the trophy for the eighth time under Cody's watch 11 years ago, and he paid tribute to his former manager's brilliance.
"He'd make you make you feel seven foot tall. He'd really make you believe you could go through a wall or take on anyone," the O'Loughlin Gaels man told RTÉ's Saturday Sport.
"As a team, [he'd] make you believe that once you got your own game right, and it was very much internal focus on yourself, getting yourselves right, be prepared, that everything else would look after itself from there.
"He was a bit of psychologist maybe; I know the current Limerick team have Caroline Currid there and Brian in some respects was like that. A tough taskmaster as well."
Hogan said that the tough demeanour of the manager added to the successful dynamic of the dressing room, even if sometimes he lost out personally.
"The thing is, it worked. Sometimes it's worked in your favour and sometimes it didn't.
"On a personal level, I came in in '04 and went straight into the team which would have been relatively unusual for a championship [side].
"I was on a crest of a wave and then got dropped and it took me two years to get back in. I saw first-hand...if I was performing, if I was doing what they wanted, hurling to the level, then I would get back in.
"The years have been littered with examples where Brian has put a guy in there. Maybe to the outside it might be a surprise but he has been proven right.
"I've fallen on both sides of that sword with Brian.
"Simple things, a couple of words from him and that would be enough to give you that belief or strength just as you're going out on the pitch.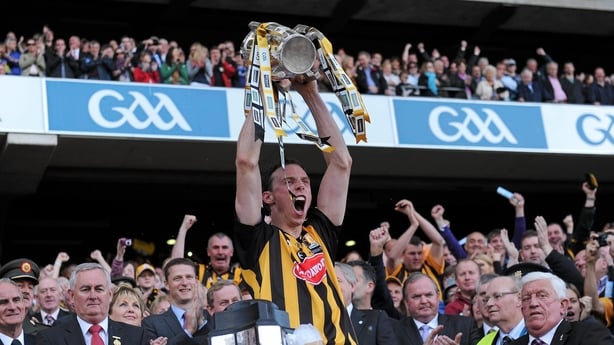 "On the other side of it, you were obviously conscious of that ruthless element.
"The nature of the game at that level, it is pretty ruthless and there is a kind of individual element to it as well. We all want to be playing, we all want to be excelling. There mightn't have been too much of an arm around of the shoulder job, that was the nature of the environment in there.
"It wasn't for everyone, but certainly for the group I was with, it obviously worked."
The two-time All-Star said that Cody's ability to deconstruct and reconstruct a number of teams was a sensational asset to have.
"We can't underestimate his achievement. That kind of longevity, I don't think we'll ever see [it] again.
"Brian came in and he was dealing with a group of players like Willie O'Connor and Andy Comerford and Philly Larkin, a different generation to us.
"Then he obviously he had our generation and then he's finished with a new generation, a lot of lads who would have been kids when I was playing.
"To Brian to stay, I wouldn't say current but on top of the game in terms of management, to be able to do that through several different teams is phenomenal.
"It's difficult at club level just to stay current, even as a player seeing younger players coming through and connecting with them. As a manager there for that length of time, it's important to highlight.
"There are obviously perceptions out there that Brian ruled with an iron fist, he was the one doing the driving in the dressing room.
"I think one of his skills was allowing the players to have that freedom to make decisions on the field and the dressing room was very much player driven, albeit they would have been on message.
"Brian would have his leadership group and that group would have evolved over the years, over the 20-odd years. Players would have come and gone and his ability to continuously evolve, develop that group and move guys on and keep things fresh is incredible.
Statement from Kilkenny County Board: Brian Cody - Kilkenny GAA https://t.co/L0zjb490DO

— Kilkenny GAA (@KilkennyCLG) July 23, 2022
"Many managers have a crop of players and they get success and they get as much out of them as they can and then they come to an end.
"For Brian to continuously keep that kind of drive himself, that passion, and then obviously to evolve things. Hurling has changed, the fundamentals have always stayed the same and that is something Brian would very much drive home with the current group."
Hogan added that although speculation had been rife ever since the Limerick defeat that his time was coming to an end, the announcement still brought with it a level of shock.
"I suppose in idle conversation over the last few years, probably purely because of the longevity of Brian's career. It's inevitable, it's a bit like players when they cross the 30-threshold, people start speculating that the end is nigh.
"I suppose over the last few years, maybe the last two years, three years, there was a little bit of that floating around.
"Post All-Ireland, everyone wanted to be the one to think they had the inside track and knowing Brian the only one who had the inside track was Brian himself, no one else.
"It doesn't take away from the shock when it does become official. We knew the day was going to come eventually at some point and today seems to be the day."
We need your consent to load this YouTube contentWe use YouTube to manage extra content that can set cookies on your device and collect data about your activity. Please review their details and accept them to load the content.Manage Preferences
Listen to the RTÉ GAA Podcast at Apple Podcasts, Soundcloud, Spotify, or wherever you get your podcasts.