It is hard to understand how the Banner were so "below par" during their All-Ireland semi-final defeat to Kilkenny according to their talisman Tony Kelly.
The former Hurler of the Year admits Clare failed to get going against the Cats but he says they have not sat down as a group yet to figure out what went wrong.
"We were below par on Saturday. It's hard to put your finger on it right now as to why.
"We haven't really dissected it as a team yet, we probably won't do so until we meet back up for next year, whenever that is.
"Hard to pinpoint exactly what went wrong for us - obviously a lot did go wrong."
Thwarting the attacking threat of Clare's Tony Kelly is almost impossible – unless you have the services of a phenomenal Butler at your disposal. #TheSundayGame #RTEGAA pic.twitter.com/e6AUu0WQP6

— The Sunday Game (@TheSundayGame) July 3, 2022
Kelly was speaking to the media as he was announced as the PwC GAA/GPA Hurling Player of the Month for June.
The Ballyhea sharpshooter says this year Clare have shown signs of progression under their boss Brian Lohan and he is already looking forward to the next inter-county season
"There has been progression this year in terms of our performance levels for the majority of the year and getting back to a Munster final for the first time since 2018, and a semi-final, so there has been progression and that's down to the savage work that the players are doing and obviously Brian and the management are doing as well.
"You brush yourself down and look forward to a new inter-county season.
"That's the nature of it. We've had crushing defeats before, and you've just got to try and get better and keep going."
There has been a lot of talk around the championship structure this season but Kelly says he his happy with the current lay-out of the Munster championship.
"I'd be a big fan of the round robin as a player, definitely."
"I do like the two home games and the two away games. I think it adds a better atmosphere to the whole championship itself."
"Especially our home games, obviously it's a smaller venue, it's going to be a sell-out regardless of who comes there and the same thing traveling to the likes of Waterford and Limerick and Thurles or Cork."
Tipperary and highly fancied Waterford were both unable to make it out of the Munster championship but Kelly says all the other four counties in the province are playing catch up to Limerick.
"That's just the nature of the Munster Championship. Tipp and Waterford didn't get out this year, it could very easily be two different teams next year."
"That's just the way it is. I suppose that's the challenge that's thrown down to the other four teams in Munster, they're chasing to catch Limerick at the minute."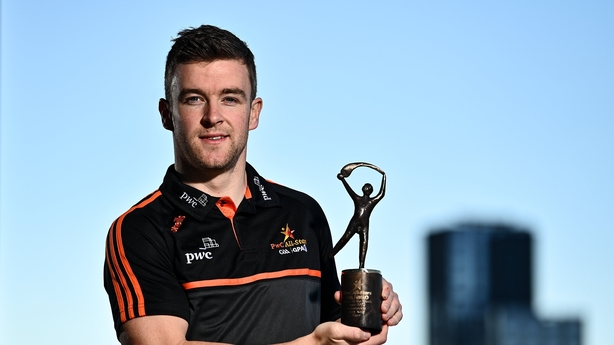 The Ballyea clubman is already looking to put the disappointment of their semi-final defeat to Kilkenny behind him as he returns to training with his club ahead of the Clare County championship.
"We go back in with the club now this week, we're out in a couple of weeks' time with the club. "
"I suppose you could dwell on it too long but the main thing for us is we've just got to try and get better, individually, collectively, we all have to get better in every facet of the game really."
The earlier championship season affords many top inter-county players the option of making the trip Stateside this summer, an option Kelly has not taken up.
"I'm straight back into the club. I missed enough of club action last year, so I'll be going nowhere this year."