Brian Cody gives as little away as possible but you get the sense he particularly enjoyed this one.
Not just beating but hammering a favoured Clare team, ending what was his longest losing semi-final streak (two) and most importantly, a 17th All-Ireland final in what is now his 24th season in charge of the Kilkenny hurlers.
When it was put to him that the two weeks until the decider was a tight turnaround, he agreed but observed: "When you're in the All-Ireland final, you don't pick and choose what you get. We'd crawl to Dublin tomorrow again to play it if we had to, to be honest with you. That's what the All-Ireland means.
"We were at the same stage last year and the year before as well. We went out and performed and performed well and we just didn't make the final. Obviously that drives on players even further.
"Everybody wants to get to the All-Ireland final and of course I would say in everybody's mind and everybody's heart, they would be saying, 'Look it lads, we can't afford this to happen again'. Because it's a tough feeling when you do lose it."
Kilkenny had a scarcely believable 14-point lead after tearing into Clare in the opening half on Saturday. Did the manager bring up the 2020 All-Ireland semi defeat when they led Waterford but were reeled in?
"I didn't have to really because they know themselves and they had spoken themselves about it as well," he said. "But look it, that's over now, this game is over. We can't say we let the last two All-Irelands slip because we weren't in them.
"To be in the position we were in at half-time took a huge effort - honesty, skill, application, and everything else. There's no doubt about it, it was a very, very good display. In the second half the performance dipped a bit, understandably, because when you're that far ahead you're watching for the final whistle, but we tacked on some great scores. I have absolute admiration for the way the players performed.
"When you're on the sideline in Croke Park, particularly since there's no maor foirne - which is a killer of a thing not to have - there's no communication between the sideline and the players on the field, so you trust the players completely. Thank God we have players we can trust.
"We were coming up to play Clare, an outstanding team who showed in the last two games, in different ways, the quality they have and the spirit they have. They didn't stop fighting until the last second of the game, which again is credit to the spirit that they have. "
"I'd say we'll definitely be underdogs in the All-Ireland final"
Cody turns 68 five days before the final – a perfect dozen of Celtic crosses in management would be the ideal birthday present. Though it's unlikely that game will be won by half-time, or that anyone will be able to predict his starting team, which is just how he likes it.
"I'd say we'll definitely be underdogs in the All-Ireland final. But I don't think any team, any players, any management team are concerned about who the favourites are. Because favouritism goes out the window when the whistle blows.
"I know everyone wants to talk about a settled team, but I make clear that I'm only interested in a settled panel, everyone fighting for their place and knowing if we put them on… It's about having that absolute spirit in the whole panel, where everybody respects everybody else's opportunity - that if they earn the right to play they should play."
"Who knows what team we'll pick for the next day, but whatever team we pick is the right team to pick."
Cody was in such a good mood that he was even willing to allow some individual compliments. Mikey Butler had done "a very good job" in man-marking the genius of Tony Kelly into oblivion while Adrian Mullen's fight for possession in the full-forward line "defines work rate if you like, it epitomises it."
Though he quickly added: "Adrian and many others are prepared to do that, but that's what team play is about and thankfully we have that."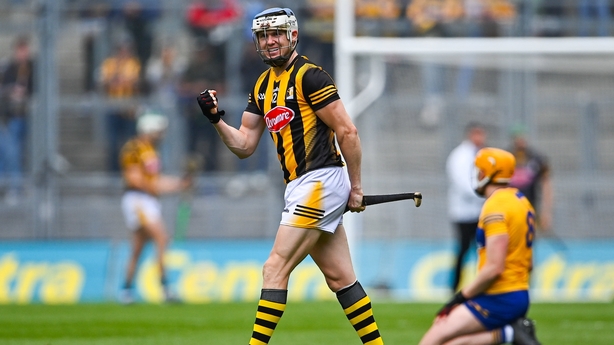 TJ Reid's talents were thought to be somewhat on the wane, his role on the team now mostly that of free-taker and ball-winner. The 34-year-old was typically flawless at the first (0-07fs) and sensational at the second – he won umpteen aerial contests and repeatedly turned over Clare men on the ground. In addition to setting up five scores for team-mates he also knocked over three points from play.
"We were waiting in the long grass," he smiled afterwards. "You leave your big performances for the big days.
"We have nothing won yet. Tomorrow we'll watch Galway or Limerick and then we will have two weeks to really forward to.
"The big motivation the last four weeks was that we lost the last two semi-finals. No way was that happening today."
The four-week gap has traditionally been more of a hindrance to Munster winners than Kilkenny – the five-time All-Star suggested that the frantic round-robin schedule actually made it welcome.
"We were together for the last four weeks, serious training, serious bonding," he said. "When the round-robin is there it's hard to get that flow and that consistency going.
"We trained really hard and it showed today - our performance was excellent from start to finish, 1-15. We dominated the game in a lot of areas. Our backs were outrageous, tigerish. Real heart.
"It was a massive effort and it was needed. This Clare team were coming. We were a little bit quiet in Leinster. Nobody was talking about us really. We were just focused on one thing, a win today and get a good performance.
"You have to be confident and believe in your team and we did."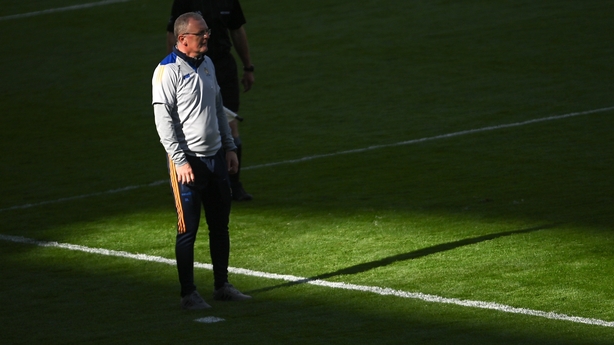 Brian Lohan refused to speak to the media after the game.
An unkind person might suggest not turning up was the theme of the day but once the pain of this defeat eases, he and his players should be proud of their efforts this season.
They were unbeaten in the Munster round-robin and got the fans behind them.
In their two epic clashes with Limerick they pushed the champions far closer than anyone else has managed in the last three years, and they looked like they were counting the cost of that effort by the time they got to the All-Ireland series.
John Conlon was a big loss but against both Wexford and Kilkenny they were overwhelmed in the first half and eventually paid the price.
This was Lohan's first round-robin campaign since taking charge and they should be better for it next season.
As to whether this result debunks the 'Munster is better than Leinster' theory, we'll leave the last word to a deadpan Cody: "I don't enter into discussions that are brought about by people who know more than I do. There are geniuses out there who understand exactly the qualities of the various counties. I wouldn't be capable of analysing it like that."
If it is true that the Irish defy analysis, then perhaps it is fitting that hurling should too.