Hurling is no country for old men. At 34, TJ Reid and Patrick Horgan are rarities at the top of the inter-county game. Their peers Brendan Maher, Joe Canning and Padraic Maher all recently called it a day by 32.
But it is no longer a boys' club either. In 2010, the then 21-year-old Brendan and Padraic, another Maher (Patrick 'Bonner', 20) and 19-year-old Noel McGrath all started Tipperary's All-Ireland final victory over Kilkenny and six days later also played in the under-21 triumph over Galway. Seamus Hennessy and Seamus Callanan were both 21 and came off the bench to score against the Cats.
It's hard to imagine a team putting such faith in youth today and not only because U20s are now barred from playing at that grade after a senior appearance in the same season.
Levels of strength and conditioning have reached such heights that John Meyler, former Cork manager and now head of the Rebels development squads, told RTÉ Sport recently that he believes getting up to speed physically now "takes four or five years".
"In the old days, fellas were coming through at 19 or 20, now they're 22. It's tough. Fellas that are 17 are eligible to play senior hurling for Cork next year. Could you put them up against Gearóid Hegarty or Kyle Hayes? You couldn't."
That trend appears to be confirmed when looking at the players that last featured for this weekend's four semi-finalists.
Against Wexford, Clare's youngest starter was 23-year-old Diarmuid Ryan and nobody else was under 26. The average age was 27.8, dropping slightly to 26.9 when you factor in subs, which included Mark Rodgers (21) and Shane Meehan (20).
Limerick's average starting age in the Munster final was over a year lower at 26.6, their subs bringing it up slightly to 26.8. Cathal O'Neill (20) did start the Munster final but is likely to be replaced by Cian Lynch (26) on Sunday which would make it a round 27. Hayes and Conor Boylan were the next youngest to play at 24.
Galway's starting age in the Leinster final was almost identical to Limerick (26.8) with Darren Morrissey and Ronan Glennon joint youngest at 23. The addition of 18-year-old Gavin Lee, who came off the bench in the closing minutes against Kilkenny, helped lower that to 26.3.
But by far the youngest of the four remaining teams is the one with the oldest manager.
The Kilkenny side that beat Galway had Eoin Cody and Cian Kenny (both 21), Mikey Butler and Adrian Mullen (both 22), and Mikey Carey and Martin Keoghan (both 23). The average age of the XV was 25.6 – take out TJ and it would have been 25.
Substitutes Walter Walsh (31) and Padraig Walsh (30) could bump that up slightly if they start against Clare tomorrow - nothing is guaranteed with Brian Cody - but even including them, the average maxes out at 26. Star of the league David Blanchfield (22) has made a few appearances off the bench.
We need your consent to load this YouTube contentWe use YouTube to manage extra content that can set cookies on your device and collect data about your activity. Please review their details and accept them to load the content.Manage Preferences
Pat O'Grady won All-Ireland minor and U21 titles for Kilkenny alongside DJ Carey, Adrian Ronan and Charlie Carter in the forwards before a serious injury derailed his senior ambitions.
When they beat a Tipperary U21 side featuring John Leahy, Conal Bonner and Liam Sheedy in 1990, the senior team was in the midst of an eight-year title drought. If Kilkenny don't win this year, it will be seven.
"Similar enough to what it is now," O'Grady tells RTÉ Sport. "The management at the time knew they had to scour the county for younger players.
"The talent was obviously there with DJ, Pat O'Neill and Adrian. Charlie was coming. Ollie Walsh brought the lads in. They became the backbone of that 92-93 (double All-Ireland winning) team."
Originally, from the rural Blacks and Whites club near the Carlow border, O'Grady became a coach with O'Loughlin Gaels after moving closer to the city.
He led Kilkenny to the All-Ireland intermediate title in 2016 and became county minor manager for the following year, when a team featuring Mullen, Carey, Eoin Cody and Butler were crowned Leinster MHC champions before losing to Galway by a point in the All-Ireland semis.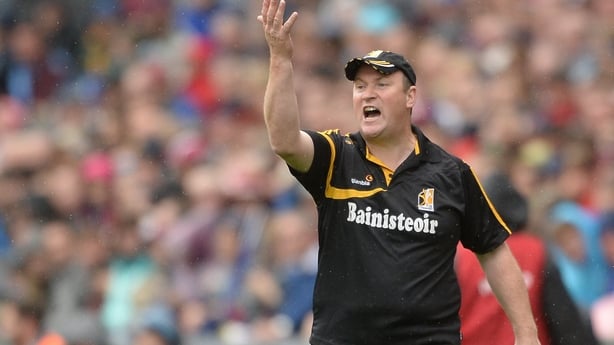 O'Grady believes that the clearer distinction between age grades has slowed the progression process since.
"I played on adult team at 15 years of age, now you have to be 18 to train with them. So I think the development of kids is taking a little bit longer. We've had minor and U20 teams in All-Ireland finals over the last couple of years and haven't had anyone break through yet.
"It is a huge gap now between 20 and 24 years of age. The game has got so physical that introducing a young guy without having that physicality, he's just not going to survive on the pitch.
"Kilkenny didn't really embrace that [conditioning] until about three or four years ago. When you're not winning All-Irelands you sort of look and see where you can improve more and really drill down into things.
"The four guys from our minor team, they were lucky enough that they got the opportunity to be brought in early, at 19 or 20. [Kilkenny physical trainer] Mickey Comerford has been a huge addition and he has done a great job on their physicality. Even when they were minors they were very strong and that's one thing they were lucky to have.
"We had other players who were good guys on that team as well but probably weren't as physically strong as them. Obviously, they are huge talents but they have had to work really hard as well to bulk themselves up to be able to compete at that level."
Not to mention the genes. Mullen is a cousin of Michael and Colin Fennelly, his Ballyhale clubmate Eoin Cody is Henry Shefflin's nephew. Mikey Carey is DJ's son.
"Those three guys are bred for hurling. If they were a horse or a greyhound you'd be saying 'these guys are going to be good'.
"Also, Adrian and Eoin have been exposed to hurling at senior club level with Colin, TJ, Joey Holden and all these Ballyhale guys. Both Mikey Carey and Mikey Butler have been playing senior with their clubs for the last year or two. It's a natural progression for them. They live for hurling."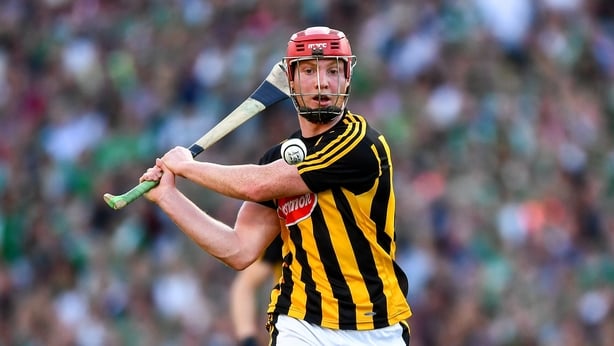 Mullen was the clear star of the 2017 minor outfit but O'Grady thinks he is now thriving with less pressure on him to carry a team.
The Shamrocks sharpshooter appears to have put his injury troubles behind him and has hit 0-20 from play in Kilkenny's six championship games so far this summer.
"He was great underage, very good for St Kieran's. But I think there was a huge weight of expectation on his shoulders on that minor team. When that pressure is on it's very difficult to perform at your maximum, especially for an 18-year-old.
"Adrian played very well in that All-Ireland semi-final but didn't score 2-10 which is probably what was expected of him on the day. I think he's really enjoying his hurling now because he has blended in with really good players like TJ and they have brought him along.
"Cruciate is a huge injury to come back from but he has done it."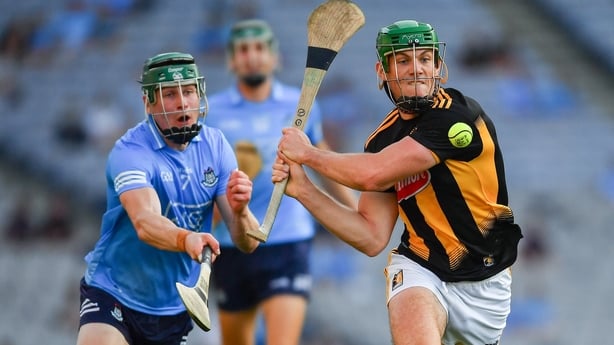 The then-16-year-old Eoin Cody had yet to break into the St Kieran's team and for the opening rounds of the 2017 minor championship season he didn't even make the panel.
But a scintillating performance in a challenge game against Clare persuaded O'Grady to give him a run. "He scored five points on a wet enough day and Cyril Lyons (then Banner coach) came over and said 'Who is yer man? That lad is going to be some hurler'.
"From that he got a bit of confidence and was one of our better players in the All-Ireland semi-final against Galway. He has really blossomed from there."
Cody has already bagged 2-11 in this year's championship - "I rate him very highly. His aerial ability is brilliant. When he gets a little bit of room, he is so well able to score, both left and right.
"He has been playing corner-forward as a 20/21-year-old. Corner-backs are so well-coached now and so disciplined but he has been able to negotiate his way around that. If you were starting off a young lad, you'd rather start him maybe at midfield but he has been able to work his way through it.
"He's only going to get better. You're going to see great days from him yet."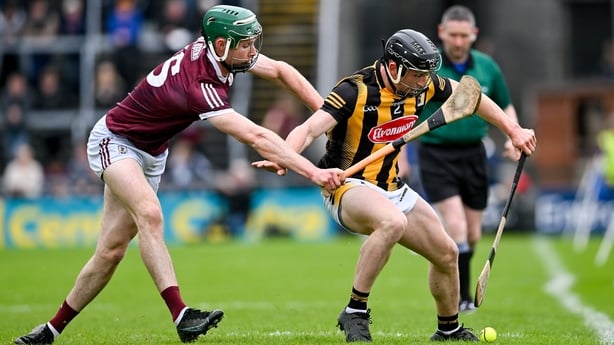 O'Grady's O'Loughlin's clubmate Mikey Butler was a panellist rather than a starter in '17 and was also playing U17 that year as the change in the minor grade loomed.
The mascot in O'Loughlins team pictures for years, Butler's senior debut was also delayed by a cruciate ligament injury, but he now stands alongside clubmates Huw Lawlor and Paddy Deegan in making up half the Kilkenny defence.
"He was young and a slow-burner," says O'Grady of five years ago. "He probably physically wasn't as strong but he was coming and coming. If we had got to the All-Ireland final he would definitely have been in contention for a place.
"His mother Susie is from Tullaroan and was a very good camogie player in her time. Anybody who has a mother from Tullaroan, they're as tough as nails!
"He is such a tenacious guy and is as fit as he can be. Obviously, he has skill as well. Such an easy guy to coach and will do whatever you ask him to do."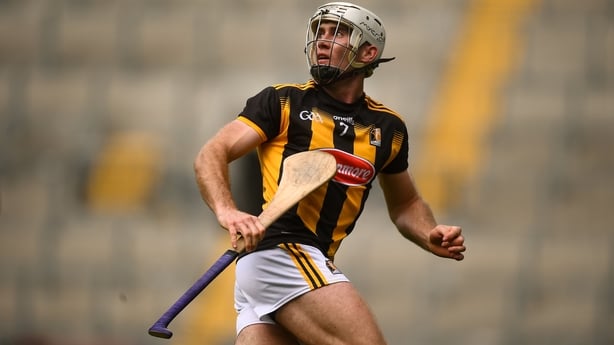 It might surprise some to discover that the son of one of the all-timer great hurling forwards lines out closer to goal but his former manager thinks that is no bad thing for talented wing-back Mikey Carey.
"I think the fact that he's a back has taken a bit of pressure off his shoulders. It's hard enough to be compared to your Dad but to be in the same position would be a difficult prospect.
"He was full-back but we could have played him anywhere. He's very athletic, well able to score and he drives forward to get up on somebody's shoulder. He's the modern-day defender.
"You couldn't ask for a better guy to train. He's down to earth and you couldn't say enough about him.
"There are lots of [other] young guys. John Donnelly is a great talent. Cian Kenny was probably a rough diamond when he came onto it first but he is developing into a really good midfielder. His vision is what sets him apart. He knows how to read a game and deliver a pass.
"Alan Murphy, Richie Leahy, Billy Ryan and Conor Delaney (all members of O'Grady's 2016 intermediate champions). They are young enough as well when it comes to hurling but it seems like they have been around for a long time."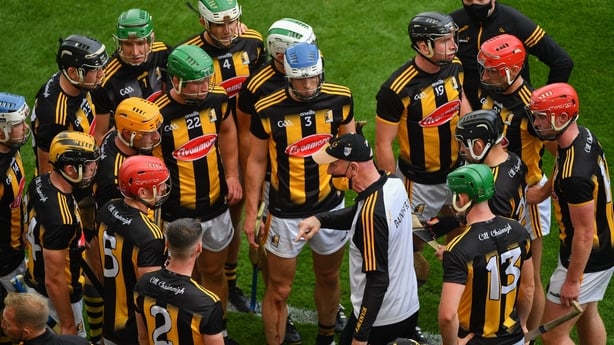 Why has Brian Cody put such emphasis on youth?
"Did he have any choice?" wonders O'Grady, who thinks Kilkenny were slightly spoiled by the haul of eight titles in a decade from 2006. "Something like 29 All-Ireland medals retired in a week in 2015.
"It wouldn't be normal for any county to win as much as Kilkenny have done. Sometimes Kilkenny supporters are a bit hard on them that we haven't won an All-Ireland since 2015. But we have won Leinster finals and been competitive.
"There's lots of talent in Kilkenny but the fact that so many people retired at the one time and they were thrust into the limelight, it takes a while to develop that.
"There's a huge emphasis now in Kilkenny on doing everything we can for young players to come through. I have been involved with development squads and minors and we're doing everything right, but maybe the quality of player just hasn't been as good for a few years. But we've got those guys now and they're maturing nicely. It's around now that you'd be expecting them to get to their best."
Will young legs and enthusiasm be enough tomorrow against a battle-hardened Clare outfit?
"Obviously, Clare have a lot more experience on their team than Kilkenny have but Kilkenny will turn up for Brian Cody and bring a huge intensity to it.
"Does experience count for a lot? Hunger counts for an awful lot. And these guys haven't won an All-Ireland medal at senior medal. In Kilkenny you just have to get to that. And isn't it hard trying to do that when you're meeting guys who have five, six, eight or nine?
"We're expecting an awful lot but I think more is going to come from them. Whether it will happen on Saturday or not, I don't know, but I think they are going to be hugely competitive."
Follow the All-Ireland Hurling Championship semi-finals this weekend, Kilkenny v Clare (5.30pm on Saturday) and Limerick v Galway (3.30pm on Sunday), via our live blog on rte.ie/sport or on the RTÉ News app. Watch live coverage on RTÉ2 and RTÉ Player with live radio commentary on RTÉ Radio 1