RTÉ hurling analyst Dónal Óg Cusack has said that the GAA has a responsibility to do whatever it can to ensure that Belfast becomes a hurling hotbed.
In 2018, the GAA launched Gaelfast, the biggest ever non-capital initiative by the association in the North to promote the games in the city, but the two-time All-Star wants to see every possible opportunity availed of to ensure that Antrim becomes a top-class hurling county.
"I think it's really important for hurling, even rising above county bounds and stuff like that, we need a strong Antrim," he told the RTÉ GAA Podcast.
"How is it that we only have so many strong hurling teams? The Division 2 final when you look at the likes of Down and Westmeath. Westmeath beat Kerry. You'd have to ask, and this was in my head coming home from Páirc Uí Chaoimh on Saturday night thinking about the two games, has the GAA failed hurling?
"Has that county board structure that we have, those county boards are in place and that structure is there for 150 years now nearly. We have only a couple of top class hurling teams.
"You listen to what the GAA have said about reducing funding in Dublin, and I was all for positive discrimination towards the capital. It's critical that in the capital of our country that the GAA is very strong, we know that.
"You take Belfast, is that our next biggest population centre? Definitely one of them.
"Could there be a real project, why does it have to be under the county board auspices?
"A real mission to say 'we're going to now try and do what we did in Dublin' and I don't know how much it was but it definitely had a positive impact on Dublin.
"Can we now do that in the likes of Belfast or, for example, in Kerry? Like Killarney and Tralee, look at the size of those places there yet are the county board in Kerry really treating hurling seriously or are they saying that's a north Kerry kind of thing?"
Cusack was reflecting on Antrim's 2-24 to 2-17 relegation play-off win over Offaly on Saturday that ensured another season of top-flight hurling for Darren Gleeson's side.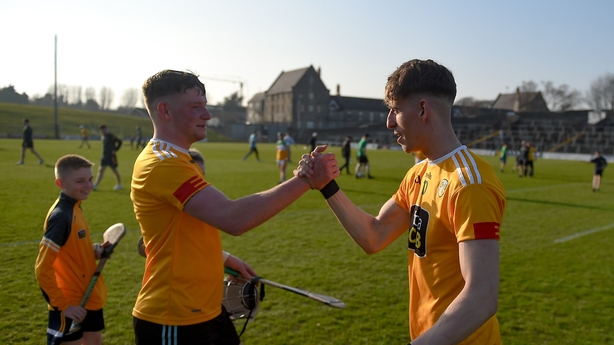 He watched the game before travelling to see Cork's semi-final dismissal of Kilkenny, and he stated that the Ulster side still have a huge gap to bridge.
"When you talk about the development of the game, the other thing that was in my head Saturday night. I was at one game and I watched the other on television, there's a huge difference in standards. Massive difference.
"Sometimes when you criticise Antrim and talk about their results and the beatings that they receive and all of the losses that they've had, people get up in arms. Or some people get up in arms.
"I don't think it's pats on the head that Antrim need and I actually do think that a lot of the people who are giving them that praise they're almost in the form of Judas kisses."
Listen to the RTÉ GAA Podcast at Apple Podcasts, Soundcloud, Spotify, or wherever you get your podcasts.