You may not have heard but there was a small bit of a fuss in the Munster hurling championship yesterday.
No, really, and England are into the semi-finals of the Euros as well.
The more local drama centred around a decision by James Owens to award a penalty to Tipperary and sin-bin Aidan McCarthy in the 39th minute of their provincial semi-final against Clare.
Liam Sheedy's side were two points down then and six up by the time McCarthy rejoined the action 10 minutes later.
McCarthy had bundled Jake Morris over near the sideline but, crucially, inside the 20m line, which meant referee James Owens had to decide whether the Tipp man had been denied a goalscoring opportunity.
To the bemusement of most onlookers, the Wexford whistler decided that he had and ordered McCarthy off. Jason Forde dispatched the penalty to the net and Tipperary never looked back.
Aidan McCarthy was sin-binned for this challenge and a penalty was also given in the crucial moment in this game. Did you agree with the decision? pic.twitter.com/rxa0JAdwCd

— The Sunday Game (@TheSundayGame) July 4, 2021
Former Kilkenny defender Jackie Tyrrell was incensed on The Sunday Game, saying he would "love to get rid of this rule and throw it in the river".
Clare manager Brian Lohan was a bit more measured, saying he had no issue with the rule but that "the interpretation is the problem".
"I'd say he (Owens) was the only person in the ground that thought it was a goal- scoring opportunity."
That's the crux of it really. Owens decided Morris had a clear chance to score a goal, despite several Clare players looking like they would have had time to get back and bar his way.
Most people agreed it was a bad call. But Owens had to make a subjective snap decision either way. And though he might regret not taking a few more seconds to consult with his linesman, he didn't have the luxury of instant replays or high-behind cameras, as the pundits who slaughtered him did.
It was a simple, if significant mistake, but some of the reaction highlighted how poorly framed and little understood the rule itself is.
Here it is in, full, from the GAA official guide (rule 5.46).
"If one of the following infractions is committed on an attacking player with a goal-scoring opportunity, either inside the 20-metre line or the semi-circular arc

(a) To pull down an opponent or
(b) To trip an opponent with hands, arm, leg, foot, or hurley or
(c) To use the hurley in a careless manner

the following penalties shall apply

(i) A Penalty Puck shall be awarded to the team affected.
(ii) Additional to being issued a Caution (Yellow Card), the offender shall be sent to the Sin Bin for 10 minutes unless the infraction is a second Cautionable Infraction, in which case the offender shall be ordered off for the remainder of the game, including Extra-Time when played."
A separate clarification before the Allianz Hurling League in May highlighted that "Not all yellow cards come under this cynical behaviour rule - only those listed are to be considered under this rule" and that "All other infractions remain unchanged."
That GAA communication also listed "Key factors the referee should consider" in deciding whether a goal-scoring opportunity existed.
Where the foul occurred?
How many defenders are between the attacking player and the goals?
Could another defender make a tackle before reaching the goals?
How many players are in the area in front of the goals?
There are a few things worth highlighting here.
Firstly, too narrow a range of fouls applies. Holding the man - or hurley - and pushing are always just frees, and yellow cards (not sin-bins) can only be shown for repeat infractions of such fouls. Though obviously - think Huw Lawlor on Niall Burke last year – they can be just as effective in stopping an opponent.
Secondly, 'pull down' is too vague. Does that only cover a completed rugby tackle with the hands or does it also apply to a barge to the ground, as McCarthy did to Morris? What about if you grab a player for a second and then let go but he falls over? Is that a hold or a pull down?
You should also note that there is no mention of the words 'cynical' or 'deliberate' in the rule itself as there is in football. This has confused a lot of people as the whole justification of the change was to combat cynical instances of players being dragged down to stop goals.
However, unlike in football, which more or less grafted on a penalty addition to the existing black-card rule, the hurling referee's decision is whether there was a goal-scoring chance or not, and if so, where it happened and what type of foul it was. It cannot be a sin-bin and no penalty as in football, it is either both or just a free and, possibly, regular yellow card.
Judging on the above 'key factors' for consideration, it seems Owens rated Morris' pace as being enough to qualify him for Tokyo but then is it completely inconceivable that he would have cut in and got a shot away regardless of cover?
Speaking earlier in the year, two-time All-Ireland final referee Fergal Horgan suggested that officials would view all applicable fouls inside the 20 as goal-scoring opportunities as "If a player breaks the tackle on the 20-metre line, any inter-county player is well capable of putting the ball in the net from there."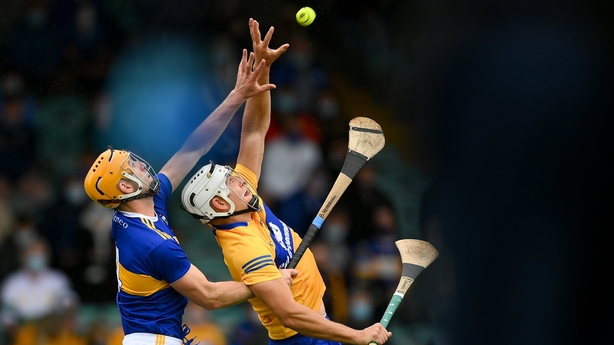 Of arguably equal concern is the number of incidents over the weekend that should have seen the rule applied but it wasn't.
One of the main causes of Tyrrell's ire was the inconsistency of Barry Heffernan going unpunished after appearing to haul down Aron Shanagher in the square, late on in the same Tipp-Clare game.
Dublin's Daire Gray also appeared to get away with a drag down against Galway while TJ Reid was taken down by a Wexford defender but play continued until Kilkenny scored a point. Eoin Murphy was correctly punished for stopping Conal Flood in extra-time at Croke Park.
Limerick's Peter Casey was sin-binned against Cork – Nickie Quaid saved Pat Horgan's penalty – which caused less controversy as it was in a more central position than Morris but Conor Cahalane still had defenders to beat.
Something needed to be done to combat what is commonly referred to in non-Gaelic football as a 'professional foul' but in classic GAA fashion we have ended up with a vague rule that is difficult to implement and are now seeing pressure exerted on referees to ignore it.
That would not be good for the game either but a simpler rule with less loopholes would be most welcome.