Antrim's Conor McCann says it's vital that the Saffrons are competing against the best in the game if they want to improve.
The forward was named as the Joe McDonagh player of the year for 2020 this week after helping the Ulstermen to win the final with a victory over Kerry at Croke Park in December.
It followed a three-point victory over the same opposition in October's Allianz League Division 2A final decider at Tullamore.
Those results confirmed top flight national hurling league action for this season, as well as a place in the Leinster championship, should those competitions go ahead.
This year's calendar is very much still up in the air, with senior inter-county competitions losing their "elite" status earlier this month.
That was followed yesterday by confirming from that GAA that they had suffered a record loss of €34 million for 2020.
And while it's not clear when teams will be allowed to get back training, McCann tells RTÉ's Game On that he's remaining optimistic about the year ahead.
"We're looking forward to hearing hopefully some good news about fixtures soon," he said
"It'll mean we'll be able to plan ahead and try to get some momentum built up again, so we're just looking forward to getting back.
"It's vital for Antrim (to regularly play top teams) - that was our big drive last year, to try and get back to Division 1 and play consistently, week in and week out against the best teams.
"All the lads are ready and they're looking forward to it, so we just need that green light, or some form of target to aims towards now."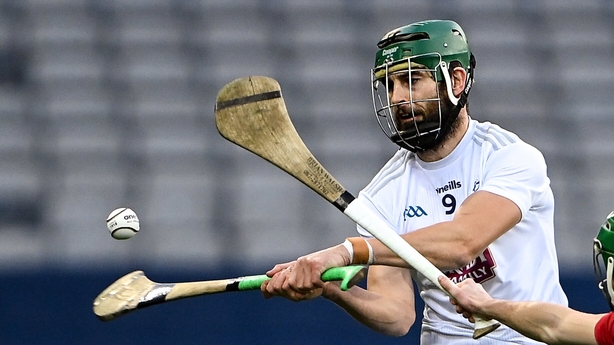 Paul Divilly of Kildare, who admitted to having a "grin on his face all day" after picking up the Christy Ring player of the year for 2020 on Monday, echoed McCann's sentiments about a return to play.
"Everyone is in the same boat and we're all fed up I suppose," he began.
"We all want answers, but we're all realistic enough to know that there's no answer to be got at the moment.
"We just have to wait on public health advice. It is frustrating but you have to look at the bigger picture and take it as it comes.
"We're still training away by ourselves and doing as much as we can - rolling with the punches, that's all we can do.
"Keep the positive, best foot forward and see how we get on. We're looking forward to the year ahead however it unfolds."