Former Tipperary manager Michael Ryan insists that his county have "never felt inferior" to Kilkenny throughout their ongoing rivalry.
Sunday's All-Ireland final is set to be another compelling clash between the sides having previously contested the decider in 2016.
With Ryan in charge, Tipperary stormed to nine-point victory on that occasion after a clinical display in Croke Park.
But reflecting on his own inter-county career with the Premier County, Ryan recalls how their triumphs were sometimes overlooked by the public until they proved their worth with victory over Kilkenny in 1991.
"You could look at the 1989 final as being of the easier variety, where we beat Antrim," he told RTÉ Sport. "It was constantly being thrown at that Tipperary team 'who did ye beat in the final?'
"This was Kilkenny and if you were going to win, you were going to win the hard way.
"Any All-Ireland final win is special, and it was then, you really get a sense of what it meant to people of Tipperary. I'll never forget coming over the border at Urlingford and a crowd had gathered at that point where you were stepping back into Tipp.
"That was just a special moment. Everything about if for a 21-year-old was phenomenal. I was playing with some of my own boyhood heroes - Nicky English, Bobby Ryan and those guys. I couldn't believe my luck, I was nearly pinching (myself).
"The accusation is always thrown out that we got a lucky goal and we did. We won by four points so the lucky goal wouldn't actually change the scoreline and we were the better team. But Kilkenny showed exactly how good they were. They bounced straight back and won '92 and '93 on the trot."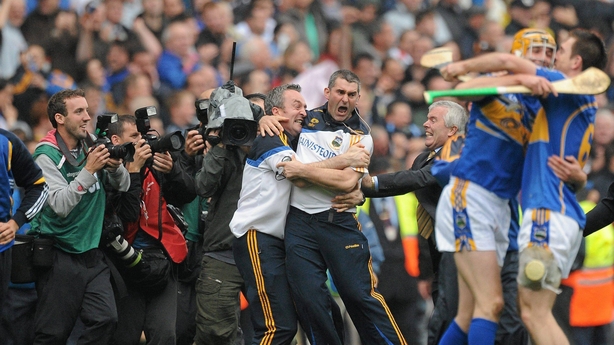 Current Tipperary boss Liam Sheedy previously took charge of the side between 2008 and 2010. They played out some epic clashes with Kilkenny during that period, including the 2010 All-Ireland final where Tipperary halted the Cats' drive for five.
Tipperary failed to reach the decider in '08 after losing out at the semi-final stage to Waterford. Following that result, Ryan encountered some of the old stereotypes that haunted his county in the past.
"Some of the commentary we were listening to was that we were lucky and that Kilkenny would have beaten us if we did get to the final in 2008. We didn't believe anything like that. Not to demean their achievement but we never felt inferior to Kilkenny and I think almost every game we have played against Kilkenny has served up a real top spectacle of hurling.
"2009 was a real classic as was 2010 equally. But 2009 in particular was a special game.
"We were very lucky to be in that final in 2010, and to turn around a win it was absolutely fantastic. But we got knocked out in the first round [of Munster] by 10 points in Pairc Ui Chaoimh, so we looked quite a distance from potentially getting to an All-Ireland final, let alone winning one and stopping Kilkenny's drive for five.
"But it wasn't about stopping Kilkenny, it was about getting a win for ourselves and that's the only way we look at the game."