Rather than lament the fact his team will be idle this weekend, Waterford hurling manager Derek McGrath is accentuating the positive of another week's training before action resumes.
The current icy conditions forced the GAA to postpone all Allianz League matches scheduled for this Saturday and Sunday, with the fixtures refixed for the following weekend (10/11 March).
Waterford currently sit bottom of Division 1A and even a win against Clare in their final regulation game may not be enough to see them avoid a relegation play-off.
That said, McGrath was in an upbeat mood when speaking to RTÉ Sport on targets for the next few weeks and beyond.
"You would say having this weekend off is not ideal, but selfishly enough it helps us get another week's training," he said.
"Barring a miracle it looks like we'll be in a relegation play-off on the St Patrick's weekend. I think the week's delay will have a greater impact on other teams who'll be involved in league semi-finals or finals. It will discommode them alright.
"As things stand it suits us to get more work done with the lads. Hopefully the weather will pick up in the next few days, but there's a fair bit of indoor work that can also be done."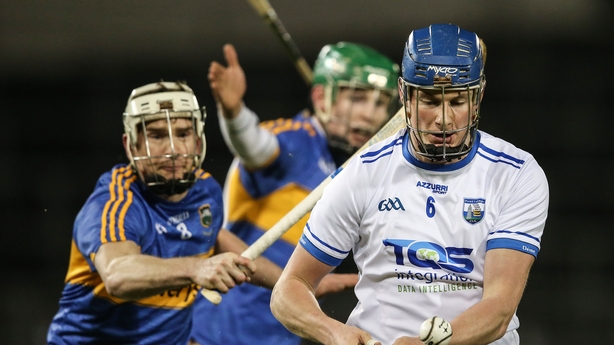 And while the Déise boss has used the spring campaign to the run the rule over his squad, he was nevertheless happy to have overseen a first victory for his charges against Cork last Sunday.
"Nobody wants to get into an unbelievably negative sequence of results," he added.
"We did approach the league in experimental mode, with everything building towards the new format for the Munster championship.
"If we get a win over Clare in our last league game, then that would be great. It may not keep us up, so we'll then have to take our chances in the play-off."
In looking beyond, McGrath clearly has his focus on the Munster round-robin format come the summer. It's a format that he believes will provide a test for all involved.
"You will need players to throw in over the course of those 21 days - if not I don't think you'll survive"
"It's a big challenge for all teams but it's important that everybody embraces it," he said.
"I think there's been a fair bit of negative talk about the new format, it's a case of people wanting to be negative.
"We're out first on 27 May (against Clare) and our final game is on June 17, so that's four games over 21 days.
"To that end, we have used the league to give squad members a chance. You will need players to throw in over the course of those 21 days - if not I don't think you'll survive."
"If we win Munster, we will have five games in six weeks. That's a lot of hurling. The stakes will be high, so we need to make sure that we're properly prepared.
"As of now, I'm happy with the preparations. Bring it on."