Wexford manager Liam Dunne insists that the Walsh Cup has an important place in the GAA calendar – pointing to the case of Tomás Waters.
Kilkenny legend Eddie Brennan said last week that it was time for provincial pre-season competitions such as the Walsh Cup, O'Byrne Cup and FBD League to be scrapped.
Brennan, who was stand-in manager for the Cats during January, said that this would decrease the demands placed on the most talented young hurlers and footballers early in the year.
But Dunne believes these competitions serve several vital functions, including raising money for Leinster GAA's Benevolent Fund.
"Tomás Waters picked up a career-threatening injury a few years ago and to be fair he was looked after by the Leinster Council," said the Yellow Bellies boss, speaking to RTE Radio 1's Sunday Sport.
"That funding came from the likes of the Walsh Cup and the O'Byrne Cup as well. Even though they're played in terrible, wintry conditions they look after the players so I wouldn't scrap the Walsh Cup by any means."
The gate receipts from Leinster's pre-season games go into the benevolent fund, which helps players out with medical expenses.
Waters suffered a serious knee injury in an All-Ireland qualifier against Clare, which required five operations and 48 days in hospital to rectify.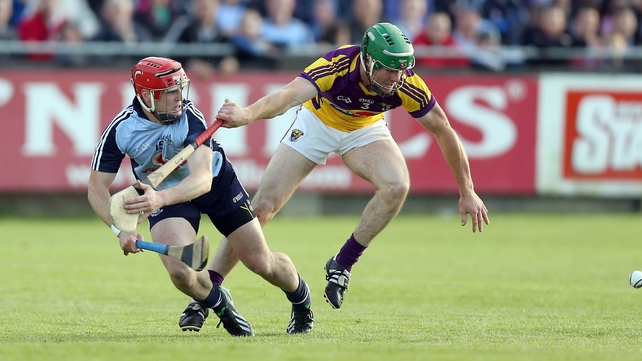 The Wexford full-back (above) didn't play again for his county for nearly two years.
Dunne agrees with Brennan, however, that too many demands are being placed on young inter-county players, particularly those eligible for Under-21 and third level competitions but he proposed a solution to that issue.
"The Leinster Council would have a really good competition if they had the eight Leinster teams that include Galway and Antrim able to pick their full teams," he explained.
"You have young men being put under pressure – if they play for Wexford they are going to have their scholarship taken away from them. College players have the Fitzgibbon to play in.
"To move this competition forward they need to let the counties pick their best players and play the competition proper. It would be really worthwhile competition then."
Wexford beat Offaly in Sunday's Walsh Cup semi-final and will play Dublin, who beat Galway, in next Saturday's final at Croke Park.
Dubs boss Ger Cunningham is also a fan of these semi-competitive pre-season games.
"From our point of view it has been good. We have around 15 players unavailable to us because of injuries and college commitments, so it has worked out in our favour," he said.
"We'd be organising challenge games anyway because we're trying to get ready for the start of the League February 13. We'll have five games in six weeks and we have to be ready for that.
"You need a full squad of players and the Walsh Cup has given us the opportunity to look at players."
The Walsh Cup final will throw in at 5pm next Saturday as curtain-raiser for the Dublin-Kerry Allianz League Division 1 first round clash at Croke Park.