By Joe Dooley
For the second year in a row Cork and Limerick will contest the Munster final. 
Who could forget the outpouring and scenes of joy following the Treaty men's 0-23 to 0-15 victory in the Gaelic Grounds. Limerick, without doubt, have the most loyal support of all hurling counties. 
Following that victory they performed poorly in the All-Ireland semi-final against Clare and I think that affected their league performances earlier this year. 
They missed out on promotion to Division 1A and were very poor in the league quarter-final against Galway. Ironically, their best performance in the league was drawing with Cork in Páirc Uí Rinn when they played with 14 men for most of the game.
The departure of joint manager Donal O'Grady a number of weeks before the first round of the championship against Tipperary could have further disjointed the team, but it seems to have had the opposite effect, with the panel and their manager TJ Ryan keeping out of controversy. 
They put the heads down and concentrated on getting ready for Tipperary.
Limerick had not beaten Tipp in Thurles since 1973, the last time they won the All-Ireland (maybe history can repeat itself). They went in as underdogs but were able to field their strongest team of the year in their best positions.
The teams were level five times in the second half but Limerick finished the stronger scoring 1-02 in the last few minutes to win by 2-18 to 2-16. 
Nicky Quaid, Richie McCarthy, James Ryan, Donal O'Grady and Shane Dowling gave sterling performances that day. It was also good to see Seamus Hickey back playing to his best following a lay-off through injury.
"Limerick always played a brand of no-nonsense, direct, fast hurling"
They have had a six-week break since the Tipp game and this has allowed them get on with their preparations very much under the radar. They should be very fresh and hungry on Sunday.
Cork, in that same period, have played two high-profile games and their dual players have also played two football games.
Limerick always played a brand of no-nonsense, direct, fast hurling and when really well motivated they are extremely hard to beat. When you hurled against Limerick you always knew you were in a game.
They will need a repeat of their semi-final performance and up it by 20% to overcome Cork. This is well within their capability and they have beaten Cork at home previously in 1996 and 2001.
Cork have had a great start to this year's championship for a number of reasons. They were poor in their first drawn game against Waterford but were much improved for the replay.
Their display against All-Ireland champions Clare in the semi-final was top class, winning on a scoreline of 2-23 to 2-18. It was some consolation for the defeat in last year's All-Ireland final replay.
The most pleasing thing for Jimmy Barry-Murphy is the attitude of his players, who seem to be really tuned in and are determined to go one better than last year and win the Liam MacCarthy.  
The inclusion of several new players this year such as Damien Cahalane, Mark Ellis, Aidan Walsh and Alan Cadogan has strengthened the team and panel.
Add in the improvement shown by last year's regulars such as Stephen McDonnell, Christopher Joyce, Daniel Kearney and Conor Lehane and you have a very formidable outfit. Pat Horgan continues to play well and is deadly from placed balls. Morale appears to be very good in the camp.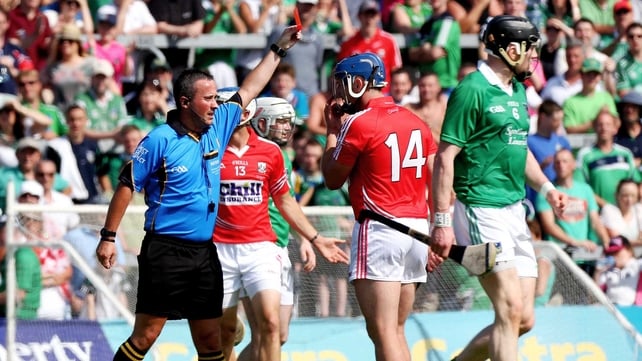 Most of their players are also very mobile and flexible and can play in a variety of positions, which is an advantage if they wish to assign man-markers to opposing team players as they did against Clare. This is a feature of all team tactics for games now.
The Cork support in Thurles for the Clare game was worth an extra couple of points to the team.
The last time they got behind their team like that was in the mid noughties and they went on to win two All-Ireland's.
Throw in home advantage in the last big game in Páirc Uí Chaoimh (throw-in 4pm) and you see the challenge facing the holders to come out with a victory.
Cork should be extremely hungry as they have not lifted silverware since 2006, the last time they won Munster. That is a serious famine in its own right for the Rebels.
Limerick will not lack confidence, after all they are the current Munster champions and I expect there will be fireworks in the park on Sunday.
I feel Cork will edge this one by a few points on the basis that they are a much improved team from last year and home advantage to help to swing it in front of big home support. It will be a cracker of a game.